Abolish the Lords
Until we do, Britain won't be a real democracy.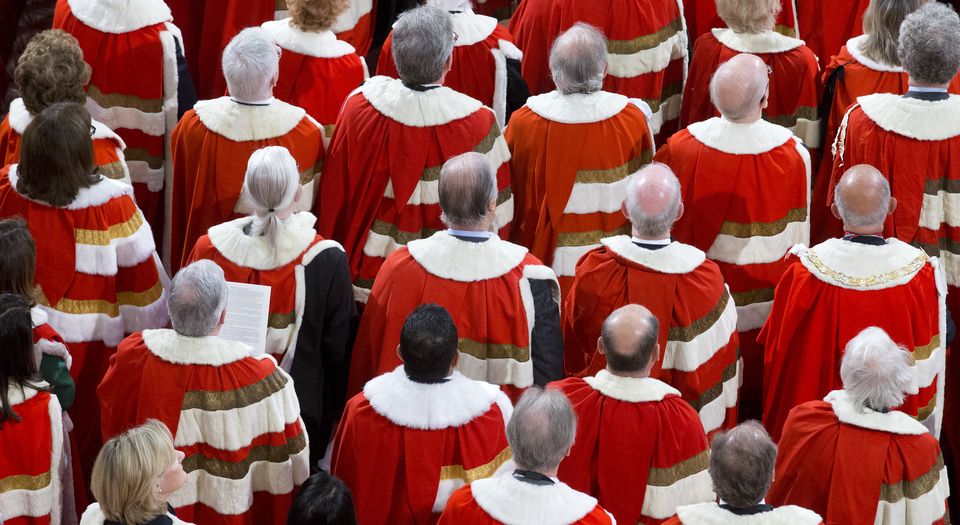 We're pretty proud of our democracy, us Brits. After all, we've come a long way. In 1215, we had an unruly king who only wanted to do things his way, so a bunch of barons took him hostage and made him seal Magna Carta. Four-hundred-odd years later, when another king thought he was divinely superior to parliament, we lopped off his head. From Magna Carta to the Levellers to the Chartists in the 19th century, we have a long history of fighting for political accountability.
Which is why yesterday's 'election' of a new hereditary peer in the House of Lords leaves such a bitter taste. It didn't grab many headlines. David Dimbleby didn't appear on our TV screens to bumble through hours of jazzed-up political analysis. But yesterday, 31 hereditary peers picked a new aristocrat to join their ranks.
Following Blair's semi-reform of the Lords in 1999, the number of hereditary peers was drastically cut from 647 to just 92. But when one of the 92 dies or resigns, remaining hereditary peers of the same political affiliation get to pick a replacement from those who hold hereditary titles. And so, when hereditary crossbencher Lord Walpole, a distant relative of England's first PM, resigned in June, there was a scramble to fill his place.
Ten aristocrats submitted applications and listed their qualifications. Lord Hayter proudly pointed out that he was a 'classical guitarist, sculptor and gardener'. Baron Vaux of Harrowden seemed to think being 'runner-up in the last crossbench by-election' was enough to garner support. Lord Cadman's application was the most striking: he left his written statement blank.
In the end, Baron Vaux of Harrowden won with more than half the first-preference votes. In doing so he demonstrated the importance of not letting one hereditary peer by-election loss knock you down. What a hero.
It's easy to laugh off the farcical nature of this by-election. It's a bit of an anomaly, and those who do become hereditary peers tend to be dithering and useless. Lord Palmer, a hereditary peer since 1990, summed up the intellectual prowess of his aristocratic peers when he smugly declared that he 'got kicked out of every school I ever went to because I was so incredibly stupid'. How reassuring.
But the ongoing existence of hereditary peers should enrage anyone who believes in democracy. Within our system, those lucky enough to be born into a particular family are handed the power to interfere and alter legislation. This anachronistic system robs voters of their political autonomy and gives more sway to an elite few.
What's more, this by-election is just a distilled example of the demos-denigrating premise underlying the existence of the House of Lords as a whole. Yes, the idea of hereditary peers is more immediately alarming than the idea of peers appointed by parliament. But they are just two sides of the same coin.
Underlying the peerage system sits a profound distrust of the demos. The existence of the House of Lords is predicated on the notion that, whether it be on the issue of Brexit or environmental policy, there needs to be a check on what we, the rabble, think and demand. Lukewarm reformers often rabbit on about a 'democratic deficit' in the Lords, but there is nothing democratic about it. It's an insult to democracy.
The feeble manner in which the Lords is defended, and allowed to survive, would leave the democratic revolutionaries of the past feeling utterly embarrassed. The Lords, we're told, is either 'not that bad' or a useful check on the excesses of government. That many on the left, which once fought for democracy, celebrate it as a curb on Tory rule is particularly depressing. Meanwhile, reform has been slow and it has left the chamber's most anachronistic aspects intact.
'The House of Lords is like a glass of champagne that has stood for five days', remarked Clement Attlee. Five days? Try five centuries. If we are to respect the political autonomy of UK citizens, there is only one thing to do: consign hereditary peers to the history books, and the rest of the Lords with them.
Jacob Furedi is a spiked columnist. Follow him on Twitter: @jacobfuredi
Picture by: Getty
To enquire about republishing spiked's content, a right to reply or to request a correction, please contact the managing editor, Viv Regan.