Let's put the 'mattress girl' case to bed
Paul Nungesser should not have to live with continual accusation.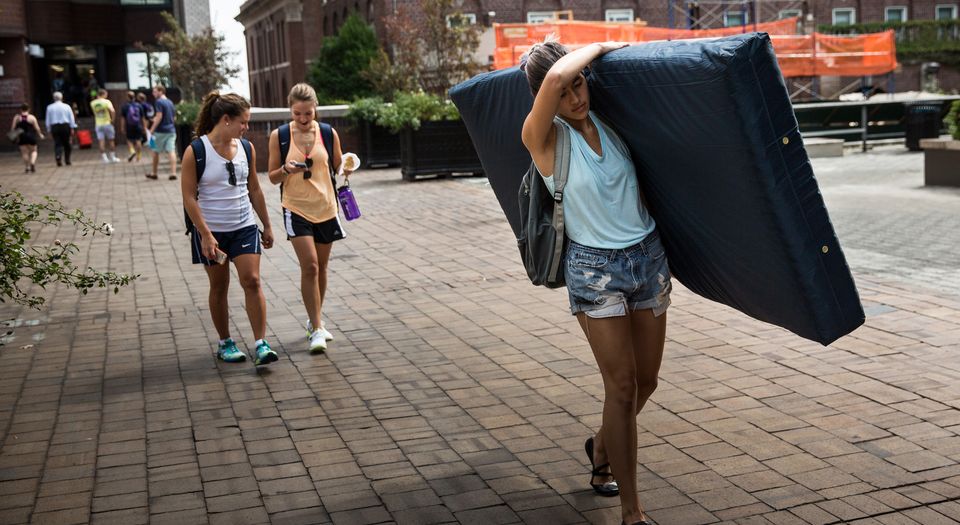 This week, Columbia University settled a lawsuit brought by ex-student Paul Nungesser. Nungesser sued Columbia under a US federal law known as Title IX, which forbids universities from discriminating against students on the basis of gender. The law hit the headlines when students started deploying it to claim damages for universities' apparent failure to investigate allegations of sexual assault on campus properly. Nungesser argued that Columbia's failure to deal with an allegation against him amounted to discrimination and seriously affected his ability to continue his studies.
In 2013, Nungesser was accused of sexual assault and anal rape against another Columbia student at the time, Emma Sulkowicz. Sulkowicz alleged that consenting intercourse between them had turned violent, and Nungesser anally raped her. When Nungesser was exonerated by both a local police investigation and an internal university investigation, Sulkowicz began carrying a mattress around campus as part of an 'endurance art' project. She called the work 'Carry That Weight' and said it was illustrative of women's burden in having to deal with sexual assault. She became known as the mattress girl.
The project received global attention and divided opinion. One art critic called it the 'best art show of the year' and said it demonstrated 'radical vulnerability'. Sulkowicz received awards from two prominent American feminist groups. She was profiled in New York magazine. Others said Sulkowicz was a liar, especially following revelations that she had sent Nungesser flirtatious Facebook messages the morning after the alleged attack. These two young students became symbols of the competing interests in rape investigations – especially of the clash between ensuring a proper investigation and maintaining the presumption of innocence.
Despite being cleared, things turned grim for Nungesser. His name was included in a 'rapist list' pasted to the wall of the men's toilet at Columbia. Sulkowicz was allowed to carry the mattress on to the graduation stage and received academic credit for the project (many saw this as tacit approval by the university of Sulkowicz's conduct and presumably her accusations). It was this granting of credit that formed the basis of Nungesser's Title IX suit. He accused Sulkowicz's supporters of bullying him and claimed he had been subjected to widespread harrassment. In its settlement statement, Columbia said 'Paul's remaining time at Columbia became very difficult for him and [this is] not what Columbia would want any of its students to experience'.
Many are saying that with the settlement of the lawsuit, justice has been done. But in fact, this case highlights the sorry state of justice in these campus cases. On the one hand, you have a young woman who accuses another student of a serious crime and who feels the only way she can achieve a resolution is by harassing him through artwork. On the other is a student who has been exonerated of said serious crime, and who rightly expects to be able to move on with his life. Whatever actually happened on the night, the use of this case to make broad statements about the justice system has made it harder for either side to achieve anything resembling justice.
Neither of these people is straightforwardly in the wrong. Sulkowicz is allowed to voice her perspective on what happened to her. It is a sad fact that more and more young women are turning to social media to voice their allegations because they think the justice system will let them down. But there has to be a line where a legitimate voicing of concerns becomes something else, where it becomes overbearing and wrong. Because Nungesser has a right to the presumption of innocence and due process. When he was exonerated, he should have been allowed to carry on with his life unimpeded and free from harassment or continual accusation. He cannot be convicted in the kangaroo court of public opinion just because there was no evidence to prosecute him in a real court. Sulkowicz's right to discuss what she thinks happened to her must be balanced against Nungesser's legal rights and his right to move on.
It was wrong to elevate Sulkowicz to the status of a feminist icon. That introduced an utterly unhelpful dimension into the case and inflamed suspicion around Nungesser. After the mattress project, Sulkowicz created an art piece called 'Ceci N'est Pas Un Viol' ('This Is Not A Rape'). It is a video work showing her engaging in sexual activity with a man. The website that hosted the video said the activity is 'supposed to resemble rape… but is entirely consensual'. She said the piece is meant to ask questions, like: 'Are you searching for proof? Proof of what?'; 'What do you want from this experience?'; 'How well do you think you know me?'. Some welcomed the artwork as 'brave', while others cited this sexually explicit video as further evidence of Sulkowicz's willingness to court publicity.
We will probably never know what happened between Sulkowicz and Nungesser on that night. The politicisation of the case makes it even less likely. Nungesser's name should no longer be associated with a rape allegation and Sulkowicz should never have become an international symbol of feminist struggle. The more we politicise these cases the harder they are to deal with in a fair and objective way. This is the only lesson to take from this debacle.
Luke Gittos is law editor at spiked and author of Why Rape Culture is a Dangerous Myth: From Steubenville to Ched Evans. (Buy this book from Amazon(UK).)
To enquire about republishing spiked's content, a right to reply or to request a correction, please contact the managing editor, Viv Regan.