Mosul: Western hypocrisy laid bare
The horrors in Mosul brutally expose double standards over Aleppo.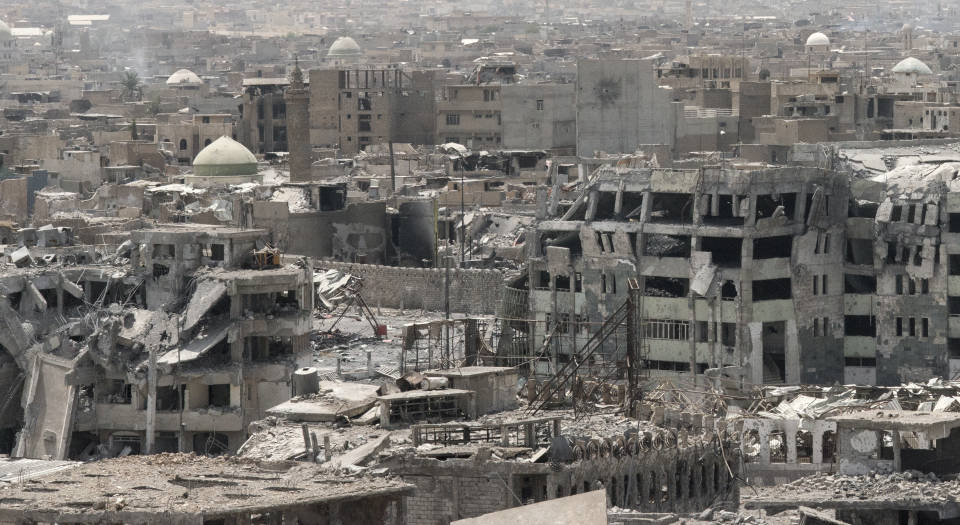 Remember the Battle of Aleppo? Remember its culmination, the siege of east Aleppo? Sure you do. It was the battle in which the Syrian government, backed by Russia, engaged in, as the French government put it, 'the meltdown of humanity'. It was the siege in which the Russia-Assad coalition sought, in the words of British MP Andrew Mitchell, 'to match the behaviour of the Nazi regime in Guernica in Spain'. It was proof, if any were needed, asserted Samantha Power, the then US ambassador to the UN, that 'what Russia is sponsoring and doing is not counter-terrorism. It is barbarism.'
Of course, the reality was rather more complex than Western politicians' Manichean perspective allowed. Yes, over the course of the four-year-long Battle of Aleppo, many terrible things had happened: an estimated 21,000 civilians lost their lives, many at the hands of Syrian government forces; hundreds of thousands more have been displaced; and the city is a pale, devastated imitation of the vital, teeming metropolis it was before 2011. But what happened in Aleppo was not quite the massacre of the innocents Western politicians acted as if it was. For a start, the Russia-backed pro-government forces were not actually fighting and killing civilians. They were fighting a rebellion staged by some of the most repellent, hardline Islamist groups out there, including Jabhat al-Nusra, formerly known as the Syrian branch of al-Qaeda. For those who think that that was merely a pretext for Assad, and his Russian backers, to crush an army of good, moderate rebels, just look at the reality of civilian sympathies. As journalist Patrick Cockburn noted at the beginning of this year:
'There was an implicit assumption that all the inhabitants of East Aleppo were firmly opposed to Assad and supported the insurgents, yet it's striking that when offered a choice in mid-December only a third of evacuees – 36,000 – asked to be taken to rebel-held Idlib. The majority – 80,000 – elected to go to government-held territory in west Aleppo. This isn't necessarily because they expected to be treated well by the government authorities – it's just that they believed life under the rebels would be even more dangerous. In the Syrian Civil War, the choice is often between bad and worse.'
Indeed. In May, the New York Times, in a report from a post-conflict Aleppo, quoted a local who spoke of life in the rebel-held part of Aleppo as a 'chaotic wasteland full of feuding militias – some of them radical Islamists – who hoarded food and weapons while the people starved'. Another said, 'No one is 100 per cent with the regime, but mostly these people are unified by their resistance to the opposition… that is corrupt, brutal and compromised by foreign sponsors'.
But who among the Western political classes wants a rather messy truth – that life under a small-time despot like Assad is preferable to life under big-time Islamist militias – to get in the way of peddling a simple-minded, good-versus-evil narrative? After all, that narrative, that grim fairytale, served a rather useful, triple end. It provided grandstanding politicians and commentators with a sense of moral purpose; it continued the reheating of Cold War animosities and further demonised Russia as a callous, Empire-minded state; and, almost by accident, it diverted attention from a battle a few hundred miles away in Iraq that was to be just as brutalising and devastating as the years-long battle fought in Aleppo.
Because make no mistake, in terms of severity and civilian fatalities the Battle of Mosul, in which the US and Iraqi army fought ISIS, has been more than the equal of the Battle of Aleppo. It may not have lasted as long, having begun in earnest on 17 October last year, and effectively concluding this month. But, in that shorter time span, the killing, the bombing and the fighting have arguably been more intense than at any point in the Battle of Aleppo. Little wonder that according to Amnesty International, between February and June this year, the US-backed Iraqi security forces were responsible for killing 5,805 civilians. That figure, as Amnesty noted, doesn't take into account the hundreds if not thousands of civilians massacred by ISIS as they tried to escape west Mosul. So over the course of just five months, nearly 6,000 civilians lost their lives at the hands of the Iraqi-US coalition. That is more than comparable with the 21,000 civilians the Syrian Observatory for Human Rights reported had lost their lives at the hands of all sides in the Battle of Aleppo over the course of its four gruelling years.
It shouldn't be a surprise that the US-Iraq coalition has caused the deaths of so many civilians in Mosul. On 11 January, the UN Humanitarian Coordinator in Iraq, Lise Grande, reported that Mosul was 'witnessing one of the largest urban military operations since the Second World War'. She also revealed that nearly 50 per cent of those being treated for gunshot wounds were civilians, a far higher percentage than in other sieges of which the UN had experience. As Cockburn reports, 'On 30 December, the Kurdish health minister, Rekawt Hama Rasheed, said his hospitals had received 13,500 injured Iraqi troops and civilians and were running out of medicines'.
Amnesty International's analysis merely deepens the impression of a battle waged with an increasing disregard for civilian life. It reports that, from January onwards, having struggled against ISIS tactics, which involved tunnelling through and then using civilians' houses to launch sniper or grenade attacks, the US-Iraqi forces started using explosive weapons with large-scale and therefore indiscriminate effects. One Mosul resident who managed to get out in time told of how the strikes targeted ISIS snipers and civilians alike. 'A strike would destroy an entire house of two storeys. They'd hit one house and also destroy the two houses on either side. They killed a huge number of people.'
And then there were the reported atrocities which matched anything levelled at Syrian government forces in Aleppo. They even included Iraqi soldiers pushing their prisoners, who may or may not have been members of ISIS, off a cliff.
Yet where was the outcry? Where were the MPs lining up to denounce US-backed cruelty? Where was the ambassador to the UN declaring that the fighting in Mosul proved that 'what the US and its allies is sponsoring and doing is not counterterrorism – it is barbarism'? Where was the ostentatious compassion, the off-the-shelf Nazi analogy, the preening self-righteousness?
It was nowhere, of course. Instead, an Iraq-US spokesman, US colonel Joe Scrocca, called the Amnesty International report 'irresponsible and an insult'. Others simply pointed out how incredibly difficult it is to fight the Islamist insurgents in built-up urban environments. Residents become 'human shields', and family homes sniper hideouts. Civilians are therefore bound to die in the battle against the Islamist enemy.
There is an inescapable truth to the argument that wars are dirty, that non-combatants will be dragged in, no matter how hard it is to confront. But why then, when Syrian government forces, backed by Russia, were engaged in an equally difficult conflict in Aleppo, did so many prefer to posture and pronounce on Putin and Assad's wickedness? The hypocrisy is not surprising, but that does not make it any less shocking. While the Battle of Aleppo is still portrayed as a humanitarian catastrophe and a war crime, the Battle of Mosul is celebrated as a decisive victory against the Islamist enemy without (if not within).
But the fact that the US-backed Iraqi military killed nearly 6,000 people in Mosul tells us something important about the Western response to Aleppo. It tells us that it wasn't really motivated by a concern for human life; that it wasn't really proof of the virtue of the West; and that it wasn't really proof of the vice of Russia. It tells us that the moral hyperbole vented over the actions of Syrian government forces, and, more importantly, Russia, was opportunistic and cynical. It tells us that a desire to bash Russia, and burnish one's own self-image, can lead to a dangerous distortion not just of the brutal reality of war, but of reality itself.
Tim Black is a spiked columnist.
Picture by: Getty Images.
To enquire about republishing spiked's content, a right to reply or to request a correction, please contact the managing editor, Viv Regan.