Three cheers for Thom Yorke
Rejecting BDS is the most rock'n'roll thing he's ever done.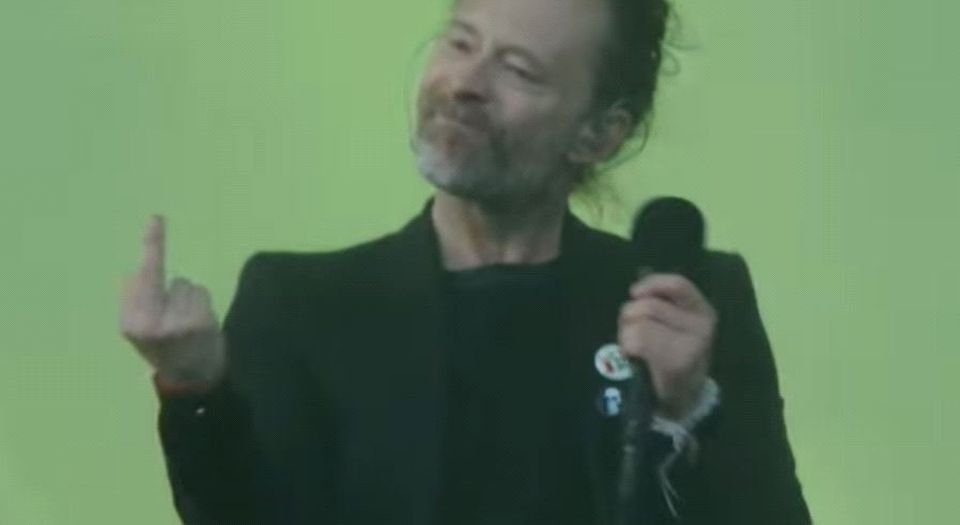 The fate of the Palestinian people rests on Thom Yorke's slender shoulders. Or at least that's the impression you might have got from the weeks of opprobrium heaped on the Radiohead frontman for refusing to bow to the Boycott, Divestment and Sanctions (BDS) crew and cancel the band's upcoming show in Tel Aviv. The backlash, unleashed by pro-BDS artists, myriad luvvies and pro-Palestine protesters, has been positively unhinged.
'Their ill-advised concert in Tel Aviv suggests to me that they only want to hear one side – the one that supports apartheid', wrote film director Ken Loach in the Independent. 'Every international artist who plays in Israel serves as a propaganda tool for the Israeli government', read an open letter signed by Desmond Tutu, Pink Floyd's Roger Waters, Sonic Youth's Thurston Moore, and others. 'Music helps drown out the cries of the oppressed', wrote former Faithless guitarist Dave Randall, in support of the letter.
They've rounded on Radiohead with the passion of a spurned lover. While other acts continue to play in Israel with less controversy – Justin Bieber played there in May – Radiohead, it seems, are supposed to know better. 'They are perceived to be a progressive political band', said Loach. 'If they go to Tel Aviv, they may never live it down.' Others have pointed to Radiohead's support for Amnesty International and Tibetan freedom as proof of their rank hypocrisy.
For all the turbo-charged rhetoric, Yorke's reasons are eminently reasonable. In a statement on Twitter, in response to Loach, he said: 'We've played in Israel for over 20 years through a succession of governments, some more liberal than others. As we have in America. We don't endorse Netanyahu any more than Trump, but we still play in America. Music, art and academia is about crossing borders, not building them, about open minds not closed ones, about shared humanity, dialogue and freedom of expression.'
Yorke has come out swinging. He stuck a middle finger up to protesters at a recent gig in Glasgow. And in an interview with Rolling Stone, he didn't mince words when talking about the effect the controversy has had on Radiohead guitarist Jonny Greenwood, who is married to an Arab Jew and has friends 'on both sides' of the conflict. 'Imagine how offensive that is for Jonny… Just to assume that we know nothing about this. Just to throw the word "apartheid" around and think that's enough. It's fucking weird. It's such an extraordinary waste of energy.'
And he's right. The cultural boycott of Israel, which began in 2005, operates under a bizarre and bigoted logic. For no other nation is its people, all bearing diverse views, so casually conflated with their government; a gig in Tel Aviv might as well be a private performance at Bibi's birthday party. The historically illiterate, borderline depraved claim that Israel is an 'apartheid state' is only a desperate attempt to repackage what looks a lot like collective punishment, of a people who just so happen to be predominantly Jewish.
That musicians, whose post-Trump maxim is 'build bridges not walls', have enthusiastically gone along with this cultural blockade is hypocritical and disturbing. Free expression is the lifeblood of culture, and cross-border exchange essential to global pop. And this BDS lark cuts both ways. Not only do Western artists refuse to perform in Israel, but, in recent years, Israeli artists have had Western performances picketed and shut down because they took small amounts of government money, the equivalent of an Arts Council grant.
The intolerance shown not only to Israeli artists but also to artists who dare to defy the boycott is remarkable. The tirades against Yorke openly hint at repercussions. 'They will lose the respect of thousands of music fans across the region and around the world', said Randall. Roger Waters, the Pink Floyd frontman and BDSer who has compared Israel to Nazi Germany, said a few years back that anti-Israel bands daren't speak out for fear of being 'destroyed'. Yet a 'Boycott Radiohead' campaign can hardly be far away.
The rage against Radiohead tells us a lot about the BDS movement. But it also tells us a lot about the musicians who have gone along with it. The pious fury with which they have denounced a band that just wants to perform for its Israeli fans speaks to a prejudice born of blinding self-obsession. The idea that a prohibition of Pink Floyd will bring down the Israeli state, or that Radiohead playing Tel Aviv will 'whitewash' Netanyahu, is hubris in the extreme. And their fanaticism has taken some of them down some dark political alleyways.
Good for Thom Yorke – giving the finger to the BDSers is the most rock'n'roll thing he's done.
Tom Slater is deputy editor at spiked. Follow him on Twitter: @Tom_Slater_
Picture: YouTube screengrab
To enquire about republishing spiked's content, a right to reply or to request a correction, please contact the managing editor, Viv Regan.