The compassion paradox
'Kinder, gentler' political activism is so often the opposite.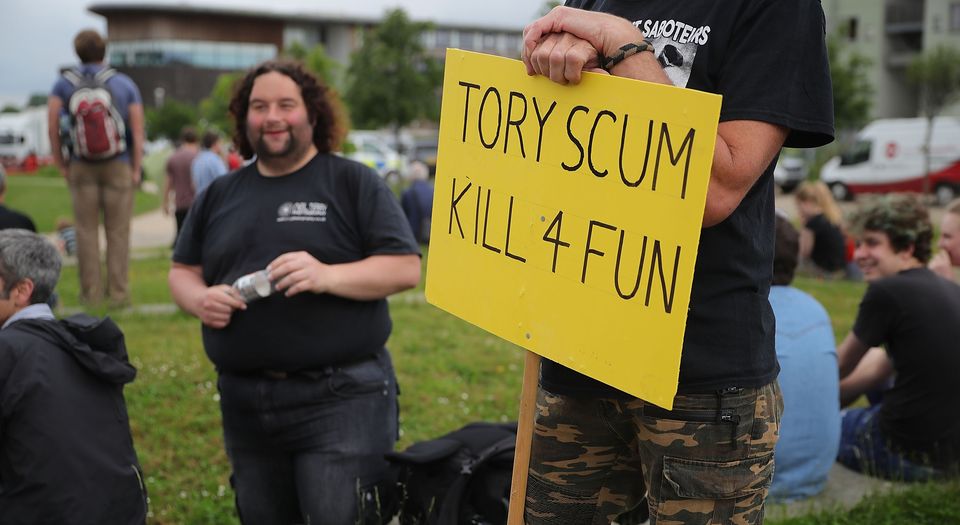 It is somewhat ironic that ever since Jeremy Corbyn promised a new dawn of 'kinder, gentler politics', one of the great paradoxes of modern politics has become ever more glaring. This is the compassion paradox, the phenomenon by which the more caring and sympathetic people profess to be in their outlook, the nastier they are likely to be in person.
This paradox is not new, of course. Animal-rights fanatics are legendary for their misanthropy and acts of terrorism. 'Tory Scum' has long been the charming phrase used by those who complain, without any self-awareness, that the Tories are 'nasty'.
Belligerent sanctimony is an age-old character trait of anti-Tories who love nothing more than rancorous, vindictive rhetoric. As one placard at the anti-austerity march at the weekend opined of Theresa May: 'I'm sorry. I just really fucking dislike you. You piece of shit.' Another, held aloft by a man in a black-and-red striped jumper, simply said: 'Oh just fuck off!'
This compassion paradox has become more evident recently. Last week, Conservative MP Sheryll Murray talked of her experiences during the General Election, in which she read posts on social media urging people to 'burn the witch' and 'stab the cunt'. Murray's election posters were defiled with swastikas and a protester urinated in the doorway of her office, before shouting: 'Fuck you, Sheryll Murray, you're a fucking prick.'
Elsewhere, Sarah Wollaston, Conservative MP for Totnes, had the walls of her constituency office defaced with anti-Tory messages by masked men. A bridge leading into Totnes was also graffitied with the obligatory 'Tory scum'. In east London, the Conservative MP for Romford, Andrew Rosindell, had the windows of his car smashed by a man on a moped. He, too, was followed everywhere with taunts of 'Tory scum'.
This has generally been the direction of 'caring' politics lately: a radical posture combined with a lust for violence and bullying. Momentum's reputation for threatening critics is infamous, while in the US this secular jihadism has manifested itself in the rise of antifa.
This behaviour is entirely consistent with the law of the compassion paradox: the kinder and gentler are your politics, the more violent are your words and actions. And the more you believe you are on the side of righteousness, of the poor against the rich, of Good against Evil, the more your mindset comes to resemble that of a religious fanatic. For those possessed with supreme righteousness, anything is permitted. The holy warrior can legitimise to himself or herself any manner of ferocity.
Intoxicated by a heady cocktail of malignant vindictiveness, grievance, moral indignation and unshakeable certitudes, the ostentatiously compassionate are on the march. They are whipping themselves into a frenzy over Grenfell Tower in particular. So watch out for greater tension on the streets. Behold when these kind, gentle zealots exact vengeance upon society.
---
In praise of Harry Potter
Many people were keen to sneer at the Harry Potter phenomenon, which swept the globe soon after the release of the first book, Harry Potter and the Philosopher's Stone, 20 years ago. It seemed such a derivative affair, like a cross between Star Wars and an Enid Blyton novel. Indeed, like Star Wars – and Lord of the Rings, The Matrix, Jaws and Superman – the first Harry Potter book clearly employed the universal monomyth outlined by the anthropologist Joseph Campbell: orphaned boy, often brought up by uncle and aunt, is called to his quest by an old man in a beard, befriends accomplices, is given tasks, embarks on a trek, before confronting the dark lord/monster in his lair.
The fact that many adults also raved about Harry Potter only antagonised the literati further. Yet, two decades on, Pottermania shows no sign of abating. So it's no wonder the critics have piped down: to carp in the face of such success would appear very sour grapes indeed.
Having seen the delight the Harry Potter books have given to my nieces, and having since read the first three myself, I have been converted from a scoffer to a fan. JK Rowling's books have not only introduced a generation of children to the joys of reading books, but to very large books, too.
Tales of good versus evil will always have innate appeal. But the charm of the Harry Potter books also lies in their form: like Tolkien, Rowling's prose is tight and simple, yet decorative and pictorial. She isn't afraid to use long words or talk about death, one of the most frequent themes of the saga.
Harry Potter's real genius, from an adult reader's point of view, is that the books are all things to all people. Conservatives have always approved of these tales of children being packed off in a locomotive train to a boarding school, where the obedient pupils show reverence and even affection for their elderly schoolmasters. Liberals, meanwhile, see Harry Potter as a defender of the common man – both wizard and muggle – against Voldemort's 'pure-blood' racism. They cheer Potter as the youth who escaped from the ghastly Daily Mail-reading Dursleys in their lower-middle-class suburban hell.
---
Men should wear ties
There has been a raging argument in parliament about whether it is right and proper to wear ties. This followed a decree by the speaker of the House of Commons, John Bercow, that male MPs need not wear them when appearing in the chamber – just as long as they wore 'businesslike attire'.
I always try to wear a tie, even though I don't work in an office. This is not a hipster affectation: wearing a tie is a psychological tool. I work better if I wear one. Ties also come in handy in public. You get better service in restaurants, libraries and on public transport – more respect and deference in general.
But this is not just a cynical ploy. To dress smartly for work is to show respect for others. To dress casually or slovenly is to intimate that you have little respect for the other man. This is why oligarchs and Silicon Valley potentates don't wear ties. They really couldn't give a damn what you think of them.
To wear a tie for work is like addressing strangers as 'sir'. To not wear a tie is the equivalent of someone calling you 'mate'.
Patrick West is a spiked columnist. His new book, Get Over Yourself: Nietzsche For Our Times, will be published on 1 August by Imprint Academic. Preorder it here. Follow him on Twitter: @patrickxwest
To enquire about republishing spiked's content, a right to reply or to request a correction, please contact the managing editor, Viv Regan.