CNN has officially lost the plot
Its treatment of a meme-making Reddit user has been shocking.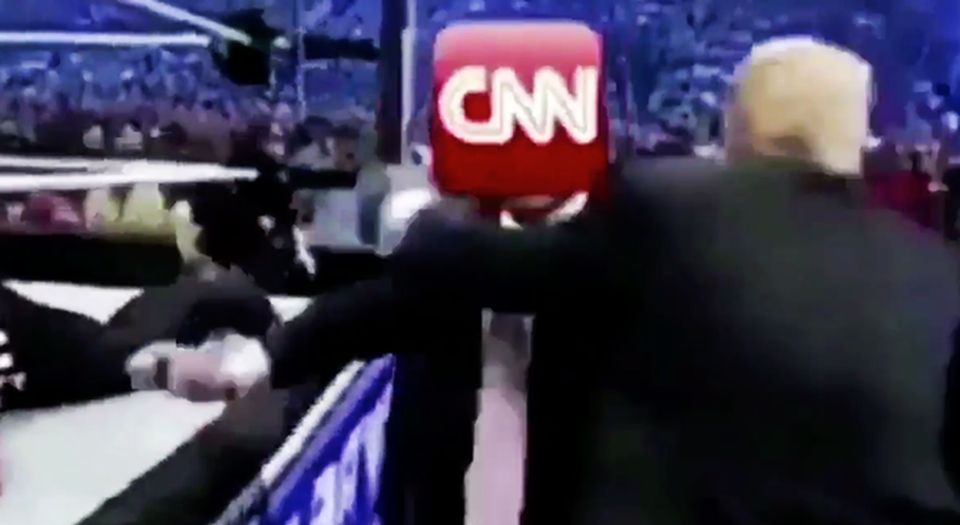 So now we know: if you criticise CNN, it will attack you. It will expose you to public ridicule. It will reveal your secrets to your family and colleagues. It will punish you. That's the only conclusion one can draw from the bizarre Trump-CNN-meme debacle. This might have started life as yet another 'Oh God, why did Trump tweet that?' moment, but it has fast morphed into a story about the arrogance and censorious sensitivity of the modern media. CNN is now behaving more recklessly than Trump; it has come out of this mess looking worse than he does.
This weird 21st-century tale started on Sunday, when Trump tweeted a meme showing him wrestling with CNN. Old footage of Trump taking down WWE CEO Vince McMahon in 2007 had been doctored so that McMahon's face was replaced with the CNN logo. Message: Trump is still embroiled in a bitch-fight with CNN. Trump and CNN have been at each other's throats, virtually, for months. He accuses them of spreading fake news, they accuse him of destroying the republic, etc. Their interminable war of words has been one of the more unsavoury aspects of the Trump era so far. They should both give it a rest.
However, things took a more peculiar, and darker, turn over the past 12 hours, as it has became clear that CNN has discovered the identity of the anti-CNN meme-maker and has threatened to reveal it if he mocks the network again.
Having worked out that the meme-maker is a Reddit user who posts under the pseudonym HansAssholeSolo (the most internet name ever), CNN reporter Andrew Kaczynski says the network 'reserves the right to publish his [true] identity' if he engages in 'ugly behaviour on social media again' – that is, if he continues to shoot his mouth off about CNN and other things. People are referring to this latest development as 'CNN blackmail', and it's hard to disagree: it really does look like CNN is heaping pressure on an individual web user, a private citizen, to stop saying certain things if he wants to avoid public humiliation at the hands of one of the largest media organisations in the world.
CNN discovered that alongside making the Trump vs CNN meme, HansAssholeSolo has also published racist and anti-Semitic comments on Reddit. And it reports – with misplaced boastfulness – that when it approached him and effectively warned him about his online commentary, he expressed 'fear for his personal safety and for the public embarrassment it would bring to him and his family' if he were to be outed. CNN said it wouldn't out him so long as his 'ugly behaviour' changed and he stopped memeing and misbehaving.
The man has described CNN's approach as 'an extreme wake-up call'. 'Free speech is a right we all have, but it shouldn't be used in the manner that it was in the posts that were put on this site', he said. 'I do not advocate violence against the press and the meme I posted was [not] advocating that in any way, shape, or form', he continued. Shorter version: he's learnt his lesson. He's been chastised. He's been corrected. He now knows – we all now know – that if you mock CNN in a meme, you could very well find yourself accused of stirring up violence against the media, threatened with having your history of dodgy online posts exposed, and effectively forced, or at least heavily pressured, into apologising. The message here is as clear as it is terrifying: you ridicule CNN at your peril.
If it was daft and unpresidential of Trump to tweet that meme, the mainstream media's reaction to his tweet has been positively unhinged. The suggestion that a jokey vid showing Trump wrestling a CNN logo-head could incite real-world violence against journalists is just the classic old censorship argument: 'The public is gullible and stupid and if they see this image / read this book / hear this song they will go out and beat someone up.' That elitist prejudice lurks behind pretty much every attempt in history to control speech, and it lurks behind the media freakout over Trump's tweeting of this meme, too. The media's view of right-leaning web users, especially the younger ones who while away their days on Reddit and 4Chan and other free-for-all hangouts, has become crystal clear in recent days: it views them almost as animals, certainly as incredibly dangerous, so brain-fried and morally arrested that if they see one silly meme they might storm CNN's HQ.
CNN really ought to have a thicker skin than this. The media and press are a central part of public life, so they must be able to take the flak and barbs that come with being in the public eye. If you don't like being questioned and challenged and turned into a viral joke, then you shouldn't be in journalism. It is every citizens' right to rip the piss out of massive media organisations and their reporters, and they shouldn't be made to 'fear for their safety' for exercising that right.
Brendan O'Neill is editor of spiked.
To enquire about republishing spiked's content, a right to reply or to request a correction, please contact the managing editor, Viv Regan.