Ink: the Sun story for Guardianistas
James Graham's play lacks the tabloid's priapic vigour.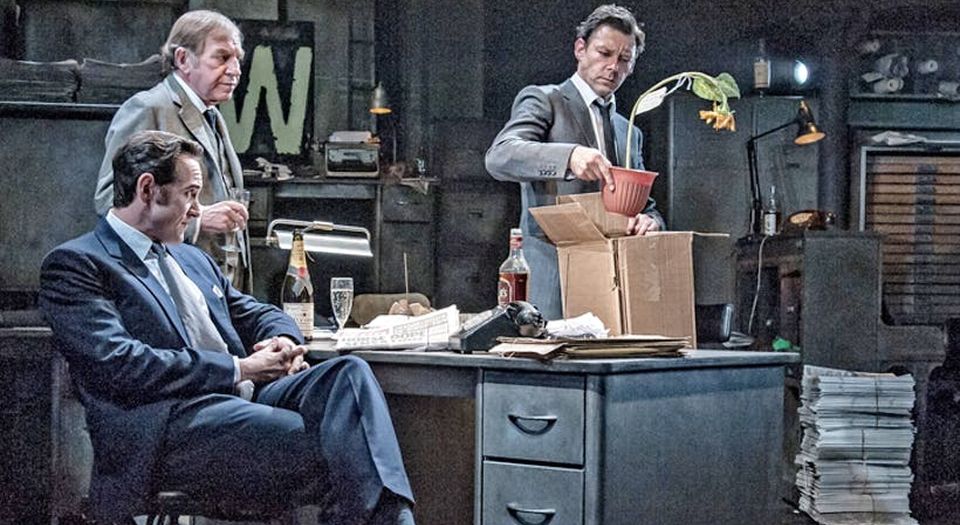 Saintly lefties have long coveted the priapic vigour of the political right. There is no better example of this than the enviously deploring eye they have cast over the proletarian swagger of the Sun newspaper down the years. Censoriousness and excitement have been provoked in equal measure by headlines ranging from 'Up Yours Delors' to 'Phew What A Scorcher' to 'Elton Takes David Up The Aisle', and the inimitably bleak 'Gotcha' that went with the sinking of the Belgrano.
Where the Sun has tapped into the nation's political libido and surfed on its testosterone, left-liberal commentators have been left dreaming of coining such Dionysian locutions. Telling the history of the Sun's less-than-immaculate conception in 1969 was therefore a chance to set all that to rights. And who better to claw back some street cred than James Graham, the theatrical chronicler of the UK's political life who wrote the tumultuous account of the 1974 hung parliament, This House? Alas, it doesn't turn out that way. Graham's left-liberal sympathies render his play demotic yet bashful, leaving him like a spare prick in Fleet Street's political brothel.
He does usefully relay many of the facts behind Rupert Murdoch's audacious purchase of the failing Sun, which at the time was a Labour-supporting rag owned by IPC, the publisher of the most popular paper in the UK at the time, the Daily Mirror. He goes on to illustrate how Murdoch and his team created a paper almost ex-nihilo, and how they were nearly sunk first by the murder of Muriel McKay (wife of Murdoch's deputy Alick McKay) and then by their biggest gamble of all: the infamous introduction of Page 3 girls. All in the course of one action-packed year.
In pursuit of his quarry, Graham stages a chug-along 100-minute first half in which the Sun's battle-hardy, chain-smoking Yorkshire editor, Larry Lamb, assembles a Magnificent Seven of Fleet Street lags to make up his editorial staff. Between them they reinvent the newspaper from a broadsheet to a tabloid complete with an aptly right-leaning italic title. Much as he did in This House, Graham then turns it into a theatrical trip to the dog races in which the prize bunny is overtaking the Mirror's circulation figures to become a genuinely people's paper.
Although the first half could use the ruthless slash of a Fleet Street editor's red pen, there is some good sport. Newsrooms, after all, house some of the sharpest, smartest most competitive wits and wags in the country. But Graham's repartee would nonetheless mark a slow day in most papers I've worked on. His script is also let down by wishful anachronisms that betray his desire to assess the paper from a more modern, Guardian-reading perspective.
Female columnist Joyce Hopkirk declares her desire to 'empower' women and 'give them a voice', as if that might not get her sacked. And when someone suggests ideas for a Ramadan issue, the layout artist suggests it is 'offensive'. In 1969, there was neither the concept nor word for such a cultural infraction, as a glance at Benny Hill on YouTube will confirm. This is clearly a sop to forestall censure by the identity politariat. And if they really did have 'focus groups' in 1969, according to my dictionary, they didn't call them that until 1991, or 1975 at the very earliest.
What we witness, therefore, is a subtle attempt to tweak the truth and avoid getting caught on what one character erroneously dubs 'the wrong side of history'. This grisly formulation is an even more egregious piece of progessivist baloney. Sociologists may have been incubating such notions in plate-glass polytechnics in the Sixties, but even they preferred more classically Marxist concepts of historical teleology and dialectical materialism. History didn't have sides. It wasn't a trapezium or any other shape. Either it had inevitability or it was bunkum. Take your pick. And no one who thought like that had day jobs on Fleet Street tabloids, or anywhere near the sizzling Sun.
Graham is, however, nothing if not brazen in his insistence that the play is as much a celebration of the Sun as it is a critique (mercifully, that bloodless noun doesn't seem to have made his final print run). But his play runs aground in the second half, with its more ambitious attempt to take on the moral dilemmas posed by Muriel McKay's being fed to pigs by psychopaths who claimed to be protesting against the paper's ethical standards.
This appalling episode is clearly beyond the reach of either comedy or celebration, so we are quickly moved along to fulminate over Page 3 girls instead. Either of these subjects might have warranted a play in their own right, and maybe the play should have been a trilogy: first fun, then mea culpa, and finally some stern moralising. Aware that he's tiptoeing through a minefield of sexual politics in an avowedly man's world, Graham is of course careful to present Page 3 model Stephanie Rahn as a savvy 'strong' woman. Lamb dutifully obliges by finally living up to his name and becoming painfully furtive and contrite about his Page 3 gamble (which he goes ahead with anyway).
Interestingly, there is no real agenda prosecuted in relation to Murdoch. In that role, Bertie Carvel offers an unctuous viper in a craftily studied turn with tilted head, squeezed eyes and pseudo faltering voice. It's creepily persuasive, but Graham offers nothing with which to challenge the populist motivation proclaimed by Murdoch to dignify his quest for world media domination. To be fair, though, who wants to fight his lawyers?
But Graham pulls his punches most in the main character of editor and legendary bruiser Lamb. Maybe he wasn't such a bruiser in reality, but the drama would be better served if he was. Richard Coyle has menacingly hooded eyes and a sour Yorkshire snarl, but he's thoroughly reasonable and even polite, deploying the word 'please' at least once without sarcasm. Other Sun editors like Kelvin 'McFrenzie' were notoriously fiery, but at no point could I imagine Lamb headbutting obstructive print workers.
Bunny Christie's set serves Rupert Goold's teeming production well, with sundry locations popping up out of the Sun's jumbled editorial office. But there is too much huff, puff and distended dialogue – including one literally unspeakable line, 'You don't believe in anything you can't get ink on your hands from'. This is a play and production that talks tough but is ultimately defeated by its own good intentions, and failure to call a spade a fucking shovel.
Patrick Marmion is a playwright, journalist and associate lecturer at the University of Kent. He is currently adapting Will Self's Great Apes for the stage.
Ink is at the Almeida Theatre in London until 5 August 2017.
To enquire about republishing spiked's content, a right to reply or to request a correction, please contact the managing editor, Viv Regan.