What is the US doing in Syria?
Trump's aimless strategy is creating chaos.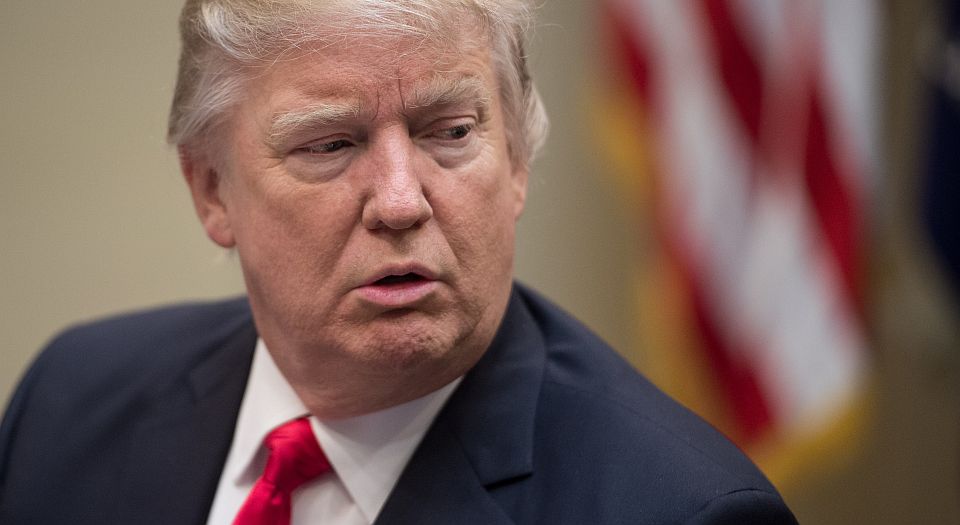 Another night, another bombshell from the Trump administration. No, not a missile strike, but quite possibly the precursor to one. On Monday night, the White House press department released a statement claiming that there was evidence that Syrian president Bashar al-Assad was preparing another chemical attack. Nikki Haley, the US ambassador to the UN, who has been gunning for World War Three from the start of her tenure, got her precrime report in early and immediately tweeted that any future chemical attack that occurred would be blamed on Assad, Russia and Iran.
British defence secretary Michael Fallon threw his support behind Haley and the White House, saying that any US attack in response to a future chemical attack would be legitimate and supported by the UK. Leaving aside this seeming invitation for our erstwhile jihadi allies in Syria to launch a chemical attack in order to bring down US bombs on the Syrian army, and leaving aside the fact that the White House seems to be preparing the ground for more military strikes, the immediate context is that eastern Syria has become a flashpoint between the US, Russia and Iran.
ISIS is being steadily vanquished in Iraq and Syria. In Syria there are two broad coalitions attacking ISIS. One is the US-led coalition backing Kurdish, Arab and Christian militias on the ground, with the Kurdish YPG forming the main force of the Syrian Democratic Forces (SDF). The other is the Russian airforce backing the Syrian army and Iranian-backed militias, including Hezbollah. There is an increasingly tense situation developing in east Syria as these various forces jostle to take control.
Last year, the US set up a military base in Tanf, which is being used to train special forces. Surrounding the base is a 34-mile exclusion zone, and over the past couple of months the US has attacked Syrian proxy forces that have breached the exclusion zone, and shot down two Iranian drones. (The US army claimed these were purely defensive actions.) Meanwhile, Iranian militias and the Syrian army are moving to secure the Iran-Iraq border crossing, to establish what some analysts have argued is a Tehran-to-Beirut corridor. Then, on 18 June, US forces shot down a Syrian plane that it claimed was bombing SDF forces fighting in Tabqa in the north of Syria.
After this attack, Russia said that it was suspending the de-confliction hotline between the Russian and US military, which has been extremely successful in avoiding accidental clashes. Furthermore, Russia said that it would track all coalition aircraft west of the Euphrates with radar, marking them as potential targets. Australia promptly said it would be suspending its participation in the US-led coalition.
So, what is the US doing in Syria? Unfortunately, the US doesn't seem to know. Whether one agrees or disagrees with the Russian government, its aims have been clear and rational since the start of its military intervention in September 2015. Russia wants to support the Assad regime and prevent Syria from falling to ISIS. It has stated on many occasions that it will not allow more regime changes, as happened in Iraq and Libya, with the subsequent creation of failed states that were later taken over by al-Qaeda and ISIS.
Moreover, like it or not, Russia is in Syria because the Syrian government has authorised it. The US and its allies, including the UK, are engaging in Syria illegally – if we understand international legality in this context to mean an existing government of a state permitting other states to set up military bases on its soil. And no, there is no 'responsibility to protect' mandate. The US is shooting at Syrian-authorised forces in order to 'defend' its illegal military base. The US shot down a Syrian jet in its own state. There is some dispute in the US, too, about whether there was domestic political authorisation for the intervention.
But even if we accept that the US and allied presence is legitimate, which I do not, there is a fundamental question here about what the US is seeking to achieve. Whereas Russia has clear objectives, Donald Trump has been continuing Obama's confused strategy of fighting ISIS while supporting the Gulf States and Saudi Arabia in their campaigns to oust Assad. This entails supporting jihadi groups, including those with links to ISIS and al-Qaeda. And, under Trump, the US is rapidly moving into more open conflict with Syria, Russia and Iran.
In addition to the debacle of existing US policy in Syria, we have the chaos of Trump's foreign and domestic policy, in which four contradictory announcements before breakfast are standard. An Associated Press article a few days ago stressed that the US welcomed Syrian and Iranian action to attack ISIS, and that US action against Iranian and Syrian forces is about 'force protection'. Yet the US has in fact been attacking Syrian and Iranian forces engaging in anti-ISIS action. According to an article in Military, it was actually US pilots who decided to shoot down the Syrian plane.
For the moment, Russia and the US will continue to cooperate. The skies above Syria are pretty crowded these days, and we'd have had multiple disasters already if this wasn't the case. But the situation remains very tense. While Russia is, if nothing else, a rational actor, the US-led strategy is deeply chaotic and unpredictable. Who knows what will happen if Trump decides to shoot more Syrian planes out of the sky? Who knows if there is serious intention there or if it will all calm down again? No one, least of all Trump, seems to know.
Tara McCormack is a lecturer in international politics at the University of Leicester. She is author of Critique, Security and Power: The Political Limits to Critical and Emancipatory Approaches to Security, published by Routledge. (Buy this book from Amazon(UK).)
To enquire about republishing spiked's content, a right to reply or to request a correction, please contact the managing editor, Viv Regan.