Bill Cosby: mistrial by Twitter
Jurors rose above the social-media witch-hunt.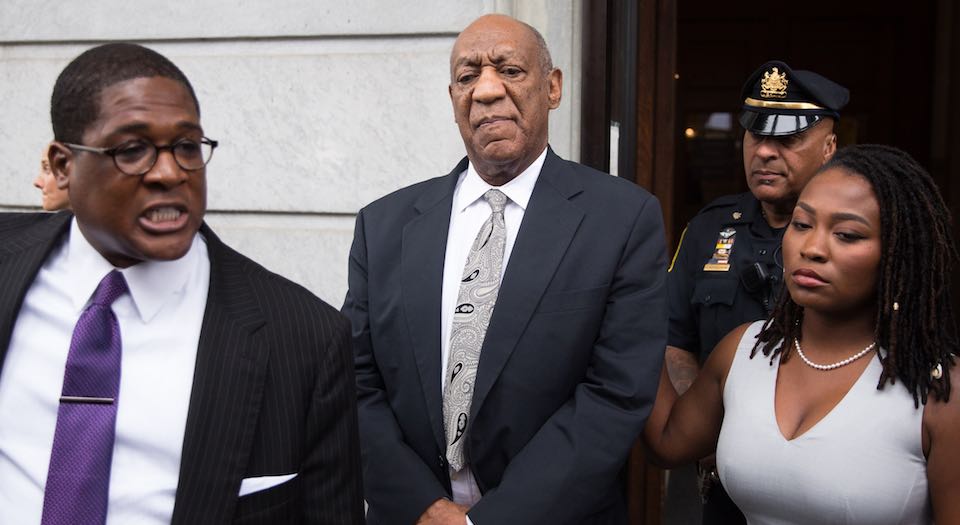 The criminal court case against American entertainment star Bill Cosby has concluded with a mistrial, after the jury failed to reach a verdict. Cosby was brought to court on three charges of aggravated indecent assault. After the jury was discharged, the prosecutors indicated their intention to proceed to a retrial. Cosby also announced following the mistrial that he would undertake a tour of US town halls teaching young people how to avoid sexual-assault allegations.
Allegations against Cosby date back to 1965. Many of the allegations against him were prevented from being prosecuted by a statute of limitations, but this has not stopped the launch of several civil cases against him.
The criminal case involved an allegation made by Andrea Constand. Constand and Cosby met in 2002 when he attended a basketball game at Temple University. She alleged that he drugged her using a quaalude in order to sexually assault her while she was at his house early in 2004. Prosecutors initially declined to proceed with the allegation, finding that there was insufficient evidence against Cosby. This led Constand to launch a civil case in 2005.
During this civil case, Cosby gave testimony that he had sex with several different women using the same drug he used on Constand – a drug illegally obtained from a gynaecologist. Many of the cases similarly alleged that Cosby drugged the women in order to have sex with them without their consent. Cosby said in evidence that, having given the women the drugs, he would simply proceed to touch them until they told him not to. The evidence given in the civil trial was 'unsealed' by a judge in 2015, meaning it could form the basis of a new criminal investigation.
The latest revelations about the Cosby case provide a valuable insight into the jurors' deliberations. In the US, jurors can be interviewed about their decision-making process. One of the jurors said this week that there was little point going for a mistrial, claiming that Cosby had already 'lost his earnings and reputation over the last 11 years'. Another juror told how he was completely torn until he heard Cosby give evidence that he 'never would use the word consent' in describing his interactions with women, and so turned against him. Another juror described how jurors were crying in the jury room throughout due to the lengthy deadlock.
It is not for anyone to prejudge the many cases against Cosby. As Constand's case is proceeding to a retrial, it would be wrong to second guess what a second jury trying the case may think. Still, the evidence given by Cosby himself, which is now all in the public domain, will be viewed by many to be grotesque.
However, it is important to recognise that there are aspects of Cosby's treatment that form part of a disturbing pattern in allegations of this kind. Cosby has been prosecuted twice. First in a court of law, and second in the court of public opinion. His case has become a barometer for societal attitudes to offences of this kind.
This did not take place straight away. Allegations against Cosby were first made in public in 2000. Four more complainants came forward in 2005 and then another came forward in 2006. The media just did not pay much attention to them.
Then, in October 2014, Hannibal Buress, an American comedian, made a joke during a comedy routine about Cosby being a rapist. This prompted more women to come forward alleging that they had been assaulted. The New York Times published a magazine cover featuring 35 of Cosby's accusers under the headline, 'Cosby: the women, an unwelcome sisterhood'. A Twitter hashtag emerged in support of the women, in which people proclaimed #IBelieveWomen.
The Washington Post also published details of all the allegations against Cosby, with an interactive map. Several articles asked why we didn't believe the women who had accused Cosby, and treated the failure to prosecute him successfully as a symptom of a deeper misogyny. CNN said directly that Cosby's case showed that the 'patriarchy, and its unquestioned, unaccountable, often abusive power', was the real reason he had not been prosecuted. Very quickly, Cosby came to be seen as part of a deeper evil. The failure to convict him was just a symptom of a society that did not take certain crimes seriously.
In fact, the latest case shows we do take these cases seriously. Cosby was given time in court in front of a jury. The case against him is more complicated than intuitive reactions can allow for and deserves more serious treatment than an op-ed in a magazine. Jurors cannot just 'believe' the case against Cosby. They have to assess it critically, and balance it against Cosby's defence. These allegations involve complicated questions of consent and responsibility that cannot be answered by resort to a hashtag. They need to be proved by evidence and judged by an impartial jury. Nothing else will do.
You may agree with the jury's verdict; you may disagree. But you can be sure that the jurors considered the case incredibly carefully. Fair play to them for ignoring the media circus around the Cosby allegations and scrutinising the evidence. Justice requires that Cosby be given a fair trial, presided over by a jury of his peers. Until that judgement emerges, it is wrong for the media and the public at large to rush to believe the case against him.
Luke Gittos is law editor at spiked and author of Why Rape Culture is a Dangerous Myth: From Steubenville to Ched Evans. (Buy this book from Amazon(UK).)
To enquire about republishing spiked's content, a right to reply or to request a correction, please contact the managing editor, Viv Regan.