Michelle Carter: the unacceptable face of assisted suicide
If her text messages were wrong, surely 'assisted dying' is wrong?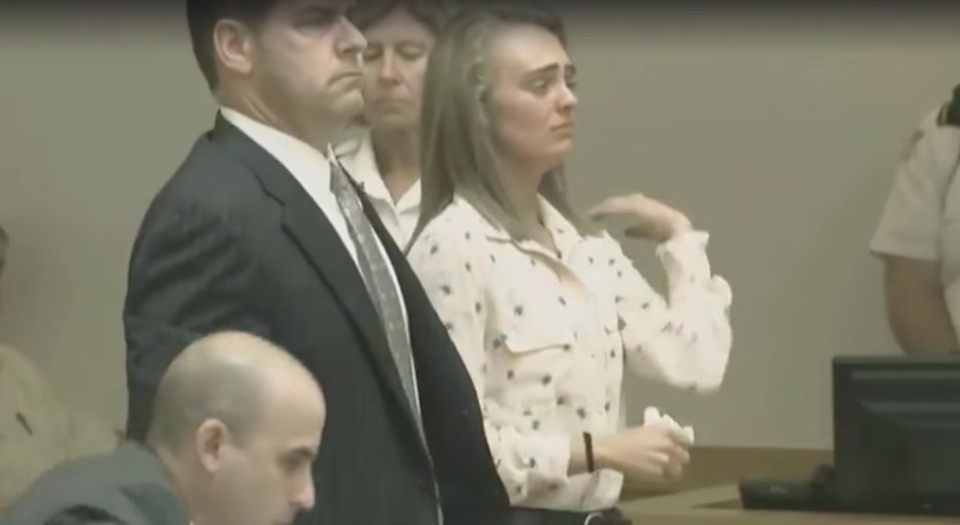 Like a recurring theme in Twin Peaks, the bizarre and disturbing case of Michelle Carter, rumbling on for over two years, hit the headlines again last week as she was found guilty of involuntary manslaughter for her involvement in the suicide of her 18-year-old boyfriend, Conrad Roy. Twenty-year-old Carter, who was 17 at the time of Roy's death, faces up to 20 years in prison.
Roy died from carbon-monoxide poisoning produced by a portable generator in his pickup truck in a K-Mart parking lot in Fairhaven, Massachusetts, on 13 July 2014. In the hours preceding his death, Carter sent hundreds of text messages urging him to act on his suicidal thoughts and telling him in a phone call to 'get back in' his carbon monoxide-filled truck after he had second thoughts about killing himself and got out.
'I thought you wanted to do this. The time is right and you're ready, you just need to do it. You can't keep living this way', Carter wrote in one text.
Carter had initially attempted to dissuade her boyfriend from suicide, urging him to get help. But by July 2014 she was urging him to end his life in a series of texts. When Roy expressed concerns about his family, Carter blithely replied: 'Everyone will be sad for a while, but they will get over it and move on… They'll always carry u in their hearts.'
Her motive seemed to be attention. She tweeted after the event: 'Such a beautiful soul gone too soon. I'll always remember your bright light and smile. You'll forever be in my heart, I love you Conrad.' One of Roy's younger sisters testified that Carter texted her on the day of his death: 'Find him yet?' Three days later, she added: 'I will never understand why this had to happen.' She even organised a suicide-prevention fundraiser in his name. 
Much of the media has been up in arms over the verdict. Mathew Segal of the Massachusetts Civil Liberties Union claimed the conviction of Carter exceeds the limits of US criminal law and violates the free-speech protections contained in the American Constitution at a state and federal level. The judge in the case did not help clarify the issue when he stated that Carter 'literally killed Mr Roy with her words'. As Kathleen Parker noted in the Washington Post: 'Words do matter, but they're not lethal.' 'Aren't we free to say whatever we choose in a private conversation with another person?', she asked.
Words, of course, cannot literally kill. But neither is there free-speech protection for conversations that result in a crime. Say a wife encourages her lover to kill her husband. Are her words protected free speech? No, they are evidence of 'joint enterprise' or 'aiding or abetting', according to Massachusetts (and UK) law.
The Carter case raises this question: is it legal to assist a suicide? The Massachusetts Judicial Court, justifying the prosecution of the case, argued it was not 'about offering support, comfort, and even assistance to a mature adult who, confronted with such circumstances, has decided to end his or her life'. But, as Philip Nitschke, the Australian director of Exit International, which advocates the right to die, noted, 'Everyone involved in the debate over assisted suicide as a human right' should be concerned about this case. 
Nitschke is right to be nervous, because if Carter's action is wrong, then so is assisting any suicide. After all, Nitschke and medical personnel in areas where assisted suicide (some prefer the fluffier term 'assisted dying') is legal routinely do more than Carter to help people kill themselves. They even supply the means to do it. Carter did not supply the generator. Nitschke and other doctors supplying deadly drugs are at least as guilty as Carter of 'aiding, abetting, counselling or procuring' a suicide.
How can we delineate between those like Roy who are manipulated into suicide and those who are determined but want help to die? We can't. The only way we can be certain that someone has come to the decision themselves is if they take the action with no assistance. As soon as assistance is offered, particularly to those in age or disability categories, it becomes a joint venture. The second party must take some responsibility for the action.
The case also tests our moral and legal attitudes to suicide. Is it wrong? Is it a crime? If it is not inherently wrong, how can assisting a suicide be wrong?
It is still wrong. When someone commits suicide they are both the victim and the killer. In the past, the killer was punished; this has been (rightly) balanced in favour of not punishing the victims of the killing (or attempted killing). From the standpoint of the community, however, suicide is an attack on one of its members. As the pioneering author of Le Suicide, Emile Durkheim, observed:
'From the moment that the human person is and must be considered something sacred, over which neither the individual nor the group has free disposal, any attack upon it must be forbidden. No matter that the guilty person and the victim are one and the same; the social evil springing from the act is not affected merely by the author being the one who suffers.'
Just as the penalties for murder or manslaughter reflect our equal consideration for human life, so should penalties for assisting a suicide. Through them, society recognises that suicide is still in some ways a crime, even if it is unpunishable. If we remove the law against assisting a suicide, it is difficult to justify any sanction of Carter's actions, even in moral terms, except by patronisingly dividing 'good' suicides from 'bad' suicides and subjecting them to a pre-approval system.
There are genuine situations where assisting a suicide is an act of kindness and it is right that, in these cases, courts refuse to prosecute. But, as cases such as Carter's indicate, it makes sense for suicide nominally to remain a crime just as it makes sense not to punish its victims.
Kevin Yuill teaches American studies at the University of Sunderland. His book, Assisted Suicide: The Liberal, Humanist Case Against Legalisation, is published by Palgrave Macmillan. (Buy this book from Amazon (UK).)
Picture: YouTube
To enquire about republishing spiked's content, a right to reply or to request a correction, please contact the managing editor, Viv Regan.