The ACLU must fight for liberty, not social justice
The civil-liberties group has become bogged down in 'progressive' causes.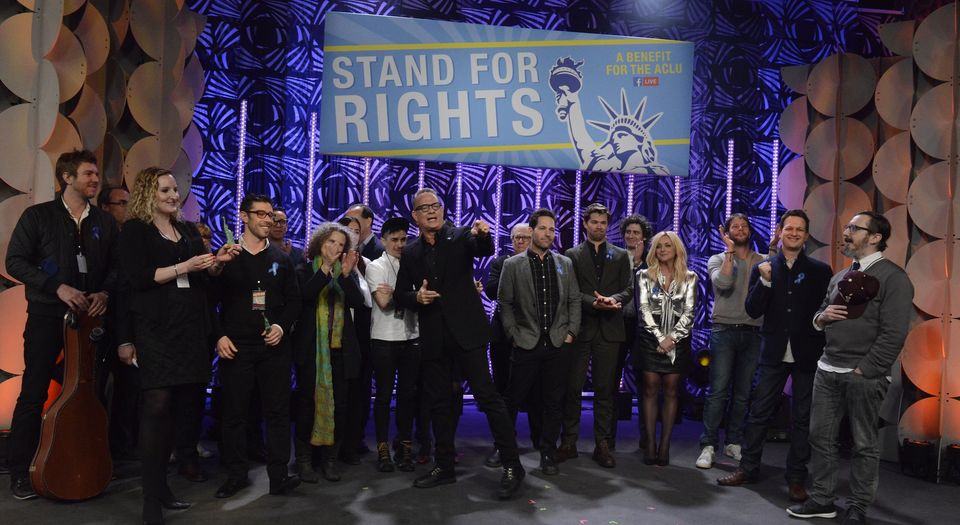 'Healthcare access is a civil-rights issue', the American Civil Liberties Union (ACLU) declared in a 2017 email blast, opposing Republican efforts to repeal Obamacare. 'Tell your representative to vote NO on repealing the ACA.' Stressing that the Republican-sponsored repeal would 'gut' Medicaid, while '24million people would lose coverage', the ACLU's call to action was indistinguishable from urgent emails issued by other progressive advocacy groups – which is what made it so remarkable. Once, the ACLU did not engage, much less seek the lead, in social-welfare debates. Once, it was a non-partisan organisation focused on liberty and equality under law. Today the ACLU trumpets an expansive, progressive commitment to social and economic justice.
The social justice warrior's gain is the civil libertarian's loss. The ACLU still engages in the fight for civil liberty, especially in opposition to the post-9/11 security state and as part of the anti-Trump 'resistance'. But the 21st-century ACLU has chosen its battles with a progressive sensibility that devalues free speech and due process for all. Most notably, it has shied away from confronting campus-censorship crusades and the threat of an ideology that equates allegedly hateful speech with discriminatory action, subordinating the right to speak to the imagined rights of particular listeners to suppress what offends them.
This anti-libertarian dogma dates back some 30 years, and in the beginning the ACLU publicly opposed it. But as progressive hostility towards free speech widened and deepened, its influence spread to the ACLU. The First Amendment's future is at stake. As generations of students schooled in the 'virtues' of censorship become policymakers, the US may follow Western Europe in criminalising speech that authorities deem hateful or discriminatory.
When asked, ACLU officials are still apt to critique this approach to speech, and if you look for it, you can find a page on its website opposing campus speech codes. You can find instances of ACLU state affiliates opposing free-speech zones on campus and other acts of censorship. You can hear an ACLU attorney defend the speech rights of right-wing provocateur Milo Yiannopoulos. But you will also see the ACLU attaching trigger warnings to a blog post, in tacit agreement that speech can be a form of assault. You'll see it describing allegedly harassing speech as 'verbal conduct' – the first rhetorical refuge of the censor. The ACLU, once devoted to free speech, has effectively been a quiet friend more than an active opponent of campus speech-policing. For over a decade, more often than not, the ACLU has exercised its right to remain silent while campus-speech controversies raged.
It's difficult to discern much less document what an organisation fails to say or do, but ask yourself: how often have you heard the ACLU speak out against progressive censors? How often have you seen ACLU officials quoted defending speech in coverage of censorship news, like the violent protests of Charles Murray's talk at Middlebury College or demands for the firing of a liberal Evergreen State College professor who questioned the tactics of anti-racism protesters? Did you hear it criticise former University of Missouri professor Melissa Click when she tried to bar a young journalist from covering a campus protest? Did you hear the ACLU condemn the vilification of former Yale instructor Erika Christakis and her husband, Professor Nicholas Christakis, after Erika suggested that students 'think critically' about regulating 'offensive' Halloween costumes?
Instead, the ACLU responded to the censoriousness of the Yale protesters by sympathising with their concerns and chastising their free-speech critics for a 'refusal to confront… discrimination and inequality on campus'. And, when the Northern California ACLU affiliate belatedly conceded Ann Coulter's right to speak at Berkeley, it did so equivocally, taking care to condemn 'hateful' speech and asserting with questionable accuracy that the US Constitution does not protect verbal harassment. In fact, the Constitution protects quite a lot of speech labelled harassment on liberal campuses.
National ACLU legal director David Cole subsequently issued a stronger statement about the Coulter controversy criticising the heckler's veto, which may signal a new willingness to intervene in free-speech battles in explicit opposition to student censors. The need to defend mass anti-Trump protests is re-engaging the ACLU in free-speech battles extending beyond periodic defences of right-wing speech. The ACLU has long defended the rights of the occasional outré political enemy, like Yiannopoulos, or Fred Phelps of the Westboro Baptist Church, who organised vicious anti-gay protests outside military funerals. Defending the First Amendment rights of wingnuts, while deploring their ideologies, buttresses the ACLU's credibility as a free-speech advocate, while avoiding the political and financial risks of directly attacking its censorious friends – allies in a fight for social justice.
A commitment to free speech requires political independence and also a certain hard-heartedness when confronting claims of emotional harm. But amid heightened progressive concern about bullying and its effect on equality, the ACLU has anxiously demonstrated compassion for students deemed disadvantaged and vulnerable to verbal offences. It has, for example, endorsed the Obama administration's anti-bullying initiatives, which defined harassment more expansively than it was defined by the Supreme Court, and could conceivably make schools liable for controversial references to racial, ethnic or sexual stereotypes. Reasonable people will disagree about efforts to balance free expression with the regulation of public-school bullying, but civil-libertarians must err on the side of speech. In recent years, the ACLU has too often erred on the side of social justice.
It has even sided with a progressive vision of justice that includes a crusade against due process in campus controversies over alleged sexual assaults. The ACLU has not simply been silent about the widely documented proliferation of kangaroo courts on campus – it has been quietly complicit in their abuses, offering approval of the Obama administration's Title IX directives, which are largely responsible for them. (Perhaps not coincidentally, the official who oversaw these directives for the past four years was a former ACLU attorney.) 'Title IX is pretty awesome because it is expansive', a remarkably naïve ACLU blogpost declares. 'By addressing the various needs and challenges faced by survivors, Title IX pushes universities to do a better job of creating a campus environment that discourages and, ideally, prevents sexual violence.'
Once the ACLU defended the presumption of innocence. Now it approves of rules effectively presuming guilt, requiring minimal standards of proof in campus assault cases, and treating accusers of unproven assaults as 'victims' or 'survivors'. It seems poised to oppose any efforts by the Trump administration to reform Title IX rules that favour the demands of accusers over the rights of the accused.
How did the ACLU end up on the wrong side – or no side – of urgent debates about due process and speech? In part, the ACLU's transformation is a result of generational shifts. The old liberal guard of ACLU leaders is ageing out. The new guard is progressive, shaped partly by campus politics and the left-leaning culture of the late 1980s and 1990s, with its expansive definitions of discrimination and restrictive approaches to speech.
It's worth noting that generational changes have wrought policy changes before. The ACLU adopted its civil-rights agenda in the 1960s and 1970s in response to an influx of younger leaders shaped by the civil-rights movement. For decades, that agenda focused more discreetly on discrimination. The dual and sometimes duelling commitments to advancing equality and defending free speech created occasional internal conflicts, exemplified by a heated debate in the 1990s over policy governing workplace harassment. But the ACLU managed to balance a civil-liberties agenda with a commitment to civil rights. Periodically, its left wing, concentrated in Southern California, introduced resolutions formally adopting an economic-justice agenda, and periodically the resolutions were defeated. Today, however, the left wing is the organisation's centre of gravity, and achieving its vision of economic justice is an explicit ACLU mission.
Partisanship is an obvious pitfall for this newly progressive ACLU, as its comprehensive (and enormously profitable) opposition to the Trump administration makes clear. Trump's picture adorns the ACLU's homepage, and ACLU sidewalk canvassers invite passers-by to join it in opposing him. Executive director Anthony D Romero tried to preempt or defuse charges of political partisanship with an unusual statement defending the ACLU's anti-Trump initiatives, like the creation of a grassroots 'people power' project led by a former adviser to Democratic Congressional leaders. 'We will be moving further into political spaces across the country as we fight to prevent and dismantle the Trump agenda', Romero acknowledges. But this effort remains non-partisan, he argues circularly, because Trump poses unique and pervasive threats to liberty. It is therefore the ACLU's non-partisan obligation 'to fight him at every step – both on traditional civil-liberties fronts and new ones – to prevent the litany of human carnage in the making'. (The echoing of Trump's inaugural reference to American carnage is probably not coincidental.)
This is not to suggest that the ACLU should refrain from challenging the Trump administration's policies. From a civil-libertarian perspective, many of the ACLU's actions opposing Trump are necessary and laudable. Its litigation opposing the travel bans, for example, is a justified defence of due process, as well as religious liberty. But the ACLU's profound concern for the due-process rights of visitors and immigrants trying to enter the country starkly contrasts with its shameful obliviousness to the due-process rights of citizens fighting charges of campus sexual assault. They can't rely on the ACLU to defend liberty and justice for all, regardless of politics or ideology, and, as a consequence, neither can you.
Wendy Kaminer is a lawyer and writer, and a former national board member of the American Civil Liberties Union. She is the author of several books, including: I'm Dysfunctional, You're Dysfunctional (1992); and Worst Instincts: Cowardice, Conformity and the ACLU (2009).
This is the original version of an edited piece that appeared in the Wall Street Journal on 11 May 2017 under the joint bylines of Wendy Kaminer and Alan Dershowitz.
To enquire about republishing spiked's content, a right to reply or to request a correction, please contact the managing editor, Viv Regan.