Bring on the Irish abortion referendum
This is our chance to make the positive case for women's rights.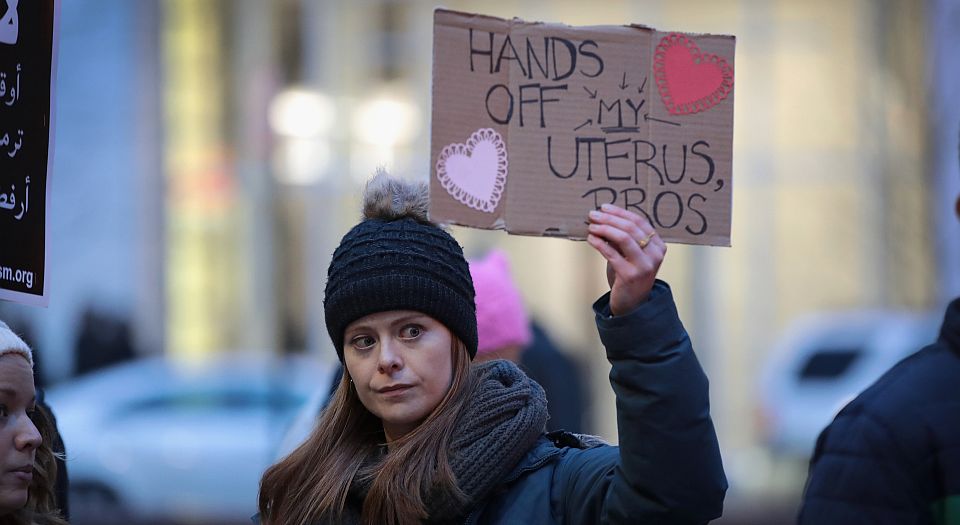 On his first day in office as the new Fine Gael Taoiseach, Leo Varadkar announced that the Republic of Ireland will have a referendum on the Eighth Amendment next year.
The Eighth Amendment to the Irish Constitution, which was added following a referendum on abortion rights in 1983, ensures the right to life of the unborn. This means that a woman's life and rights are equated with that of an embryo. Irish women cannot access abortion services, even in the event of rape or fatal fetal abnormality. They are forced to buy medicine illegally online, or travel to the UK at their own expense to access abortion services there.
Ireland's 2013 Protection of Life During Pregnancy Act means that abortion is technically legal, but only in cases where there is an imminent and substantial risk to a woman's life, including suicide. In order to prove that she is suicidal, a woman would have to be assessed by six doctors, who then decide whether or not she is allowed an abortion. As such, the Eighth Amendment remains the biggest barrier to any substantial law change in relation to abortion rights.
This is what makes the announcement of a referendum such good news.
Pro-choice campaigners have been calling for a referendum on the Eighth for years. Campaigns like the Abortion Rights Campaign and organisations like the Coalition to Repeal the Eighth have worked tirelessly on street stalls and marches outside the Houses of the Oireachtas (Irish government). Unlike the anti-choice side, which wants to protect the Eighth and is averse to a referendum, pro-choice campaigners have pushed for the people of Ireland to have their say.
And Irish people clearly want to have their say. Opinion polls consistently show that the public believes that the Eighth Amendment needs to be rethought. The Citizens' Assembly, a group of 99 randomly selected Irish citizens chosen to advise on action regarding the Eighth Amendment, agreed last month that the Oireachtas should call a referendum on replacing the Eighth, rather than repealing it. Argument over whether simply repealing it would go far enough continues. Nevertheless, one thing is clear: the Irish public is ready to have a national debate about abortion rights.
This is an opportunity for those of us on the pro-choice side of the debate to make a truly positive case for abortion.
The argument for abortion rights is often tied up with the notion that women are victims of the law. In some cases, this is true. Take Savita Halappanavar, a 31-year-old woman who died in Galway from complications due to a septic miscarriage 17 weeks into her pregnancy. Or the case of an immigrant who, in 2014, fell pregnant after being raped and requested an abortion at eight weeks on the basis that otherwise she would commit suicide. She was not only refused an abortion but forced to give birth prematurely via Caesarean section at 25 weeks. The child was then taken into care.
But, thankfully, these horrific stories are rare. Most Irish women who need an abortion either buy pills online, from websites like Women on Waves, or travel to the UK to access abortion services, from organisations like bpas. Herein lies the key point: women aren't victims. In fact, Irish women are refusing to be victims – they're flouting the law and taking matters into their own hands. The Abortion Rights Campaign reports that 10 women on average travelled from Ireland to Britain each day in 2014: abortion is already a reality for Irish people. Repealing the Eighth wouldn't just be about saving women from harm — it would be about finally recognising women's autonomy.
It remains to be seen what shape the referendum will take, and it would be wise to be cautious before celebrating the new Taoiseach's announcement. There is much scope for Irish politicians to avoid and water down the debate on abortion rights, yet again. That's why it is so important for Irish citizens to push for this referendum, and for pro-choice activists to make the positive and assertive case for women's autonomy. Irish women are showing that their bodies are their own, that they will not be subject to a backward and reactionary law. This referendum could be a chance to show Irish politicians how out of step they are with public sentiment. It's now time for the political class to shut up and listen to the people.
Ella Whelan is assistant editor at spiked. Follow her on Twitter: @Ella_M_Whelan
To enquire about republishing spiked's content, a right to reply or to request a correction, please contact the managing editor, Viv Regan.