Trump's foolish foreign policy
You can't combat extremist ideology while backing the Saudis.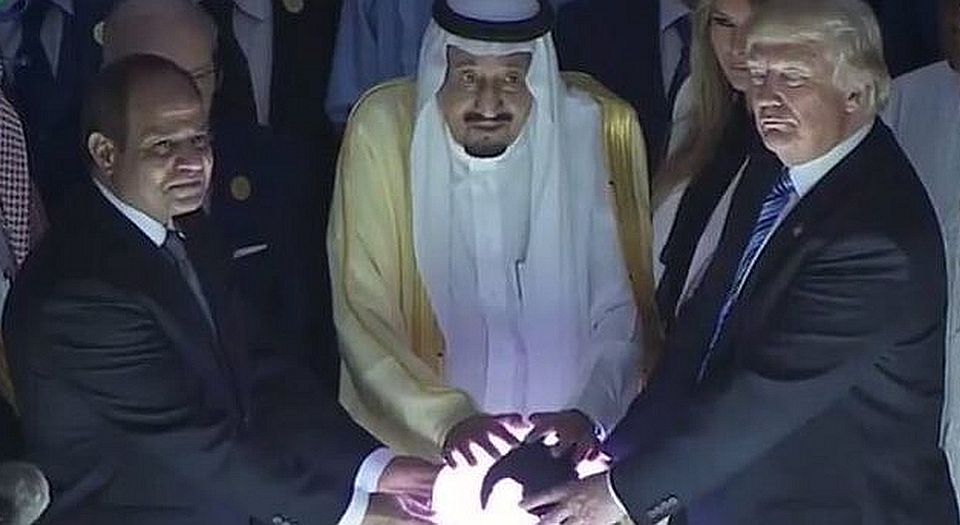 Donald Trump's first foreign trip as president was to Riyadh last week. His visit caused a stir, not least because of the photo of him, Egyptian president Abdel Fattah al-Sisi and the Saudi king placing their hands on a glowing orb at the opening of the Global Center for Combating Extremist Ideology.
As well as signing Saudi Arabia up for $110 billion worth of American arms – with which the Saudis can pursue their devastating war on Yemen – Trump also accused Iran of being the main funder of Middle Eastern terrorism. That's right, the main barrier to peace and stability in the Middle East is not Saudi Arabia, or the Gulf States, or Turkey, all of which have poured billions into supporting ISIS, al-Qaeda and other assorted horrors; no, it is Iran.
Whatever one thinks of groups like Hezbollah and Hamas – I have no objection to calling them terrorists – the idea that these Iranian-backed militias are the main source of terrorism in the Middle East or are as bad as ISIS is laughable.
Trump rightly said in his Saudi speech that the vast majority of the victims of Islamist terror are Muslims in the Middle East. And the vast majority of these are victims of ISIS and al-Qaeda. It is these groups that have set up slave markets, beheaded women and children, thrown gays off buildings. What's more, most of the 9/11 hijackers were Saudi. Saudi Arabia is the main funder of jihadi groups in the Middle East. It has for years been sponsoring Wahhabism in Muslim countries.
And Western states know this. Hillary Clinton was well aware of Saudi Arabia's activities, as emails leaked by Wikileaks made clear. Trump knows, too, as shown in some of his pre-presidential tweets criticising the Saudis. But it's not just Saudi Arabia, the Gulf States and Turkey who have assisted ISIS and al-Qaeda-style groups – the US has also sent arms and assistance to Syria that have ended up in the hands of such movements. Britain has also played a role. That's right, we have made life easier for groups in the Middle East which do on a daily basis what the Manchester bomber did last week.
Trump and his secretary of state Rex Tillerson have promised a more 'realistic' foreign policy. They say they will move away from fighting wars in the name of 'human rights' towards a more pragmatic approach. I don't think this is a bad idea, given the chaos so-called 'humanitarian intervention' has unleashed in the post-Cold War years. However, to carry on supporting Saudi Arabia and demonising Iran is not realism. As terrorism expert Max Abrahms says, it is delusional. It is likely to intensify divisions in the Middle East while taking attention away from the real supporters of terrorism in that part of the world. For Trump to open a Global Center for Combating Extremist Ideology while backing the Saudis speaks to an alarming level of dishonesty in his foreign policy.
Tara McCormack is a lecturer in international politics at the University of Leicester. She is author of Critique, Security and Power: The Political Limits to Critical and Emancipatory Approaches to Security, published by Routledge. (Buy this book from Amazon(UK).)
To enquire about republishing spiked's content, a right to reply or to request a correction, please contact the managing editor, Viv Regan.