The dementia tax row: a sorry spectacle
We need a real debate about social care.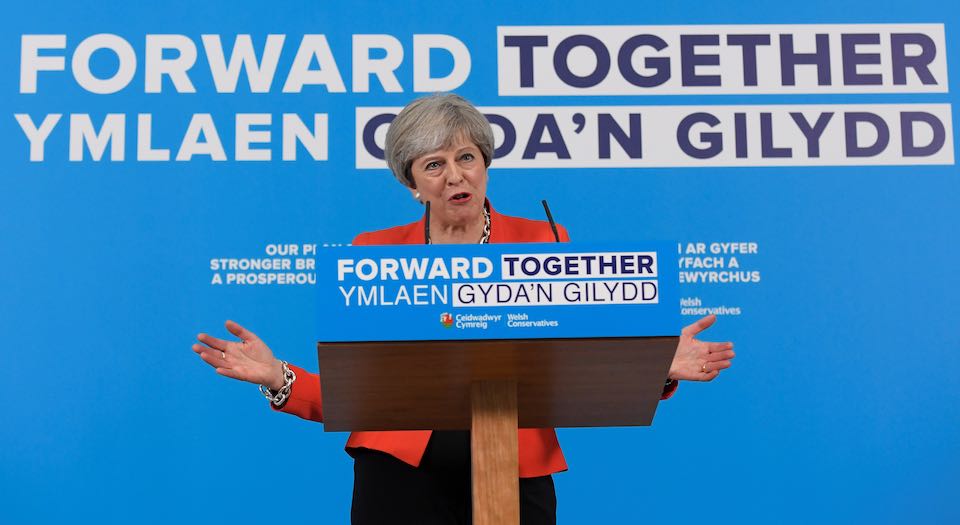 The Twitter hashtag #dementiatax has been haunting the Tory Party ever since it announced it would make more people pay for their social care if it gets re-elected. The Tories had said that older people would pay for their care costs if they had assets of more than £100,000. On top of their plans to means-test the winter fuel allowance and end the so-called triple-lock on pensions, this was widely seen as an attack on the old.
A flustered Theresa May was forced into a u-turn, announcing that the amount anybody would be expected to pay for social care would be capped (she didn't say by how much). This was just days after the social-care shift had been launched as a flagship policy. The Conservatives' commanding double-digit lead in the polls was reduced to single figures over the course of a weekend, as those older, more affluent voters otherwise minded to vote for them had second thoughts.
From the start, the policy was being presented as an attempt to address the fact that wealthier pensioners were being subsidised. On the day of the launch, health secretary Jeremy Hunt was insistent that the £35,000 cap proposed by the Dilnot Commission – which is favoured by Labour – would unfairly favour the wealthiest, with the cost falling on the taxpayer. Ben Chu, economics editor at the Independent, concurred: 'It's a strange world we live in where the Tory prime minister scraps a subsidy for wealthy families and Labour complains that it's terribly unfair.'
There will be two million more people aged 75 and over in the coming decade, and three quarters of them will own their own home. Without drawing down on those assets, argued May, 'the social-care system will collapse'. 'These are good and sensible plans – they provide the beginnings of a solution to social care', she insisted. But others disagreed. As the King's Fund argued, the policy would put an increased burden on the health service, family members and residential care, as people would refuse help at home for fear of the cost.
There is an in-built unfairness, as commentators have spotted, in the system as it is. Cancer treatment is provided free of charge on the NHS, while dementia sufferers are made to pay potentially very large sums of money for their care. If we ever solve the housing crisis and build enough homes to meet demand, prices will fall and leave the funding regime on even shakier foundations. But internal Tory politicking and a failure of leadership has also played a part in this controversy.
Former chancellor George Osborne, in his new role as editor of the Evening Standard, mischievously tweeted moments before the prime minister was due to speak: 'U-turn coming on social care. There will be a cap.' While May was insistent that 'nothing has changed', it was obvious it had. A policy offer aimed at saving £2 billion – if you include means testing of winter fuel payments – was swapped for something that could cost as much as £2 billion, all thanks to a panicked tweak aimed at pacifying those with assets to lose.
Whether or not this was a calculated risk – taken because May is more or less assured a bigger majority on 8 June – it has done her considerable damage. It has only affirmed the perception that May's inner circle of special advisers are making up policy as they go, shielding her from the country and colleagues alike. If it wasn't for the intrusion of the awful events in Manchester, the scrutiny would have intensified. This sorry episode has confirmed that the prime minister's political instinct is to run and hide rather than debate.This doesn't bode well for Brexit negotiations, as critics have rightly pointed out.
But all sides need to raise the level of debate. Jeremy Corbyn wrongly claimed that the so-called dementia tax would 'leave thousands of the most vulnerable at risk of losing their homes'. But the cost would be deferred until after the individual had passed away. 'If you or your loved one has or will get dementia, they are coming for you', said the Liberal Democrat leader Tim Farron, in a none-too-subtle attempt to scare older folk into voting for him.
All sides should stop taking opportunistic potshots and propose a way out of the social-care crisis. This is a longstanding problem that has been kicked down the road again and again. At least, as coverage in the Guardian put it, 'May's advisers decided to grasp the nettle' and have a go at 'resolving one of the most pressing challenges in British public policy'. That they then bottled it is regrettable. Not because the policy was necessarily the right one – a pooling of risk through a system of social insurance would make more sense – but because it meant they made things so much worse.
To enquire about republishing spiked's content, a right to reply or to request a correction, please contact the managing editor, Viv Regan.