Why Assange should stand trial
The Wikileaks founder thinks he only has to answer to himself.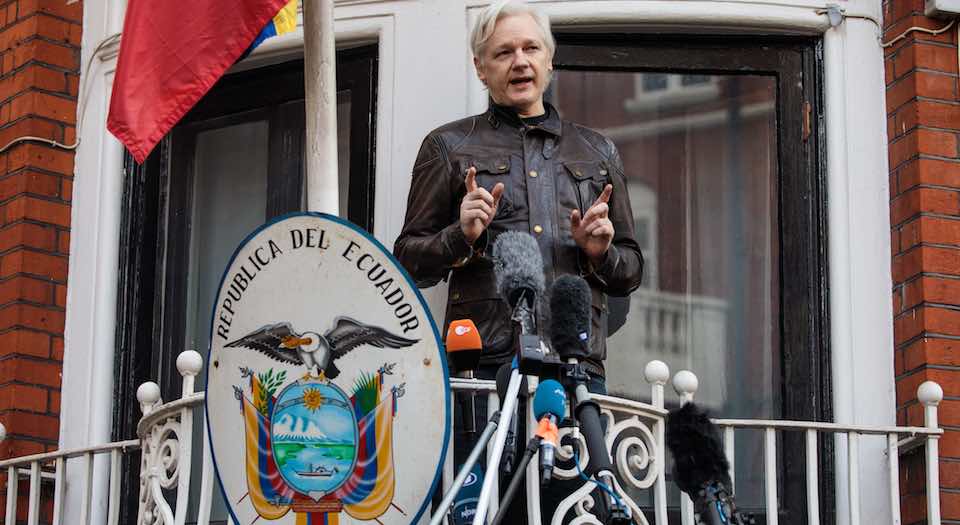 Last year I went to a very odd event at London's Royal Festival Hall. It was billed as an 'in conversation' debate between Yanis Varoufakis, the rock'n'roll ex-minister of finance for Greece, and Slavoj Zizek, the rock'n'roll Slovenian philosopher. The event was not rock'n'roll. After two-and-a-half hours (it felt far longer) the compere announced that they had a special guest appearance from Julian Assange, who would be broadcast into the venue from his 'captivity' at the Ecuadorian embassy. Then an enormous projection of Assange's head appeared above the heads of the panellists, like a giant floating god.
What was striking about Assange's guest appearance was just how much it backfired. While the speakers on the stage welcomed him as a hero, the audience, made up mostly of young people, began to heckle. During the question-and-answer section, they asked why he had not faced up to the rape allegation that was haunting him from Sweden. When he began seriously talking about the need for a new movement, 'which would look like a religion', people really got angry. In that room, it appeared that the public's patience with Assange had run out.
I thought of that night again last week, when the Swedish authorities announced that they would not proceed with the rape investigation into Assange. Assange has been holed up in the Ecuadorian embassy in London since 2012, when he sought asylum there to avoid extradition to Sweden. Before 2012, he had already been through the courts extensively to avoid extradition, saying it would lead to his eventual extradition to the United States to face charges of treason. Last week he called the decision to end the investigation 'an important victory', but said the real 'war' was just beginning.
Precisely what 'war' Assange is referring to is anyone's guess. He clearly sees himself as at the centre of world events – a delusion shared by both his supporters and detractors. There are many who blame (or celebrate) Assange for handing Donald Trump the presidency, after Wikileaks published vast quantities of emails from the Democratic National Committee (DNC) in the lead-up to the 2016 election. He is now at the centre of a right-wing conspiracy theory that these leaks led to the death of DNC staffer Seth Rich, who, the crazies allege, was Wikileaks' source and was killed by DNC bigwigs in retaliation. There are others who celebrate Assange for exposing the realities of the Iraq War by publishing the 'Collateral Murder' footage in 2007, which showed Iraqi journalists and civilians being killed by US helicopters.
Whatever you think of the value of his leaks, Assange needs to be held accountable. He alone takes the decision about what leaks to publish, and he exercises absolutely no editorial judgement in doing so. He dumps vast quantities of material online, with little thought for the impact. On the Wikileaks website, he pleads for donations under a banner that reads 'make us stronger'. But who is this 'us'? He represents no one. He is not a brave leaker of confidential information. He has no loyalty to anyone but himself.
Wikileaks' lack of judgement famously backfired in 2015, when it published internal information from the Saudi Arabian government. The 'Saudi Cables', again dumped apparently without discretion, included personal information on hundreds of ordinary civilians. Further scrutiny of Wikileaks' dumps revealed, among other personal data, the details of a Saudi man arrested for being gay, and, in two cases, the identities of teenage rape victims. This had the potential to harm ordinary people. But no one had the power to hold Assange to account.
Assange's approach to accountability is reflected in his treatment of the rape allegation. We could all speculate on the veracity of the case against him. But that is not our job. Nor is it the job of Julian Assange. By describing the failure to extradite him as 'an important victory', he is saying that he is his own judge and jury. He feels no need to make himself accountable for allegations related to his private life, much in the same way he sees no need to be accountable for what he does in public.
Throughout history there have been brave people who leaked documents for a political purpose. There have also been brave people who avoided detection for their crimes and sought to avoid being judged by the state. But Assange is not one of those people. He simply believes that he is above the judgement of others. It's time he was held to account for these leaks and for the Swedish allegations. It is time he was held up to the judgement of the public.
Luke Gittos is law editor at spiked and author of Why Rape Culture is a Dangerous Myth: From Steubenville to Ched Evans. (Buy this book from Amazon(UK).)
To enquire about republishing spiked's content, a right to reply or to request a correction, please contact the managing editor, Viv Regan.