Remove Trump and you remove democracy
He's a bad president, but the elitist agitation against him is worse.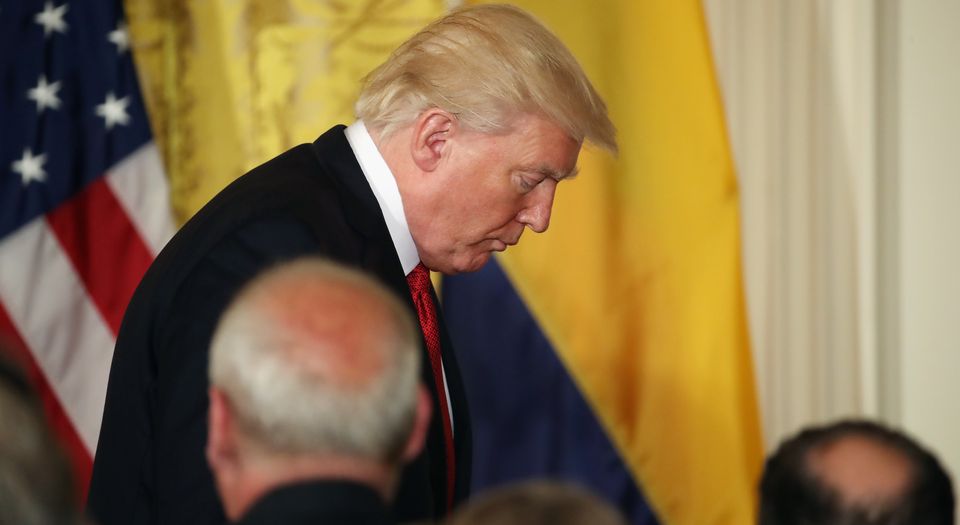 Donald Trump has only been in the White House for slightly more than 100 days, and already his opponents are calling for him to be removed. Comparisons are made with Nixon and Watergate. 'The president must be impeached!', shouted Al Green, Democrat of Texas, from the House floor last week. Green has been joined by Representative Maxine Waters and other Democrats in demanding that Trump be driven from office. Other critics have floated the idea of invoking Section 4 of the 25th Amendment, whereby the vice president and a majority of the cabinet would declare the president 'unable to discharge the powers and duties of his office'.
The ease with which Trump's opponents call for his removal from office is remarkable. It is an extreme step to contemplate, and one that would overthrow the president's democratic mandate.
Impeachment is a high bar, requiring evidence of 'high crimes and misdemeanours'. Only two presidents in American history, Andrew Johnson and Bill Clinton, have been brought up for impeachment. In both cases, the House voted to impeach, but the Senate voted against removal. And relying on an obscure interpretation of the 25th Amendment is a stretch to say the least. Section 4 is intended for physical incapacity – say if the president was comatose – not for poor performance.
The chorus for ejecting Trump from the White House took off with Trump's decision to fire FBI director James Comey. In an interview, Trump said he had the 'Russia thing' in mind when deciding to sack Comey, suggesting he thought the FBI director was investigating his campaign's ties to Russia too aggressively. Then, new 'bombshells' about Trump were dropped, one per day last week:
Monday: Trump boasted about highly classified intelligence in a meeting with Russian officials, according to a story in the Washington Post.
Tuesday: the New York Times reported that, in a memo written by Comey, it was claimed that Trump had said to Comey 'I hope you can let this go', referring to the FBI's investigation into the former national security adviser, Michael Flynn.
Wednesday: the Justice Department appointed Robert Mueller, the former FBI director, as special counsel to oversee the investigation of links between the Trump campaign and Russia.
Thursday: Rod Rosenstein, deputy attorney general, told senators he knew Trump was going to dismiss Comey before he drafted his recommendation to fire him, again indicating that it was Trump's decision.
Friday: according to the New York Times, Trump told Russian officials that firing Comey had relieved 'great pressure on him', and said Comey was 'crazy, a real nutjob'.
Trump's alleged behaviour, if proven, is troubling. There are substantive issues at stake that should be investigated. But, based on what we know, all of his missteps do not add up to anything close to a case for impeachment.
Let's take the issues around the firing of Comey. It's clear that Trump and his staff have given conflicting explanations, and if Trump really did ask Comey for his 'loyalty', as if Trump were a king, that would be out of order. And if Trump really did demand that the FBI shut down the Michael Flynn investigation, that would be inappropriate. But, from a legal point of view, Trump does have the right to fire the FBI director. It is not at all clear that the alleged statement Trump made constitutes obstruction of justice, as is being claimed.
Rather than hyperventilate, critics need to calm down. For a start, we should acknowledge that much is based on hearsay. No one has seen the Comey memo, other than the two people cited anonymously in the New York Times article. We should also not conflate the legal with the political. You may not agree with Trump's decision to fire Comey, but that does not mean it is illegal, nor does it rise to a 'high crime or misdemeanour'.
In a similar way, critics have overreacted to the story that Trump disclosed confidential information to Russian officials. Sure, you can easily imagine Trump shooting his mouth off and bragging. And Trump and his administration haven't got their story straight about what happened in the meeting. Trump the first day effectively said, 'No, I didn't say it', and then the second day he tweeted: 'Yes, I said it, but I had the right to say it.'
But again, when Trump's detractors cry 'treason', it is they who go too far. These kinds of slips by presidents happen all the time. Similar to the revelations about the Comey memo, the news report is based on hearsay (we don't know if it was based on someone who was in the meeting, or just passed along); it is treated immediately as shocking and disqualifying for a president; and it is presented as a legal issue, when it is actually a political one. Trump's opponents are basically saying, 'We don't think it's wise for you to share information with the Russians'. That's fine, you can disagree with Trump's apparent cosiness with the Russians, but then to say these are grounds to remove him from office is a step too far.
Trump's behaviour is not what we should expect from a president, but the push to remove him from office is driven by something else: by a shrill, anti-democratic impulse that says he is illegitimate, and by extension so are the voters who backed him.
The political establishment is still unable to come to terms with last November's election result. Their immediate reaction was to claim the election was somehow invalid. Opponents pointed to Trump's lack of a majority in the general vote tally, even though he clearly won under the electoral college system. The Democrats' theme since Trump entered office has been that Russia 'hacked' the election (even though there is no evidence of Russia influencing the result) and therefore Trump's claim to the presidency is tainted.
This questioning of Trump's legitimacy – rather than challenging his political arguments – has been evident from the start. That is why there is such a disparity between what Trump is accused of (saying something he shouldn't have at a White House meeting, being too friendly with the Russians) and the demands that are then made (Investigate him! Get him out!): the two are not actually directly related. The former is merely an excuse for the pursuit of the latter: his every misstep is a pre-text to try to delegitimise him and his support base. Now the calls to overturn the election result have gone from implicit to explicit.
Establishment politicians of both parties have ignored the concerns of the mass of people for a long time. The election of Trump should have been a wake-up call to the establishment, but it hasn't been. The Democrats, in particular, have not expressed any contrition, nor have they questioned why workers have deserted their party in droves. In the four months since Trump took office, they have not presented any alternative to try to win Trump voters over.
The election of Trump was a type of populist upsurge against the political establishment. Now if this establishment is viewed as driving Trump from office, there will be an even bigger backlash. His ouster would bolster the view that establishment figures are always seeking to rig politics, and that they will do whatever it takes to keep themselves in power. People will feel disenfranchised. Politicians and the media are really playing with fire: they don't seem to realise how serious it is to suggest removing a president in this way.
Trump's opponents feel they have right on their side, because they believe Trump is an authoritarian, a tyrant. They don't realise that their response is even worse. Trying to twist the 25th Amendment, or to drum up charges for impeachment, is a more anti-democratic move than anything Trump has tried. Trump is a poor president (even if we are still waiting to see evidence of Nazism). But, right now, we have to say that his intolerant opponents are more unhinged and potentially destructive to American politics than Trump himself is.
To enquire about republishing spiked's content, a right to reply or to request a correction, please contact the managing editor, Viv Regan.