After Manchester: it's time for anger
We need more than mourning in response to the new barbarism.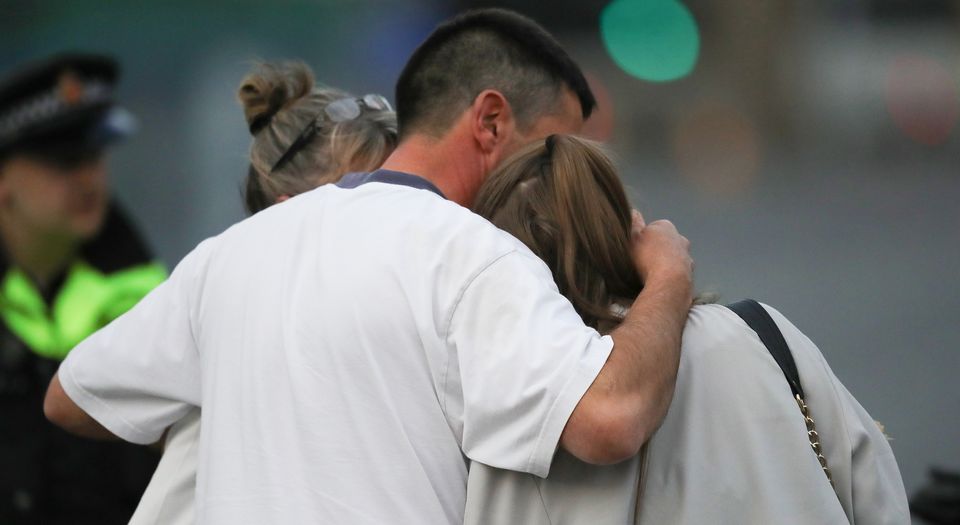 After the terror, the platitudes. And the hashtags. And the candlelit vigils. And they always have the same message: 'Be unified. Feel love. Don't give in to hate.' The banalities roll off the national tongue. Vapidity abounds. A shallow fetishisation of 'togetherness' takes the place of any articulation of what we should be together for – and against. And so it has been after the barbarism in Manchester. In response to the deaths of more than 20 people at an Ariana Grande gig, in response to the massacre of children enjoying pop music, people effectively say: 'All you need is love.' The disparity between these horrors and our response to them, between what happened and what we say, is vast. This has to change.
It is becoming clear that the top-down promotion of a hollow 'togetherness' in response to terrorism is about cultivating passivity. It is about suppressing strong public feeling. It's about reducing us to a line of mourners whose only job is to weep for our fellow citizens, not ask why they died, or rage against their dying. The great fear of both officialdom and the media class in the wake of terror attacks is that the volatile masses will turn wild and hateful. This is why every attack is followed by warnings of an 'Islamophobic backlash' and heightened policing of speech on Twitter and gatherings in public: because what they fundamentally fear is public passion, our passion. They want us passive, empathetic, upset, not angry, active, questioning. They prefer us as a lonely crowd of dutiful, disconnected mourners rather than a real collective of citizens demanding to know why our fellow citizens died and how we might prevent others from dying. We should stop playing the role they've allotted us.
As part of the post-terror narrative, our emotions are closely policed. Some emotions are celebrated, others demonised. Empathy – good. Grief – good. Sharing your sadness online – great. But hatred? Anger? Fury? These are bad. They are inferior forms of feeling, apparently, and must be discouraged. Because if we green-light anger about terrorism, then people will launch pogroms against Muslims, they say, or even attack Sikhs or the local Hindu-owned cornershop, because that's how stupid and hateful we apparently are. But there is a strong justification for hate right now. Certainly for anger. For rage, in fact. Twenty-two of our fellow citizens were killed at a pop concert. I hate that, I hate the person who did it, I hate those who will apologise for it, and I hate the ideology that underpins such barbarism. I want to destroy that ideology. I don't feel sad, I feel apoplectic. Others will feel likewise, but if they express this verboten post-terror emotion they risk being branded as architects of hate, contributors to future terrorist acts, racist, and so on. Their fury is shushed. 'Just weep. That's your role.'
The post-terror cultivation of passivity speaks to a profound crisis of – and fear of – the active citizen. It diminishes us as citizens to reduce us to hashtaggers and candle-holders in the wake of serious, disorientating acts of violence against our society. It decommissions the hard thinking and deep feeling citizens ought to pursue after terror attacks. Indeed, in some ways this official post-terror narrative is the unwitting cousin of the terror attack itself. Where terrorism pursues a war of attrition against our social fabric, seeking to rip away bit by bit our confidence and openness and sense of ourselves as free citizens, officialdom and the media diminish our individuality and our social role, through instructing us on what we may feel and think and say about national atrocities and discouraging us from taking responsibility for confronting these atrocities and the ideological and violent rot behind them. The terrorist seeks to weaken our resolve, the powers-that-be want to sedate our emotions, retire our anger, reduce us to wet-eyed performers in their post-terror play. It's a dual assault on the individual and society.
That the post-terror narrative is fundamentally about taming our passion and politics is clear from its sidelining of all issues of substance. We are actively warned against asking difficult questions about 21st-century society and why it has this violence in it, this nihilism in it. Question the wisdom of multiculturalism, of refusing to elevate one culture over another and instead encouraging people to live in their own cultural bubbles, and you're racist. Wonder if the obsession with combatting 'Islamophobia' might have given rise to a situation where some Muslims, especially younger ones, cannot handle ridicule of their religion, and… well, you're 'Islamophobic'. As for immigration: this is the great unmentionable; you're a fascist even for thinking about it. The post-terror narrative that barks 'You must empathise!' also says, implicitly, and sometimes explicitly, 'You mustn't think! You mustn't ask those questions or say that thing.' And so in their response to terrorism, they erect an intellectual forcefield around some of the problems that might, just might, be contributing to that terrorism.
We need unity, they say. Unity's their buzzword. But this is substanceless, too. Unity around what? Unity against what? What are our values? Who is the enemy of those values? Don't ask. Don't think. It is wrong to have core values in a society built on diversity, apparently, and we mustn't ever suggest that any particular ideology poses a threat to those values, because that might involve 'punching down', singling people out, etc. We end up with a unity of shallow feeling, a union of highly individuated mourners, not a unity around real ideals and things and vision. Their cry of unity is a lie. The fact is there are people in our society willing to attack us, others who will think those attacks are justified, and others still who will apologise for those attacks by saying they're a product of 'Islamophobia' or Western intervention overseas. We are so far from united. We are deeply divided. But you cannot say that. 'Weep, don't think.'
Stop and think about how strange it is, how perverse it is, that more than 20 of our citizens have been butchered and we are basically saying: 'Everyone calm down. Love is the answer.' Where's the rage? If the massacre of children and their parents on a fun night out doesn't make you feel rage, nothing will. The terrorist has defeated you. You are dead already.
Brendan O'Neill is editor of spiked.
To enquire about republishing spiked's content, a right to reply or to request a correction, please contact the managing editor, Viv Regan.