Is there no end to Merkel's rule?
Her party has won another state election, but she's not invincible.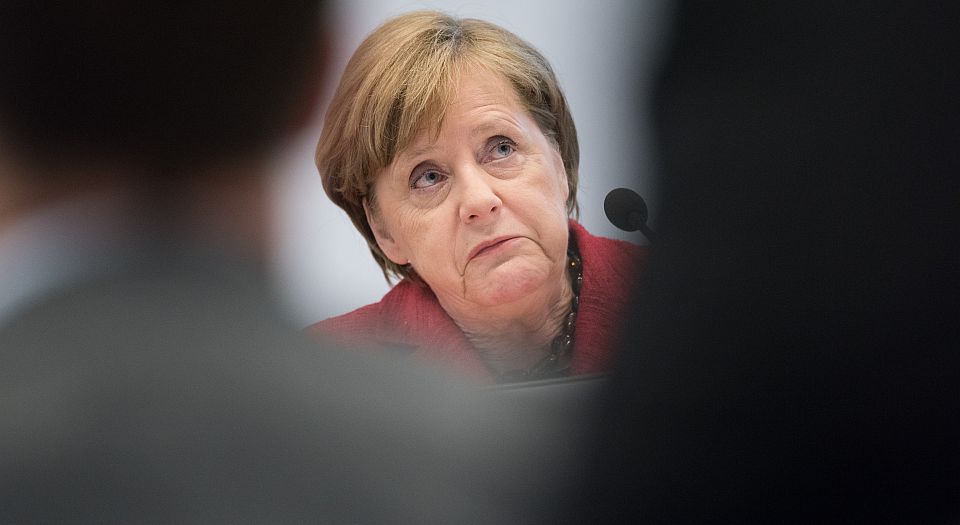 On Sunday, Angela Merkel's party, the Christian Democratic Union (CDU), won the third and most important regional election ahead of September's General Election. North Rhine-Westphalia is Germany's most populous federal state. It is often referred to as the 'heart chamber' of the Social Democratic Party (SPD). Yet on Sunday, the SPD, which had run the state for the past seven years, and before that for most of the postwar period, lost nearly eight per cent of its vote, while the CDU won an extra seven per cent. North Rhine-Westphalia is also the home state of Martin Schulz, the SPD's candidate for chancellorship against Merkel in the General Election. His chances of victory are now seen as slim.
Is this new victory for Merkel proof of Germany's conservatism, and exceptionalism, in a Europe where established parties are increasingly met with scepticism? Not quite. What happened in North Rhine-Westphalia was less a victory for Merkel than a rejection of the SPD. The SPD is of course also part of the establishment, and so used to power that it was sure it would win 'its' state, right up to the final days before the election. A cocky Schulz openly said victory in North Rhine-Westphalia would guarantee his becoming chancellor this year.
This over-confidence is typical of this party that has lost its links with its former support base and which now stands for so many things that it turns voters off. In North Rhine-Westphalia, local party leader Hannelore Kraft styled herself almost as the region's social worker: her nickname was 'the carer' ('die Kümmererin'). Her election campaign hinged on a policy called 'no child left behind' (she never mentioned that this slogan was invented by George W Bush). Her pitch to voters consisted of little more than promising greater state support to children and families. She treated citizens as victims, as children in fact. It is no coincidence that the Cologne immigration scandal, when police tried to cover up attacks against women on New Year's Eve in 2015, happened under her local government. Then, too, citizens were treated like children who needed to be shielded from the truth, lest they react to it in the wrong way.
The SPD is trying to contain the damage of its loss in North Rhine-Westphalia. Kraft says the loss was down to regional problems, not to any broader problems in the SPD. This is not convincing. Kraft was not just minister-president of North Rhine-Westphalia but also deputy chairperson of the federal SPD. She had been the SPD's favoured candidate for the chancellor race, but she declined, which is why Schulz stepped in. Schulz and Kraft presented themselves as a team ('she for him, he for her', was their slogan in North Rhine-Westphalia). The loss in North Rhine-Westphalia is unquestionably a blow for the SPD itself, suggesting Schulz's empty social-justice rhetoric and his shallow promises to 'give a voice' to working people and Kraft's nannying policies are not very popular.
Even though the national governing party, the CDU, is doing well, the SPD's loss shows that Germany is not exceptional. The decline of the SPD mirrors the decline of social-democratic or labour parties across Europe; it echoes a broader European rejection of ostensibly left-leaning parties that are now distant from their traditional support base and whose policies are more patronising than socialistic.
Jochen Arntz, editor-in-chief of the Berliner Zeitung, says the elections in North Rhine-Westphalia were actually a victory for mainstream politics, and showed that populism is not on the march. He makes much of the fact that the CDU and SPD combined won 65 per cent of the vote. But this is only half the truth. The first thing to note is that compared with previous elections, voting participation in North Rhine-Westphalia was worryingly low. The CDU and SPD got 64.2 per cent between them on a turnout of 65.2 per cent – 34.8 per cent of the state's voters abstained. It is telling when even elections with falling turnout figures are celebrated for 'upholding the mainstream'.
Secondly, and more importantly, we have to look at the alternatives in German elections. Observers who have felt unnerved by the rise of anti-establishment scepticism are relieved that Alternative fur Deutschland, the right-wing, largely anti-immigration party, seems to be doing badly, as a result of infighting and disarray. But AfD hasn't disappeared. It managed to get into the regional parliament, with 7.4 per cent of the votes. This makes North Rhine-Westphalia the 13th federal state in which AfD has won seats. It is fanciful to interpret AfD's relative decline as an end to the longing for an alternative. More realistically, it shows that AfD is no longer seen as the alternative people had hoped for. The longing for an alternative goes back further than the AfD's founding. In 2012, the Pirate Party won 7.8 per cent of votes in North Rhine-Westphalia. This, too, was seen as a revolt against the mainstream, but the immaturity of the Pirate Party meant it declined quickly.
What about Merkel? Political scientist Ulrich von Alemann says the Merkel fatigue that was on display in 2016 is now over and the chancellor is doing brilliantly. This is highly premature. We should remember that it wasn't Merkel who stood for election in North Rhine-Westphalia; the CDU candidate who won there was a party outsider. Also, there is a distinct lack of enthusiasm in relation to the General Election. In 2016, after Merkel announced her candidacy, surveys suggested every second German was opposed to four more years of her rule. To my mind, it isn't Merkel's strengths or German conservatism that keeps her in office – it's the lack of a serious alternative.
Sabine Beppler-Spahl is head of the board of the liberal thinktank Freiblickinstitut e.V., which has published the Freedom Manifesto. She is also the organiser of the Berlin Salon.
To enquire about republishing spiked's content, a right to reply or to request a correction, please contact the managing editor, Viv Regan.