It isn't the Tories out to get the NHS – it's the EU
Lefties, if you want to save 'Our NHS', become Brexiteers.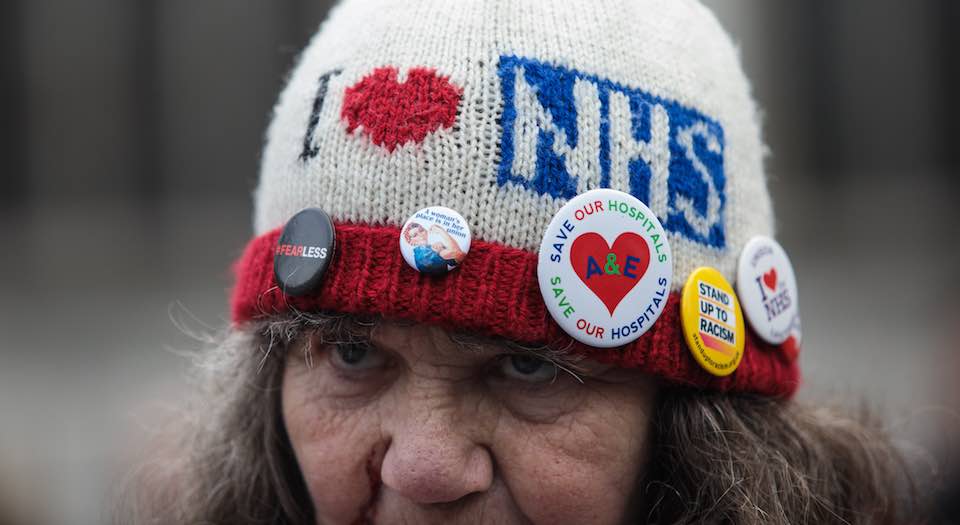 No doubt you will have heard the news that 'the Tories are going to privatise the NHS'. In recent weeks you will have read it in newspaper reports, heard it from Labour politicians, seen it on Twitter, and read it on those well-informed, wise and in no way unbelievably annoying Facebook memes.
Yes, you can always tell when an election is upon us because 'it's time to save the NHS'. 'There are 14 days to save the NHS', as Tony Blair said in April 1997. 'Six weeks to save the NHS', said the Morning Star in 2010. 'WE HAVE 48 HOURS TO SAVE OUR NHS', bellowed the Mirror in October 2015. And so on.
Labour has been cynically wheeling out the line that the 'Tories are going to privatise the NHS' since the 1990s. They have vowed to 'save the NHS' since the 1980s. It's a dismal and pathetic strategy which only exposes the hollowness of a party that began to lose its heart and purpose in the 1960s, when the takeover of the working-class movement by upper-middle-class social liberals began in earnest. Shouty alarmism is all it's got left now.
Because, as you will have noticed, over the past 40 years the Conservatives have never privatised the NHS. Sure, they have scaled back the number of free-upon-demand services and introduced the private sector into various areas. And some have talked about privatising it. But there's never been privatisation. And neither will the evil Tories ever do so. It would be electoral suicide. Most Conservative supporters are not free-market fundamentalists – they consider it 'our NHS', too.
Yet it is true that there is a body of free-market fundamentalists who would like to privatise the NHS, and it's the European Union – that body which, remember, dear Labour manifesto writers, still forbids the re-nationalisation of 'our' railways or 'our' postal service, because that would break one of its iron principles: the free market.
This was made clear in 2013 with the launch of the Transatlantic Trade and Investment Partnership (TTIP), designed to harmonise industry regulations between the EU and the United States. This partnership would have enforced competitive tendering within the British health system. And it was to be an irreversible step. TTIP was killed off last year after left-wing protest, and with the election of Donald Trump proving the final nail in its coffin. Yet in its place has emerged the Comprehensive Economic Trade Agreement (CETA) between the EU and Canada, which gives similar power to corporations while diminishing the power of national parliaments.
While many on the anti-capitalist left have, to their honour, been campaigning against the EU's cosy ties with corporations, there is a wider reluctance to talk about this matter. The EU's worship of corporate capitalism doesn't fit in with the cosy narrative of the European Union being a humane, fluffy, liberal force for good.
The EU is pro-big business for the same reason it won't change its stance on internal migration. Free-market economics is one of its articles of faith. When it created the European Single Market in 1993, it did so in order to guarantee the free movement of goods, capital, services and labour within the Union. These are its sacred tenets. Under these unshakeable principles, the privatisation of the NHS is inevitable – or, as we will hope to say in two years, would have been inevitable.
'Brexit and Donald Trump saved our NHS.' Now put that in your confounded Facebook meme.
---
Why the rich are left-wing
The most interesting aspect of the French presidential elections were the maps, particularly the one depicting the results of the first round. It showed a country broadly divided in half, with the poorer east voting for Marine Le Pen and the more affluent west voting for Emmanuel Macron. This accorded with a wider trend in the Western world, seen with Trump in America and (until recently) UKIP in Britain: the working classes now support right-wing or nationalist political parties while the rich support left-wing parties.
The reasons for this reversal are complex. It is mixed up with a general anti-authority mood in the West, racial politics, globalisation, the internet having democratised knowledge and diffused power, and the economic consequences of the digital revolution. And remember that many of these nominally 'right-wing' parties are anti-free trade: Le Pen and Trump are both protectionists.
Still, the ultimate triumph of champagne socialism is fascinating. How would you explain to a time traveller from 1917 that the rich now vote left? My theory is that for affluent liberals politics has become ritualised and symbolic: it's now about grandstanding and purgation.
Whenever I'm in affluent, liberal Crouch End in north London during elections, I'm astonished by the number of placards outside people's homes expressing support for Labour, the Greens and the Liberal Democrats. They are signalling to their neighbours what good people they are, while also atoning for their wealth. Rich left-wing people famously feel guilty for their wealth, and by voting Labour or Democrat every few years they can purge themselves of an inherent feeling of guilt and wickedness.
---
Why won't feminists celebrate Le Pen?
BBC Radio 4's Woman's Hour had a curious slant on the French presidential election. It opened its Monday programme with a discussion about the past, present and future role of the French First Lady. Agnès Poirier concluded of Brigitte Macron that 'it would be very good for the country if she did have an official status'. Little was made of the fact that another woman, Marine Le Pen, was one step away from actually becoming president herself, all of her own accord.
Yes, Le Pen is ghastly and all that, but shouldn't feminism be about celebrating self-empowerment, irrespective of politics? Le Pen has not only risen in one of the most masculine and competitive of all trades – politics – through her own guts and determination; she has also had the hindrance of having a truly monstrous father to deal with. For that alone she should be saluted.
But no, she doesn't fit the babyish, bourgeois strand of contemporary feminism, which dictates that women should be feminine and compassionate and respectable and acceptable. I mean, gosh, isn't it jolly splendid that France has a new First Lady? Wouldn't it be totally delish to have a hubby with all that power and money?
Next they'll be talking about what frocks Brigitte's wearing or her new hairdo.
Patrick West is a spiked columnist. His new book, Get Over Yourself: Nietzsche For Our Times, will be published on 1 August by Imprint Academic. Preorder it here. Follow him on Twitter: @patrickxwest
Picture by: Getty Images.
To enquire about republishing spiked's content, a right to reply or to request a correction, please contact the managing editor, Viv Regan.