Trumpcare: even worse than Obamacare
Neither Republicans nor Democrats have a good vision for health.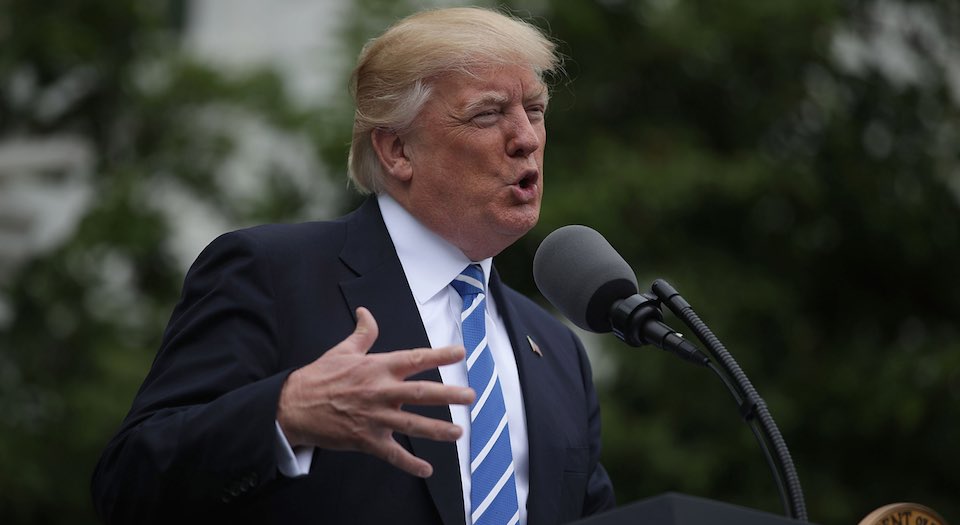 Last week, House Republicans, backed by President Trump, took a lurching first step towards fulfilling their promise to repeal Obamacare. The success of the American Health Care Act (AHCA), which is not substantially different to the health bill Republicans tried and failed to pass in March, owes more to political dealmaking than a fundamental rethink. And it is making people nervous.
This is not America's first rodeo when it comes to healthcare reform. The American healthcare system is complex and confusing and many people have learned the hard way that what looks good on paper can be disastrous in practice. Trumpcare doesn't even look good on paper.
As it stands now, the AHCA would, by the government's own estimates, leave 27million people uninsured and raise premiums by 20 to 25 per cent. It would also shift the emphasis from regulation at the federal level to regulation at the level of the states, and change the way people at high risk of illness obtain their insurance. This adds a layer of complexity to an already complicated system, and people are struggling to understand what it might mean for them.
Unfortunately, the broader political debate over Trumpcare is not helping. Both Democrats and Republicans have indulged in obfuscation and distortion.
The most egregious example of this is the claim by some Democrats that the AHCA would make rape and domestic violence a 'preexisting condition'. Preexisting conditions are any number of chronic ailments (cancer, diabetes) that could be used by insurance companies as a pretext for denying people coverage. Obamacare outlawed this practice and the lifetime benefit limits insurers used to rid themselves of expensive policies.
In the week before the passage of the AHCA, an internet meme surfaced alleging that victims of domestic violence or sexual assault would be forced to disclose their experience to insurance companies who could then deny them coverage on the basis of it. Thousands of outraged social-media activists kicked up a storm and made dark allusions to Margaret Atwood's dystopian novel, A Handmaid's Tale. The story was repeated by mainstream outlets like CNN and New York magazine.
Even before more critical journalists, most notably Elizabeth Nolan Brown of Reason, challenged the rumour, it seemed dubious to some of us. Would Republicans really ditch Obamacare regulation on preexisting conditions (its only universally popular feature) just so they could stick it to women? No. No, they would not.
The act does not specifically mention sexual assault or domestic violence. In fact, it maintains all of the Obamacare regulations surrounding preexisting conditions and only allows states to apply to waive these regulations under certain narrow circumstances. Moreover, the possibility of waivers only applies in the case of individuals purchasing insurance directly from insurance companies. It does not affect insurance obtained through employers or state-funded schemes like Medicaid and Medicare.
There are plenty of things to criticise in the Republicans' act. It would do nothing to reduce premiums for individual policies (one of the main criticisms of Obamacare); in fact, it is expected to raise them by 20 to 25 per cent. It would force sick people into state-subsidised high-risk pools, a measure designed to help cut costs for all the participants, yet one which doesn't provide enough funding to make these schemes successful. It would roll back the expansion of Medicaid, the state-sponsored healthcare programme for the poor, in order to finance a tax cut that would disproportionately benefit the wealthiest Americans. Trump promised to cut taxes, and it had to come from somewhere.
It is a testament to the politics of fear, and to the Democrats' almost pathological need to make every issue about identity (women in this case), that critics opted to focus on the uncertain or actually non-existent implications of Trumpcare instead of challenging its obvious weaknesses.
The Republicans are no better. Trump himself seems to have no clue about the details of his own policy. Throughout his campaign and his time in office, he has repeatedly promised, 'We're going to have insurance for everybody', with 'lower numbers, much lower deductibles'. The AHCA achieves neither of these things. He also claimed that 'people are going to be able to go out and negotiate great plans, with lots of different competition, with lots of competitors, with great companies, and they can have their doctors, they can have plans, they can have everything'.
Not only does the new legislation do nothing to increase competition among insurers, if high-risk pools fail, as they seem destined to, more sick people could find themselves with no provider. But then, of course, very sick people could always move to another state, as Republican congressman Robert Pittenger suggested last week when asked what people should do if their state chose to waive protections for preexisting conditions. Republican politicians are showing just how out of touch they are.
None of this is meant to suggest that Obamacare is great. It isn't. In many parts of the country, people seeking coverage are limited to a single company, meaning that company has no incentive to keep costs reasonable. The expansion of Medicaid has covered more people, but the underlying cost of healthcare has continued to rise. If it rises further, the system could collapse altogether. About the only thing Obamacare has going for it is that Trumpcare promises to be even worse.
Americans desperately need an honest discussion about healthcare, one that starts from points of agreement. Weary of listening to stilted debates about the pros and cons of Obamacare and Trumpcare, I invited people I know of varying political persuasions to say what they would like to see in a healthcare system. The results were encouraging.
Everyone agrees that all people should have access to healthcare and no one should ever go bankrupt due to medical expenses. They'd like to see more rational pricing for medical procedures: the cost of a mammogram in the US is between $350 and $2,000. One person pointed out that paying doctors by procedure creates an incentive for them to do more. Most people wanted to see insurance decoupled from employers: coverage needs to be stable, not dependent on where you happen to work. People agreed that coverage for dental and vision care is incredibly important. Everyone wanted simplicity. It wasn't scientific, and the responses were off the cuff, but they weren't half bad. They were certainly as good as anything that has come out of the healthcare debate so far.
The AHCA still needs to pass in the Senate before it becomes the law of the land. Passing it as it stands now would likely make things worse. Trump may have benefited from the disaffection with mainstream politics, but Trumpcare shows he is incapable of moving beyond platitudes. Meanwhile, neither the Republicans nor the Democrats seem capable of anything other than fearmongering or condescension. The time is ripe for a political alternative; that's what the healthcare mess tells us more than anything else.
Nancy McDermott is a writer based in New York.
Picture by: Getty Images.
To enquire about republishing spiked's content, a right to reply or to request a correction, please contact the managing editor, Viv Regan.