Why Corbyn can't do populism
The people are angry at Labour, not Philip Green.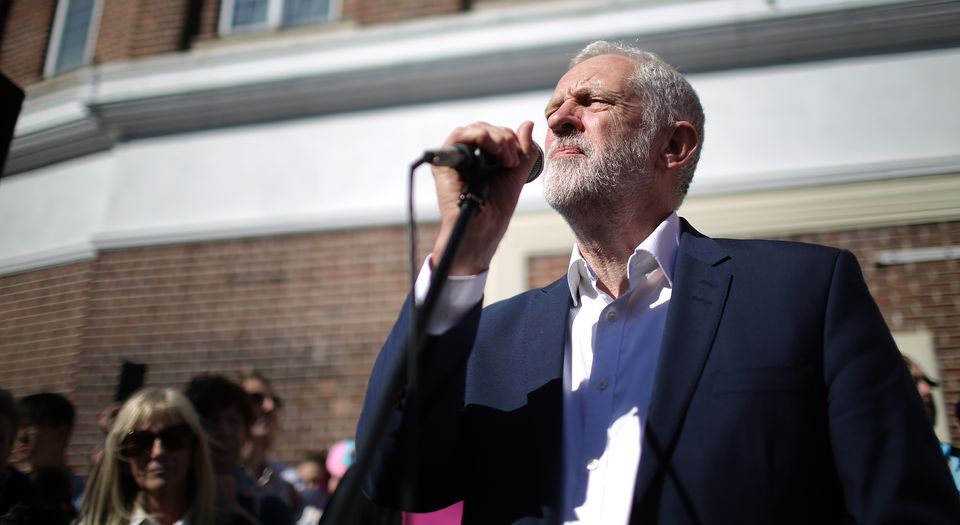 It was fitting that Jeremy Corbyn was introduced at Labour's election campaign launch in Manchester today by actress Julie Hesmondhalgh (aka Hayley Cropper from Coronation Street). After all, the man claiming to speak 'for the many, not the few' probably has more support among the north's fictional working classes than he does the real deal.
It was an odd event, in which Jezza railed against the 'tax cheats, rip-off bosses and greedy bankers' who had 'rigged' the system. He was angry, he said. But it was all about as compelling as when David Cameron, in shirtsleeves, in the middle of a particularly boring 2015 General Election campaign, told Tory activists at a press event what 'pumps him up'.
Jezza's attempts at populism have been awkward from the off. All the right-wing chortling about Red Jez misses the fact that he's always been more at home going over last week's minutes in a drafty CLP meeting than he is stirring up the masses. And, as poll after poll reminds us, he lacks one essential ingredient of a populist leader: popularity.
But he's also picked the wrong target. Populism is about channelling righteous anger and frustration at those set against the interests and desires of the mass; about demanding from a disdainful elite that which they seek to deny us. The prime enemy for now, as far as ordinary people are concerned, is not Philip Green or corporations 'plundering the NHS' – it's the demosphobic political class that has made its presence felt post-Brexit.
In his speech today, Corbyn accused the elite of 'hijacking Brexit'. But, as we've seen since 23 June, much of the elite has been plotting to derail it entirely – via the Lords, the courts and now the vain hope for an upset in the upcoming snap election. Though Labour might not have branded itself the party of Rearguard Remain, and the PLP held its nose and voted for Article 50, it is the party of the moralising middle-classes – supported by those who might not be Gina Miller but probably appreciate her pleb-bashing moxie.
Corbyn's refusal, in a shirty interview with the BBC's Laura Kuenssberg, to rule out keeping Britain in the EU should we get a bad deal from Brussels will hardly reassure the millions of Labour voters who backed Leave. But it was more pathetic than anything else. It was a Remainer dog-whistle, intent on signalling Labour might be plotting on backdoor re-exit, safe in the knowledge Labour won't get anywhere near those negotiations. Corbyn's team, after all, are already suggesting they'll hail maintaining Ed Miliband's 2015 vote share as a glorious success.
Brexit brought the snivelling, disdainful attitude of the metropolitan Labour-loving clerisy to the fore. And the party has become synonymous with this snobby outlook. This is why Corbyn's lieutenants are savaged by voters every time they're on Question Time. And with good reason. Labour doesn't speak to people, it speaks over them. It pities them and mistrusts them. Which is why Corbyn's team led the policy blitz this week promising a ban on junk-food ads.
Jeremy can't do populism not because he's not charismatic, plain-spoken or anti-immigrant enough, and not because even Andy Burnham doesn't want to hang out with him. Labour can't channel the people's anger, because the people aren't angry at the people Jeremy Corbyn is angry at. In fact, they're angry with Labour. Big time.
At least he's got Hayley.
Tom Slater is deputy editor at spiked. Follow him on Twitter: @Tom_Slater_
To enquire about republishing spiked's content, a right to reply or to request a correction, please contact the managing editor, Viv Regan.