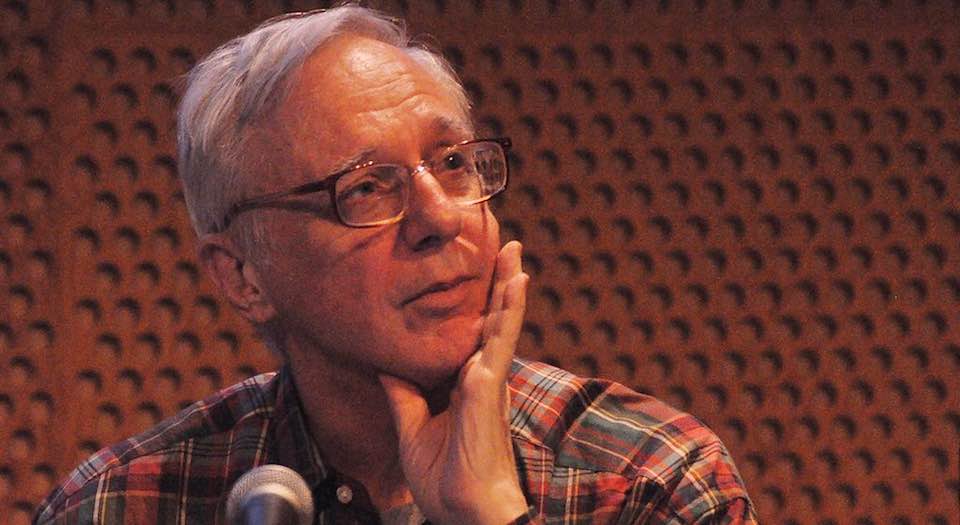 Long-read
The art of pop
The Dean of American Rock Critics talks to Tom Slater about snobbery, bohemia and never tiring of music.
'To the eternal "Opinions are like assholes – everybody's got one", I say, "Yeah, but not everybody's got ten thousand of them".' So writes Robert Christgau, the self-dubbed Dean of American Rock Critics, in his 2015 memoir, Going Into The City. It's a classic Christgau epigram: witty, biting and ever-so-slightly egotistical. But as the beloved writer for the Village Voice, Esquire, Newsday and now Noisey, the Sixties 'long-hair' who later caught on to punk, hip hop and NSYNC, and one of a handful of American writers who birthed pop criticism, he's more than earned his chutzpah.
In his East Village, New York apartment – lined with book shelves and stacks of CDs – I ask him what makes a good critic. 'I believe you have to be simultaneously arrogant and humble', he says. 'That is one of my gifts – that I have managed to balance both of those things… There are people who like everything, especially if it has the right profile, and then there are people who pride themselves on not liking what other people like and on finding the unusual thing, and that's equally stupid.'
If he sounds like a hard guy to be around, he's not. It's a warm spring evening in Manhattan. The 75-year-old is in a red t-shirt and sipping iced coffee out of a flask. He's relaxed, hospitable, if a little beat – he's been teaching at NYU all day, where's he's a visiting arts professor. Every so often during our conversation, he sticks a sandaled foot up on the table between us.
Christgau's reviews, features and essays – collected in his books Any Old Way You Choose It, Grown Up All Wrong, and his album guides of the Seventies, Eighties and Nineties – are absorbing, view-from-the-ground guides through the history of pop culture. He's always, in his own estimations, had a 'mouth on him', and his criticism is often as caustic as it is witty. Jimi Hendrix? 'A psychedelic Uncle Tom.' Prince? 'Mick Jagger should fold up his penis and go home.' Mama Cass's 'don't call me mama' period? 'How about fatso?', he wrote. But he thinks and cares deeply about pop music, and his career is a lesson in how essential criticism and judgement are to art.
He's long railed against the subordination of pop to high culture. 'Unless we somehow recycle the concept of the great artist so that it supports Chuck Berry as well as it does Marcel Proust, we might as well trash it altogether', he wrote in his seminal essay, 'Chuck Berry: Eternal Rock and Roller'. Does high and low mean all that much to him? 'Right, that doesn't hold for me', he says. 'I can make distinctions. I know there's a different kind of meaning in Dostoyevsky than in Chuck Berry, or indeed in Proust than in Chuck Berry…'. But to him the best pop music remains 'enduring art': 'I now have up to 270-80 days of music in my iTunes, and what's in my iTunes is 95 per cent stuff that I regard as being really important.'
In this postmodern age, the distinctions between high and low are often casually dismissed, barely even engaged with. But there's nothing philistine, nothing lamely relativistic, about Christgau's critique. He's steeped in literature – an Ivy League graduate and a lifelong swallower of books. Going Into The City has long passages devoted to Crime and Punishment, Sister Carrie and William Carlos Williams, charting how they shaped his life, relationships and thinking. He's too smart to just collapse Chaucer with Chaka Khan and be done with it. Instead, he makes a compelling case for why pop culture is distinct from high culture, and why it needs to be understood on its own terms.
'I didn't exactly decide that what is called high art is bullshit – I still don't believe that', he writes in Any Old Way You Choose It. 'But I did come to understand that popular art was not inferior to high art, and decided that popular art achieved a vitality of both integrity and outreach that high art had unfortunately abandoned. Popular art dealt with common realities and fantasies in forms that provided immediate pleasure – it was vital aesthetically, as work. And because it moved and was moved by the great audience, it was also vital culturally, as relationship.'
For Christgau, it is pop's 'populist' potential, the interaction between artist and mass audience, that marks it out from cloistered high culture. As such, when Bob Dylan's Tarantula, a widely panned prose collection that Dylan has all but disowned, was released in 1971, Christgau implored readers to 'buy his records' instead. 'To assert that Dylan doesn't belong in the history of literature is not to dismiss him from the history of artistic communication or of language', he wrote. 'A songwriter does not use language as a poet or a novelist does, because he chooses his words to fit into some larger, more sensual effect; an artist who elects to work in a mass medium communicates in a different way from one who doesn't and must be judged according to his own means, purposes and referents.'
So what, then, did he make of Dylan's Nobel Prize for literature? (An honour that Dylan himself first cast doubt on when he stayed silent for weeks after the announcement.) To my surprise, Christgau's all for it. 'Bob Dylan changed songwriting single-handed in the mid-Sixties. Before him, clarity and surface coherence were a requirement. Afterward, they weren't. Without question Dylan freed things up for the better… he revolutionised a major means of verbal expression. Of course he deserved his Nobel. Though admittedly he could have been nicer about it.'
I can't quite work out if this is a contradiction, a change of heart or if I just don't get it. The third is eminently plausible. After all, Christgau is the Dean for a reason. Pop criticism, like pop music, was once written off as ephemera. But his playful, erudite and sometimes labyrinthine writings are an enduring influence on pop critics and listeners. Not only because they compel rereading, but because they require it. His prose is packed with ideas, ruminations and asides – impossible to absorb in one run. That said, there's also something about Christgau's approach to pop culture that is necessarily conflicted, a synthesis of what at first seem like contradictory positions.
First up is his 'anti-bohemian bohemianism'. Born and raised in Queens in a lower-middle-class, God-fearing family – his fireman dad working 80-hour weeks to keep the Christgau's moving up in the postwar world – he has a finely tuned snob detector. From a young age, he felt the pull of Manhattan, and of the East Village (where he's lived for over 50 years). He became engrossed in Sixties culture and left-wing politics. But he was rankled by the snobbery of his peers. This, he says, still dogs bohemia today.
'It's the contempt for ordinary people that I really hate. I find that deeply upsetting', he tells me. 'I'm just listening to the new Tacocat record, and there's a song called "I Hate the Weekend". It goes: "I hate the weekend 'cause that's when the working stiffs…" (she uses that fucking phrase) "…go out and make a lot of noise on my block." Now, I live in exactly the same situation, 2nd Avenue, which was sort of a rundown, semi-bohemian, semi-post-slum neighbourhood, which is now completely overrun by college students getting drunk and yelling at 2am. I fucking hate it. But not because they're "working stiffs".' He laughs. 'Where is it that working stiffs go and do that? I don't even know.'
This outlook informs his lifelong celebration of pop as a mass, commercial medium, working under the assumption that 'music large swaths of people liked and you didn't might well have good points you were too bigheaded to hear'. It affected the way in which he wrote, too. His often provocative 'Rock & Roll &' thinkpieces in the Village Voice critiqued pop and bohemia from within, but he dropped it to a semi-monthly feature to write his periodic 'Consumer Guide', capsule reviews of albums, complete with letter grades. Consumer Guide, he writes in Going Into The City, set out to 'razz a counterculture that considered consumption counterrevolutionary and didn't like grades either'. Here's a sample: 'The only reason this is not an E is that the title song sold a million copies. That means they have to be doing something right. D minus.'
And yet, he still makes room in what he calls his 'theory of pop' for the underground and the avant-garde. He calls it 'semi-popular music', 'music that is appreciated… for having all the earmarks of popular music except one: popularity'. 'The novel started out as a diversion for ladies of leisure, and it evolved into something else', he tells me. 'That is what happens to [artforms]. They have formal characteristics, and if you like the art you enjoy the formal characteristics. And some people are going to do stuff with those formal characteristics that are not going to serve the social function that they were originally designed to serve. It's just built into the form, into the whole activity of making art. And if you like the art, and if it gives you pleasure – another important concept for me – well then you're going to enjoy those things, because you are in fact an aesthete. I have no problem with being an aesthete. I am an aesthete. But not, I hope, too rarefied an aesthete.'
New York is an enduring inspiration for Christgau. Going Into The City offers snapshots from his life in this extraordinary place, from his schooldays in Queens – hopping on the train into town to buy records and see movies – to the move to East Village – seeing pop art at the Green Gallery, the New York Dolls at CBGBs, and spending his afternoons playing basketball in Tompkins Square Park. He was, he writes, 'the only long-hair on the court… surprising the Puerto Ricans and project blacks with my stubborn hustle and rebounder's ass'. This reputation once saved him from a mugging at the hands of knife-wielding preteens. 'From the shadows I heard a whisper: "Not him – he's a ballplayer."'
He worries that skyrocketing rents and the squeeze on wages have now made inner-city bohemia the preserve of the well-off. 'As foolish as all those Feel the Bern people are – and they are foolish – they have a legitimate gripe and a real reason to be incredibly pissed. When I teach my students at NYU, I tell them that counterculture, hippy culture, was an economic phenomenon. That it came from the longest period of increasing median income in the history of the country and quite possibly the world. To my surprise, most of them don't know that. What I'm told – and it's interesting to me – is that in Philadelphia, just 100 miles away, rents are like a quarter of what they are in Brooklyn. And there really is a serious, more traditionally bohemian scene. The thing about Brooklyn is that people pay what I pay for this place for one room. It's terrible.'
We talk about the role neighbourhoods, scenes and subcultures play in giving pop meaning. How does Christgau, still writing all these years later, manage to connect with the music brewing in Brooklyn and elsewhere? 'It's perfectly possible to remain engaged as you get older', he says. 'The subcultural part of it is something that very often is vicarious, and that in itself can be very interesting. On the one hand, I know a lot more about inner-city youth than does poor Bill Clinton, making a fool of himself about "coke fiends" going out and killing people in 1997. What an idiot. On the other hand, I realise I don't understand shit about those societies.'
In his apartment, music plays constantly. But when it comes to reviewing music it's not just a case of keeping up, he says, but finding a way in, a connection. 'There was a moment when I got inside the Backstreet Boys and NSYNC', he says. 'I couldn't do that anymore. My daughter was the right age, and she enabled me to feel it in a way I'm never going to feel Ariana Grande. And I think it's because they're better than Ariana Grande, but I can't be sure.' One thing that continues to preoccupy him is hip hop, a genre he got on before most. 'Why is it that "trapping" [drug dealing] has become kind of a formal convention?', he muses. 'Or at least that's what it looks like to me. Is it like cowboy movies? That's the analogy I think of.'
Even after five decades on deadline, the Dean is indefatigable. While so many of his contemporaries and acolytes have bowed out to write books or been absorbed into academia, he's still reviewing and writing weekly. Will he ever grow tired of pop music, of listening to it, writing about it, wrestling with it? 'I love words more than anything, and I'm fortunate enough to have hit on this subject with what seems to be a relatively unusual capacity to listen to music without getting bored by it, and to enjoy music. Obviously, people get tired of music – I read this shit all the time. People in their late thirties, they say, "I'm tired of this now"… I feel sorry for people like that, I think they've lost something, and they really want to pretend to themselves that that's the way of the world; that it's built in. It isn't. It just isn't.'
I guess that's ten thousand opinions and counting.
Tom Slater is deputy editor at spiked.
Picture by Wikimedia Commons.
To enquire about republishing spiked's content, a right to reply or to request a correction, please contact the managing editor, Viv Regan.