Why we must keep fighting for a free press
Both officialdom and the media are suspicious of press freedom.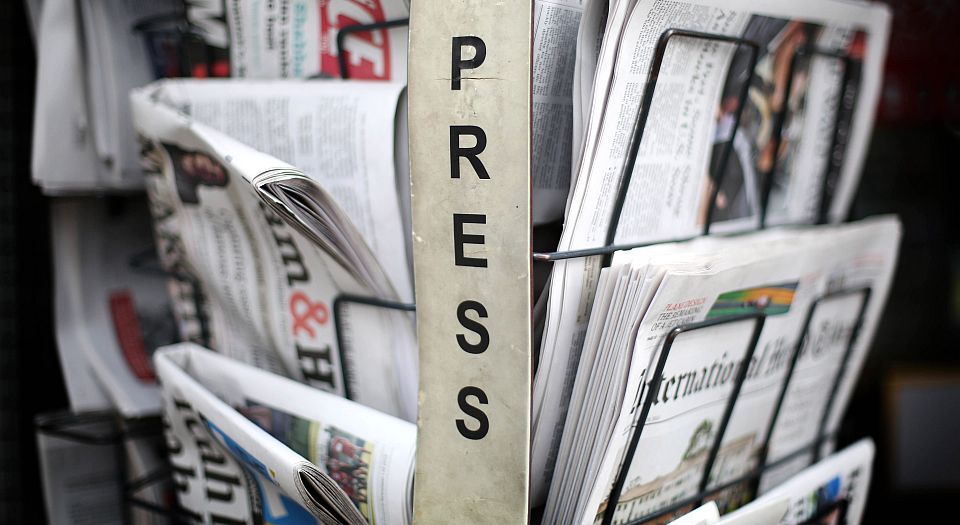 With the advent of 'fake news' and radical concern about the ever-encroaching tentacles of the so-called MSM — mainstream media — the press hasn't had an easy ride lately. You might expect that the UNESCO-led celebration of World Press Freedom Day would boost media morale. It takes place today, on 3 May, as it has done every year since 1991. The aim of the day is 'to defend the media from attacks on their independence and to pay tribute to journalists who have lost their lives in the exercise of their profession'. The mood of this year's celebrations is damp and depressed, however, due to Britain's dismal showing in Reporters Sans Frontieres' recent World Press Freedom Index: we have fallen two places to number 40, behind Namibia, Surinam and South Africa.
Today's mourners of press freedom usually point to far-flung countries where censorship reveals itself in a life-threatening form. In 2016, 48 journalists were killed in Syria. Turkish journalists are also bearing the brunt of press censorship. Since the attempted coup against Erdogan last July, 231 journalists have been arrested.
But while press freedom in the UK certainly isn't as bad as it is in the nations at the bottom of RSF 's table – Turkmenistan, Eritrea and North Korea – World Press Freedom Day should also give Britons pause for thought. For in Britain in recent years, esteem for the ideal of press freedom has been replaced by contempt for it.
At the end of 2016, the Investigative Powers Act, suitably nicknamed the Snoopers' Charter, came into force. It is the most extreme surveillance legislation Britain has introduced in modern times. Unmatched in its breadth by any other country in Western Europe, or even by the US, the Snoopers' Charter gives intelligence agencies and law enforcement the power to collect the browsing records of everyone in the country. Worryingly for the press, communications between journalists and their sources are no longer safeguarded — and many fear this will dissuade potential whistleblowers from leaking important information.
More disturbingly, under recent proposals, investigative journalists who do manage to communicate with a confidential source could find themselves behind bars. In February, the Law Commission proposed the introduction of an Espionage Act that would conflate certain kinds of journalism with espionage and could lead to the jailing of journalists for up to 14 years if they published sensitive leaked information. If it were to come into force, such an act, through equating the reporting of a news story with the act of whistleblowing, would discourage journalists from taking on risky stories.
The new British contempt for press freedom isn't confined to the judiciary. Recently, the government flirted with the idea of implementing Section 40 of the post-Leveson Crime and Courts Act. The Leveson Inquiry was officialdom's showtrial of the tabloid press over certain papers' hacking of individuals' mobile-phone messages. Its proposed Section 40, if introduced, would mean that publishers that refused to sign up to a state-backed press regulator would be forced to pay the legal costs of people who sue them, even if the publishers win the case. This wouldn't only affect publications that expose major scandals – the Guardian's investigation into the Panama Papers, for example, involved 70 extremely wealthy individuals, all of whom could have sued if Section 40 had been on the statute books; it would also mean that smaller publications could face bankruptcy merely for reporting what they consider to be the truth.
Alongside this challenge to press freedom at an institutional level, there is also an informal but equally dangerous fear among sections of the elite that an overly free press could lead impressionable plebs to do bad things. So in its report, Reporters Sans Frontieres points to 'Donald Trump's rise to power… and the Brexit campaign' as instigators of a 'highly toxic anti-media discourse that drove the world into a new era of post-truth, disinformation and fake news'.
Following last year's political revolts on both sides of the Atlantic, the press's own faith in press freedom has plummeted. Consumed by loathing for the result of Britain's EU referendum, the Guardian ran numerous conspiratorial articles asking 'Did the Mail and Sun help swing the UK towards Brexit?' and 'The people have spoken on Brexit — but did the media tell them the truth?'. One headline in the New Statesman captured today's distrust in a free press: 'How the media misled us over Brexit and Donald Trump.'
These misgivings speak to a disdain for press freedom as insidious as any legislative measure. The belief in press freedom is predicated on a two-sided appreciation for journalism: first, that journalists should be trusted to publish what they want; and second, that the public should be trusted to read what they want and decide for themselves the truth and quality of it. While governmental intrusions tend to disparage the first component of press freedom, the growing disdain for the rational capabilities of the demos is an affront to the second component. Underlying the fear of a 'post-truth' era is a profound distrust — not of journalism this time, but of the demos and our ability to make informed decisions.
Press freedom is undoubtedly in a dire state, and recent legislative proposals in the UK will threaten it even more. But today, on World Press Freedom Day, it is not enough to celebrate journalists' freedom. Yes, we should absolutely celebrate the brave, often dissident journalism taking place around the world, and mark the lives of those who died as a consequence of their brave reporting. But let's also celebrate the other side in press freedom — the people, and their rational faculties, because it is only by taking people seriously that press freedom can have any meaning at all.
Jacob Furedi is a spiked columnist. Follow him on Twitter: @jacobfuredi
To enquire about republishing spiked's content, a right to reply or to request a correction, please contact the managing editor, Viv Regan.