It wasn't Trump who wrecked the Middle East
The arrogance of British politicians accusing Trump of causing chaos.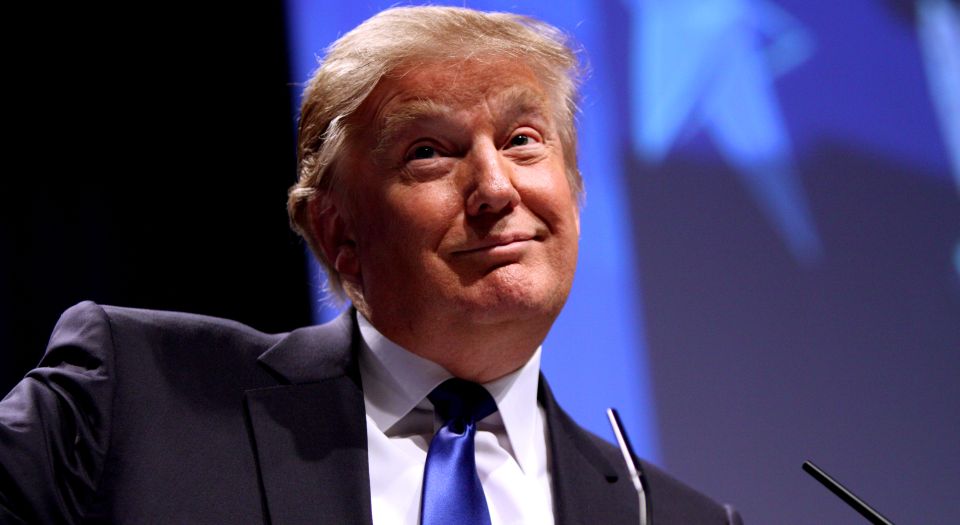 According to the House of Lords International Relations Committee, the US, under the 'mercurial and unpredictable' Donald Trump, is no longer a stabilising force in the Middle East. Apparently, it no longer sets the right 'tone', and 'has the potential to further destabilise the region', taking positions that are 'unconstructive and can even escalate conflict'.
So far Trump's actions overseas don't auger well: bombing a Syrian government airbase on the basis of little-to-no evidence that Bashar al-Assad's forces used chemical weapons; dropping the Mother of All Bombs on an al-Qaeda target in Afghanistan; and indulging in an aggressive, nuclear-powered flirtation with North Korea and its 'smart cookie' leader, Kim Jong-un. But for the House of Lords to suggest that Trump's actions mark the beginning of a new, uncertain era for foreign policymaking, rich in military grandstanding and diplomatic caprice, is determinedly disingenuous. If anything, the opposite is true.
What is most disappointing about Trump's overseas interventions and foreign-policy positions is not that they mark a rupture with the interventionist tendencies of his predecessors, but that they continue them, albeit with added, thoughtless zeal. So, incredibly, Trump has made good on Obama's threat to punish Assad should the Syrian government deploy chemical weapons; he has faced off with Russia in a manner of which Hillary Clinton would have been proud; and, just for good measure, in his threats towards Iran and North Korea, he has combined the axis-of-evil sentiments of George W Bush with the nuclear disarmament dreams of first-term Obama, to disorienting effect.
So why are Britain's lords telling us and their colleagues in the Commons that there has been a massive break with the past under The Donald, that we're entering a new, unpredictable, dangerous era of foreign policymaking in the Middle East? Because doing so allows the British political establishment off the hook. It allows politicians and their advisers to downplay and even efface Britain's and the West's longstanding role in the destabilisation of the Middle East and the wider region, their active escalation of conflict. Because by conjuring up Trump's US as a markedly new foreign-policymaking force, as the escalator of conflict, the destabliser of regions, the lords help pre-Trump interventionists to pass off their own Trump-style meddling as something it was not: as stabilising, as conflict-solving, as part of the old, better way of doing things.
Of course, even the most wilfully myopic of lords will struggle to unsee the palpable chaos in which the Middle East now finds itself – something for which a 100-days-old Trump administration can hardly be blamed. But the lords' select committee finds a way round that by dressing up the chaos and instability as something that has simply happened, like the changing of the seasons. Hence the report's sentences are passive, the agency obscure. It talks of the 'unravelling of the old Middle East', as if there was no unraveller, of an 'era of transition', as if there was no one to do the changing. And it talks of how 'the outcomes of the Arab Spring mostly disappointed the world and its policymakers', as if 'the world and its policymakers' played no part in creating those outcomes.
But the West did contribute to those outcomes, did play a role in the great unravelling. Britain, as part of the so-called Coalition of the Willing, invaded Iraq and overthrew Saddam Hussein in 2003, removing not just a nasty tyrant and a repressive state, but also the one cohering force in Iraq. And in that vacuum, the insurgency, with Al-Qaeda in Iraq to the flaming fore, ebbed and flowed, despite Western forces' years-long presence, before ultimately engulfing large parts of northern Iraq, and spreading into Syria, too, albeit now in the black-clad guise of ISIS.
Which brings us to Syria, itself, a nation in revolt in 2011, before the West's damning of Assad and backing of his assorted, largely Islamist opponents transformed an internal conflict into an intractable, thoroughly internationalised civil war, in which the West has supported and armed mutually opposing groups, from the Kurdish YPG units to anti-Assad Islamists.
Then there's Libya, the recipient in 2011 of a much-celebrated no-fly zone implemented in the main by Britain, the US and France, and now a nation in name only, dominated and ruled by countless militia fighting over territory and resources, and brimful with eager al-Qaeda/ISIS recruits. And then there's Yemen, a nation razed to the ground by a Saudi Arabian airforce armed and backed by Britain and the US. Incredibly, the lords imply that all of that stuff was an era of stability.
Many sat on the Lords International Relations Committee, their identities half-hidden behind their titles, have good reason to rewrite the past in light of an imagined Trump future. After all, several were directly involved in the clueless interventions in the Middle East over the past couple of decades. There's Baron Reid of Cardowan, or John Reid as most will know him, a defence secretary under that great friend of the Middle East, Tony Blair, and a man appointed Leader of the House of Commons in 2003 after Robin Cook's resignation, because it was thought he would ensure parliamentary support for the Iraq War. Then there's Baroness Helic, a former adviser to Tory foreign secretary William Hague during the Arab Spring. And, last but not least, the committee chairman himself, Baron Howell of Guilford, who not only served as a Foreign Office minister under Hague, but was also thanked by him for his role in helping Libyans to win their own freedom in the aftermath of Gaddafi's overthrow.
Given their implication in two of the biggest foreign-policy follies of the past couple of decades, it is perhaps not surprising that they can't see just how destabilising and 'mercurial' Western interventionism was before Trump. Yet this hypocrisy and arrogance is not limited to Reid, Howell and pals. It's also palpable among all those now up in arms about Trump's foreign policy, who, for so long, thought nothing of cheering on the British state as it invaded Iraq, intervened in Syria, and backed the House of Saud's bombing of Yemen. Trump is not inaugurating a new era; he's simply continuing the barbarism of old.
Tim Black is a spiked columnist.
Picture by: Gage Skidmore.
To enquire about republishing spiked's content, a right to reply or to request a correction, please contact the managing editor, Viv Regan.