New Labour's 20th birthday — don't celebrate
Blair's comeback is a reminder of how elitist and illiberal New Labour was.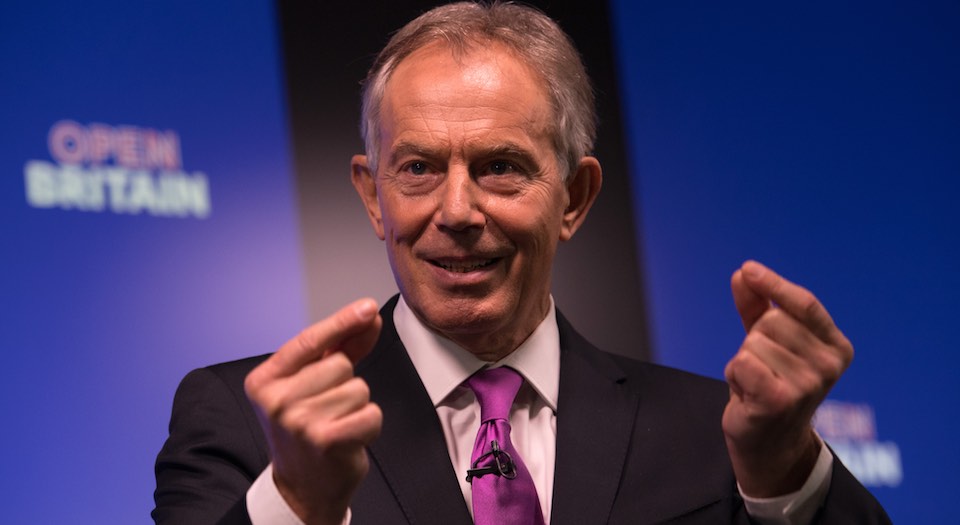 On Monday, it will be 20 years since the election of New Labour in 1997. To celebrate this anniversary of surely one of the least inspiring periods in British political history, New Labour godfather Tony Blair seems intent on making a comeback.
And what an appropriate moment Teflon Tony has chosen. In response to the British public demanding greater democratic control by voting for Brexit, Blair has decided to continue New Labour's illiberal, paternalistic approach and oppose Brexit — for our own good as a nation, of course. Through his anti-Brexit group Open Britain, he has launched a 'passionate' attack on 'Hard Brexit', calling for the ousting of Brexit MPs in the General Election.
It should come as a surprise to no one that Blair shudders at the thought of the public having a greater say in politics. Since that May Day in 1997, under the leadership of Blair and his middle-class, PR-obsessed team, Labour moved firmly away from any notion that politics was about pursuing the aspirations and demands of working people, and embraced a technocratic, managerial-style of politics with a very small p.
Concerned with merely managing society and its habitants, rather than thinking about people's economic standing or their futures, New Labour leaned very naturally towards nanny-state interventions into our lives. Contrasting itself against the harshness of the Thatcher years, it cultivated a 'caring' narrative that sugar-coated its invasive policies.
For example, under the guise of concern about child welfare, it introduced the Sure Start programme. Marketed as a helping hand for parents struggling to cope, actually Sure Start was more about removing parental control and instilling in people the idea that there was a 'right way' to parent. Sure Start paved the way for more political interventions into family life. Instead of engaging with what working families wanted – better jobs, better pay and better childcare – New Labour argued that the best way to improve people's lives was to have the state peer into and advise them on pretty much everything they did.
It was also under New Labour that the panic about 'anti-social behaviour' was born. In a speech in July 2004, Blair said there was a 'new consensus on law and order for our times', a feeling that 'people want not just the bobby on the beat, but a strong, organised uniformed presence back on the streets'. That organised presence took the shape of anti-social behaviour orders — ASBOs — which criminalised everything from drunken shouting to littering.
New Labour's focus was not the politics of class, but the 'politics of behaviour', as one of its ministers christened it. From smoking bans to the war on booze, salt, sugar and just about all enjoyable things, New Labour set the tone for 21st-century state interference in personal choice. In 2006, when New Labour banned smoking in places of work — including, of course, pubs — then health secretary Patricia Hewitt declared: 'This is really a historic day for public health.' And it was. Under New Labour, the notion of public health came to be transformed, from a belief that the population at large should be kept well to a conviction that everyone should be constantly told what to eat, how to parent, how much to drink, where to smoke, and so on.
Throughout the Blair years, surveillance was also increased, and the right to privacy was eroded. Blair's Prevention of Terrorism Act in 2005 gave both his government and subsequent governments the right to snoop on citizens. Many bemoan Theresa May's so-called Snooper's Charter, and rightly so, but if New Labour hadn't set a precedent for such state surveillance, the Tories would have struggled to push through so much snooping. Officialdom's risk-averse, spy-happy approach to privacy owes much to the New Labour years.
What, in essence, is New Labour's legacy? Yes, there was the horrific destruction of Iraq, and the relentless undermining of civil liberty and privacy. But perhaps its key legacy is the idea, now widespread in the elite, that the public cannot be trusted. New Labour's war on individual freedom and meddling in every area of our public, social and family lives cemented the idea that Joe Public must not be left to his own devices. So it is no surprise that, today, as the British public signals its rejection of experts and technocrats through voting for Brexit, Blair, master of this aloof politics, has come back. Back to fight for the survival of the politics he did so much to create.
On Monday, we shouldn't celebrate the anniversary of New Labour's election — we should celebrate the public's defiance of the dull, dispiriting managerial politics that both New Labour and the EU embodied. The vote for Brexit was a demand that the public be trusted, that we should get to make serious political decisions in a more democratic way. Blair is horrified by this, as you would expect. But so, too, are many Labour 'radicals' and Corbynistas. Their fear of Brexit confirms that, for all their bashing of Blair over Iraq and his supposed neoliberalism, they share with him a distrust of the public and a preference for Third Way politics over passionate public engagement.
So as Zombie Blair returns to the political fray, let's ensure it isn't only Britain's link with the EU that is ruptured — let's also do away with the legacy of Blairism and challenge official distrust of the public.
Ella Whelan is assistant editor at spiked. Follow her on Twitter: @Ella_M_Whelan
Picture by: Getty Images.
To enquire about republishing spiked's content, a right to reply or to request a correction, please contact the managing editor, Viv Regan.