Mark Regev at SOAS: a victory for free speech
Israelis deserve freedom of expression, like everyone else.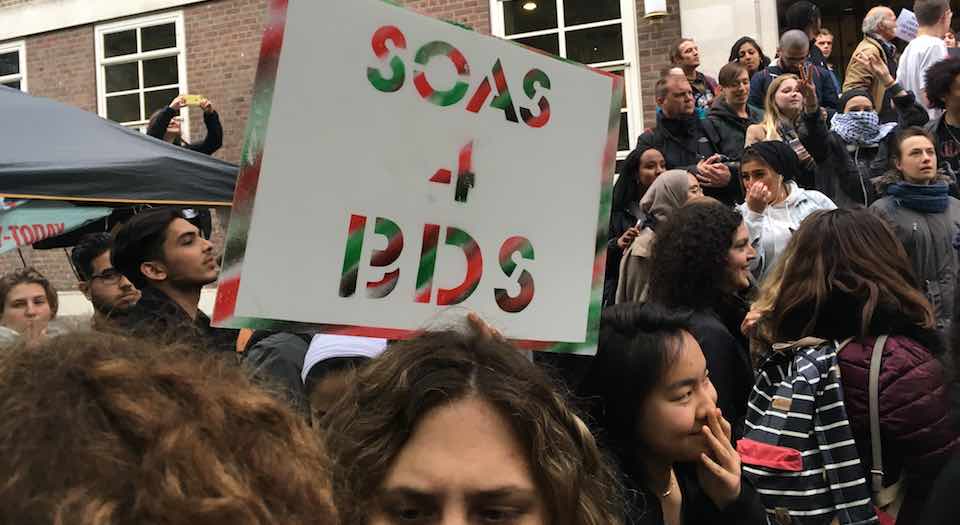 'There must no longer be a mouthpiece for Israel on this campus', one student leader pronounced to a throng of anti-Israel protesters. Cheers went up and signs jiggled. A placard echoed the speaker's sentiment: 'No to Israeli invasions of SOAS.' Was the IDF about to launch a military strike against the Bloomsbury-based School of Oriental and African Studies? Perhaps Mossad had planned to wipe out the SOAS students' union? No, something much more calamitous was going to happen: Israel's ambassador to the UK, Mark Regev, was about to give a talk to students.
Back in 2015, the SOAS students' union voted to support the anti-Israel BDS movement by 73 per cent — although its mandate was somewhat clouded by the fact that only 20 per cent of the student body bothered to vote. Nonetheless, with BDS instituted, the union seeks to boycott Israeli goods from entering the campus — including ambassadors.
Last night, it wasn't only students who wanted to prevent Regev from speaking. Prior to the event, 150 academics from SOAS and other universities wrote to SOAS's director, Valerie Amos, asking her to cancel the event on the basis that it would 'cause substantial distress' to the student body. The idea that students are vulnerable creatures who need shielding from the horrors of the world, particularly the pesky repercussions of Israeli infiltration, has long been perpetuated by campus censors. But the endorsement of this idea by university academics marks a worrying development in the paternalistic impulse gaining sway at universities.
As Richard Verber, senior vice president of the Board of Deputies of British Jews, told me at the protest: 'Universities are supposed to be centres of knowledge.' Rather than adopt the mantra that Israel is 'fundamentally evil and shouldn't be given a platform' – as Josh, a SOAS student, told me – universities should be unsafe spaces where any and every idea can be discussed and challenged.
It was, therefore, reassuring to see that last night's BDS protesters were not left unchallenged. Undisturbed by the bleak drizzle descending on SOAS's main plaza, around 300 protesters gathered for what turned out to be a relatively calm face-off. On one side, bolstered by a pop-up stall selling falafel, around 200 BDS supporters clamoured loudly about the need to 'Free, free Palestine'. On the other, a pro-Israeli contingent made up of students and non-students alike smilingly retorted: 'Free from Hamas.'
Despite the heated nature of the debate, there wasn't much conflict. The most confrontational moment came when the BDS supporters decided it was time for some speeches. In a move similar to a politically charged version of Glee, the pro-Israeli block unsheathed a music system and did its best to drown out the ravings of the pro-Palestinians with Israeli pop.
Police and legal observers were spread thinly throughout the crowd. David Jones, an observer from Jewish Human Rights Watch, explained to me that their presence was necessary because the BDS activists were 'driving students out of universities'. It seemed doubtful that this chickpea-ridden clash of protesters would spout anything more heated than the falafel wraps beings sold for a fiver, but things took a nasty turn when one anti-Semitic protester announced that 'six million Jews walked into the gas chambers like lambs for slaughter!'. When asked by a group of disgusted pro-Israeli protesters what he meant, he smiled charmingly and explained: 'Because they were cowards.'
Many of the pro-Palestine speakers and protesters said they were taking a stand against 'Israeli apartheid'. When I asked a protester what the Israeli-Palestinian conflict had to do with apartheid, he responded gruffly: 'Are you stupid? The Palestinians are being discriminated against!' Robert Sacks, a South African pro-Israel protester who fought against Apartheid in Pretoria, disagreed. He told me the 'mindlessness of the BDS movement is frightening… It is an insult to the real anti-Apartheid movement.' Pointing to the 1957 Immorality Act in Apartheid South Africa, he maintained that 'these people who have come here to rant about Apartheid don't understand what it was'.
While the clash of protests was ostensibly about the Israeli-Palestinian conflict, it soon became clear free speech was the real battleground here. Some of the anti-Israel protesters claimed to be bastions of free expression on the basis that they want to 'give a voice to the Palestinians.' But it soon became clear that their conviction in free speech is far from resolute. Leaflets with 'unofficial demo advice' – which, unsurprisingly, were being distributed by a man who materialised from a group surrounding the demo's official organisers – advised protesters: 'Don't talk to the media… Don't talk to Zionists.' Not only did this highlight the conspiratorial tone of contemporary critics of Israel — it also demonstrated the pitiful esteem in which the BDS movement holds open discussion and debate.
Reassuringly, interspersed among the protesters were individuals carrying neither Israeli nor Palestinian flags, but rather placards saying censorship has no place on campus. Izzy Posen, a student carrying a sign criticising the attempted No Platforming of Regev, told me: 'I'm not here for Israel. I'm here for free speech.' Why? 'Because it's the cornerstone of democracy.' It is only through allowing the open circulation of ideas, including those we find abhorrent, that individuals can learn to think for themselves and take themselves seriously. As Lawrence Rosenberg, who had an Israeli flag draped round his shoulders, told me: 'The BDS movement is inherently anti-free speech.'
For all the furore, Regev's talk inside SOAS was notably tame. Undoubtedly taking note from last year's debacle at UCL – where former IDF officer Hen Mazzig was chased off campus by infuriated BDS protesters – security was tight. There were multiple ID checks. Security personnel were positioned on every door. Yet despite the stringent security measures, the discussion was very open. Before he could even get comfortable, Regev was immediately asked to defend himself against claims he is a war criminal. Students were allowed to ask whatever they liked, whether it be for Regev to distinguish between a colonialist and an Israeli settler, or for him to justify why Israel even deserves to exist in the first place.
Concluding the discussion, the president of SOAS's Jewish Society thanked the audience 'for coming along and supporting free speech'. It was in this liberal and open-minded spirit that the meeting was carried out. It demonstrated that for all the rumpus occurring outside, those who wish to restrict free speech on campus won't win. For no matter how many falafel wraps they buy, the BDS movement will always be thwarted by those who want to listen to and interrogate contentious ideas.
Jacob Furedi is a spiked columnist. Follow him on Twitter: @jacobfuredi
To enquire about republishing spiked's content, a right to reply or to request a correction, please contact the managing editor, Viv Regan.