Why we opened a nanny-state store in Shoreditch
If the finger-waggers get their way, all shops will be as mad as ours.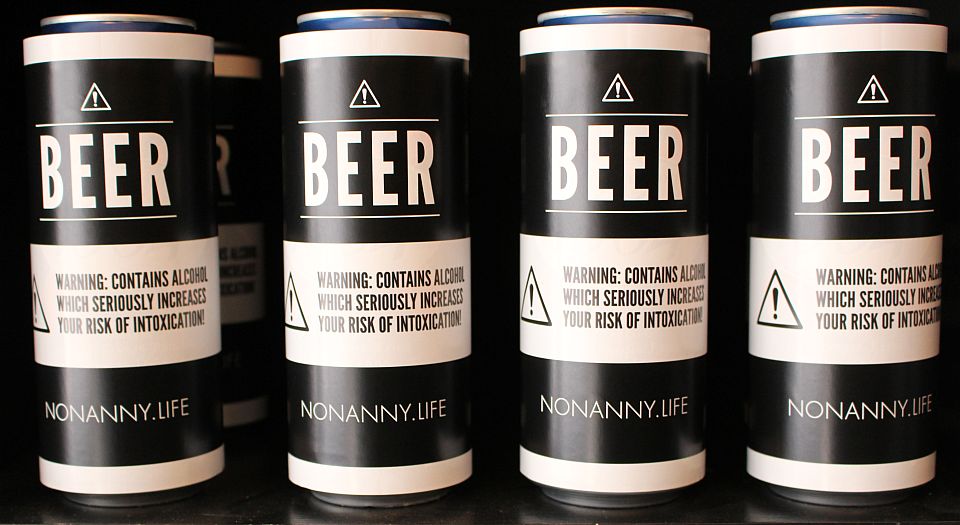 The British government's regulation of what we can buy, sell, eat, drink and smoke is out of control. According to the Institute of Economic Affairs' Nanny State Index, Britain is the third worst country in Europe when it comes to nannying and nudging the public into government-approved lifestyle choices. Our capacity and autonomy to live our lives as we see fit is under threat.
So, last Thursday, European Students For Liberty, in collaboration with the Consumer Choice Center, decided to take action. We opened Britain's first-ever nanny-state-inspired store, in Shoreditch, London. It was a dystopian vision of what every corner shop in the country would look like if our finger-wagging public-health tsars and policy wonks had their way.
We stocked beer, chocolate, crisps and other goodies facing government regulatory pressure – all covered in uninviting black-and-white plain packaging and replete with the alarmist health warnings we're all tired of hearing from the public-health lobby. 'Warning! Seriously increases your risk of intoxication!' read the labels on the beer. This may sound outlandish, an obvious satire. But then, so did the idea of plain packaging for cigarettes just a few years ago.
The author, left, with his fellow shopkeepers.
The store was intended as a send-up of an issue that's quickly becoming no laughing matter. After pioneering those grim and ineffective shock health warnings on cigarette packets in 2008, the government is now embroiled in a legal battle with tobacco companies over plain packaging: one that it seems increasingly likely to win. The new levy on sugary drinks will add 24p to the price of a litre of drinks like Coke and Sprite. And the state of alcohol regulation is depressing. We have the highest tax on wine in the EU, and our beer taxes are three times the EU average (13 times those of Germany, Europe's largest beer producer). Tax and regulation are now responsible for 99p of a £3 pint – hiking up prices and exacerbating the decline of the pub industry.
It is the poor who bear the brunt of nanny statism. The lowest-earning 20 per cent of households spend just under £1,300 a year purely on sin taxes – that's one pound for every eight spent, or 11 per cent of their total income. These taxes are paternalistic, neo-Victorian attempts to control the habits of the worst-off, dressed up in the 'caring' language of public-health concern. The silence from those usually inclined to defend the poor is striking, since getting rid of sin taxes would be one sure way to reduce poverty.
Shoreditch's hipster crowd was overwhelmingly supportive of our stunt. I suspect much of their aversion to our nightmarish, Soviet-inspired store was more artistic than political, but still. As one young female punter said, 'Why are we taking away people's choices? We're adults, aren't we?' Many expressed surprise and concern at seeing common products such as crisps and soft drinks covered in health warnings. Not so long ago, however, we would have had the same reaction to health warnings on cigarettes. This creeping normalisation of the nanny state is what makes it so insidious and effective.
If the public-health lobby continues to extend its scope and influence, the nanny-state store could be coming to your local high street. Warnings on crisps and fizzy drinks would be the logical extension of plains packs for cigarettes and pregnancy warnings on booze. Let's stop them before it goes that far.
Blair Spowart is a writer and campaigner.
To enquire about republishing spiked's content, a right to reply or to request a correction, please contact the managing editor, Viv Regan.