Charging Bull v Fearless Girl
The public should decide what becomes of public art.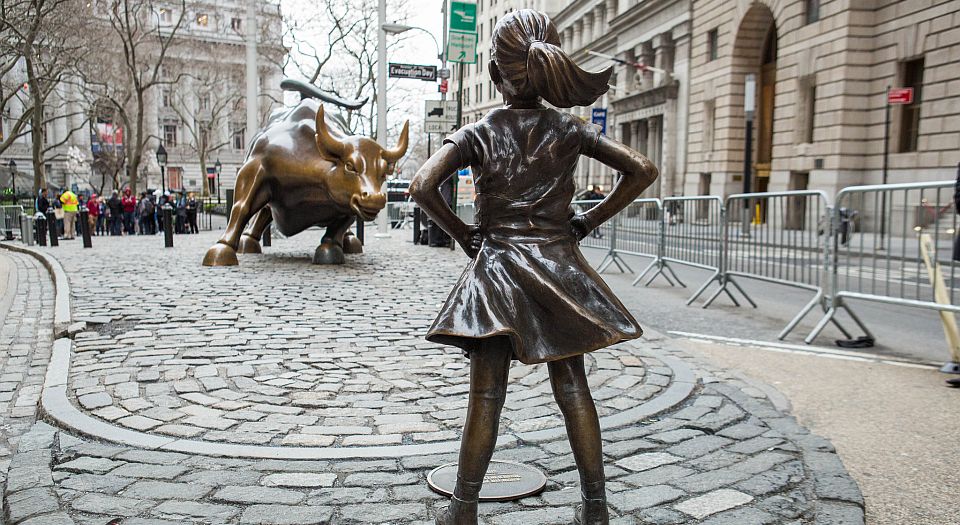 International Women's Day in New York City this year dawned on a new arrival – a bronze statue of a young girl, arms akimbo, across the way from Wall Street's iconic bronze Charging Bull statue. The crowds were charmed by the sight of the young girl facing down the fierce and enormous bull. But the artist behind the bull, Arturo Di Modica, was not amused and has threatened to sue to have the Fearless Girl removed, triggering a heated debate.
The exact positioning of the new statue seems designed to make a clear political statement. Created by artist Kristen Visbal, it was commissioned by advertising agency McCann New York and financial investment company State Street Global Advisors (SSGA). According to the press release, it was intended to 'mark the effort and the power of women in leadership roles'. The young girl, it says, represents 'the future'. Using the bull as a counterfoil, Fearless Girl was commissioned to promote SSGA's initiative to persuade 3,500 companies in which it invests 'to take steps to increase the number of women on their corporate boards'.
If I were in Di Modica's position, I would also be seriously pissed off. His sculpture – a popular tourist attraction in NYC – has had its meaning subverted. It began as guerrilla art: Di Modica installed it without permission in 1989. Made in the wake of the stock-market crash, it was intended as a gift to the American people, a testament to their 'strength and power'. After the arrival of its new neighbour, the bull now seems to imply the 'bullying' of women on Wall Street. And let's not forget that Fearless Girl is in many ways just an advertisement for SSGA.
The company should be condemned for its cynical use of Di Modica's popular work. But his decision to take legal action on the basis that the Fearless Girl violates his 'rights as an artist' is ridiculous for two reasons.
First, he installed his bull illegally. When the authorities tried to remove it, public outcry prevented them. Whether people liked the optimism it was intended to represent, or just liked its muscular bronze form, is a moot point. Now it seems that New Yorkers also like the little girl, perhaps because they enjoy the idea of a little person standing her ground against such overwhelming power. Both statues are in a public space, and so the public should be able to decide what happens to them.
Second, art is by its nature a conversation between different artists and artworks through time. What an artwork means is bound to change, whatever the artist initially intended. And 'appropriating' the work of others is often a key element in the process of an artist's development. Visbal is just doing what artists have done for centuries – taking the work of others and using it to inspire, inform, or as a foil to, their own work. It is up to the public to decide what they make of these works – separately or together. The artists' intentions are largely irrelevant.
Di Modica's bull is a magnificent work, which has been rightly commended through the years for making a powerful statement at a difficult time. But in trying to defend his 'rights as an artist', he is doing himself, his profession and the public a disservice. Public art is for everyone, not just those who make it.
To enquire about republishing spiked's content, a right to reply or to request a correction, please contact the managing editor, Viv Regan.