A mockery of democracy
The Turkish referendum was undemocratic from the start.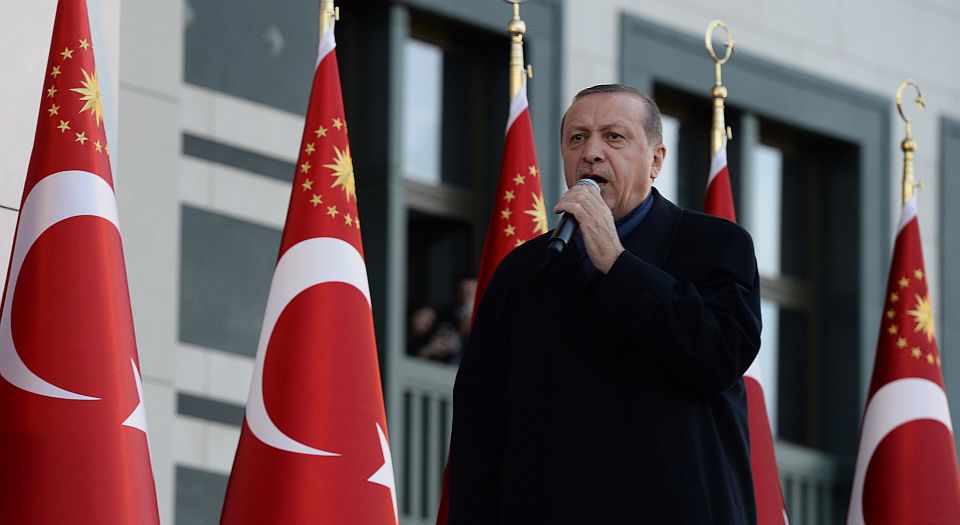 When, on Monday morning, President Recep Tayyip Erdogan retired to his newly built $600million, 1,100-room presidential palace, his sense of victory would have been somewhat muted. Yes, he had secured victory in Turkey's constitutional referendum, but it was close: only 51.4 per cent of Turks voted for Erdogan's proposed changes, while 48.6 per cent stood up to the president with a resounding No.
Of course, a victory – however slender – is still a victory, and Erdogan now has a mandate to make 18 amendments to the constitution. By 2019, the office of prime minister will be abolished, and Erdogan will be handed executive power. This was a long time in the coming. Although the office of president is supposed to be neutral, Erdogan, who was prime minister from 2003-14, made clear when he became president in 2014 that he would maintain an 'active' role in government.
Now, with his power consolidated, Erdogan will be able to appoint government ministers, rule by decree on economic matters and declare a state of emergency whenever he sees fit. His newly acquired authority also extends to the legislative arm of government. He will soon have the power to appoint 12 out of the top court's 15 judges. Worryingly, Erdogan sees his victory as a mandate to make even more drastic changes. Just hours after claiming victory, he told a crowd of his supporters that the reinstatement of capital punishment was also on the cards.
The impact of the Turkish referendum will extend beyond its borders. Erdogan branded political leaders in Germany and the Netherlands Nazis for blocking Yes rallies. But his sensationalist claims didn't deter expat Turks living in those nations: 63 per cent of German Turks and 71 per cent of Dutch Turks voted Yes. Now, Erdogan's increasingly anti-EU rhetoric will really start to worry the bureaucrats in Brussels, who benefit hugely from the EU's €6 billion deal with Turkey, in which 'irregular migrants' are deported across the Aegean in exchange for Syrian refugees.
Unsurprisingly, the referendum was tainted by allegations of voter fraud and manipulation. Throughout Sunday night, Turkish media reported that gunshots were heard near rural polling stations and that gangs rounded on outspoken No voters on the streets. Halfway through the night, the head of Turkey's electoral board announced that it would validate unstamped ballots, which are usually discarded. As a consequence, Turkey's main opposition party, the People's Republican Party, questioned the validity of the result, saying the electoral board 'changed rules mid-game, after the ballot envelopes were opened, in a way contrary to laws'.
Observers around the world have been outraged by these dirty tricks. But we should remember that this referendum was never truly democratic. Ever since the referendum was proposed, the debate has been undermined by the government's brutal censorship of its critics. In Turkey, opposition to the government is equated with terrorism. Since the attempted coup last July, 100,000 Turkish officials have been dismissed, and 228 journalists have been thrown in jail – more than in any other country – for questioning the government.
The crackdown on the press has had a particularly chilling effect on the referendum debate. In February, Irfan Degirmenci, a news anchor for Kanal D, was promptly sacked after he tweeted his support for No. Self-censorship is also rife. In the same month, Turkey's most popular newspaper, the Hurriyet, refused to publish an interview with Turkish Nobel laureate and Erdogan critic Orhan Pamuk for fear of government reprisals. To date, 150 newspapers and broadcasters have been shut down for daring to oppose the government.
Democracy isn't just about putting a cross in a box. For democracy to function, a society must have a free and open press that can challenge the government. And there must be a political system that allows for genuine political opposition, where anyone can set up a political party without fear of persecution. Given Turkey's plunge into authoritarianism, it's clear the referendum was undemocratic from the moment it was called.
But Turkey isn't a lost cause. Despite the hostile climate faced by No voters, 23.8million people still voted against the government. Most worryingly for the president, it wasn't just the pro-Kurdish south-east that voted No. Turkey's three largest cities – Ankara, Istanbul and Izmir – all rejected his powergrab. The courage of the 23.8million shows that Erdogan's war on democracy won't go unchallenged. They are the heroes of this referendum. As long as there are democrats willing to stand up to Erdogan, his path towards autocratic rule won't be an easy one.
Jacob Furedi is a spiked columnist. Follow him on Twitter: @jacobfuredi
To enquire about republishing spiked's content, a right to reply or to request a correction, please contact the managing editor, Viv Regan.