Dave Chappelle in a humourless age
The revered comic's Netflix specials have rankled the speech police.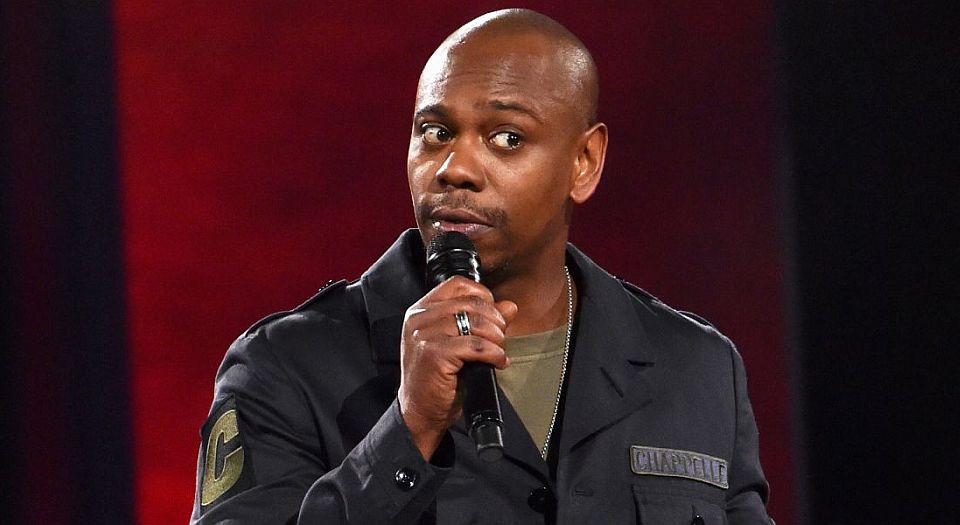 Near the beginning of The Age of Spin, one of two new Netflix specials from beloved US comic Dave Chappelle, he launches into a story about the first time he met OJ Simpson. He recounts meeting 'juice' and his 'soon-to-be-slain wife', and there's a sharp intake of breath. 'Ladies and gentlemen, man the fuck up or you're not going to make it through the end of this show', is the slick comeback, sparking a roar from the audience.
But not everyone is laughing. Chappelle's return to comedy comes after living for over a decade as a semi-recluse and minor legend. He walked away from his phenomenally successful Chappelle's Show in 2005 due to a mix of exhaustion, battles over creative control and a creeping suspicion that his often racially charged humour was becoming 'irresponsible'. Now he's back and more provocative than ever. And accusations of various forms of bigotry have flown.
The series of increasingly absurd OJ stories which form the crux of the first special isn't even the half of it. The Age of Spin also revolves around another disgraced black star, Bill Cosby, whose tattered legacy Chappelle dwells on throughout. He offers sober reflections on whether it's possible to separate Cosby the comic and the philanthropist from Cosby the monster, intermingled with outrageous punchlines. Even after 30 or 40 allegations, he says, he still refused to believe Cosby raped any more than '10 or 11 of those people'.
It's a bit that's right on the edge, hitting on the guilty ambivalence that strikes us when our heroes' darkest sides are exposed. But this subtlety was apparently lost on the more right-on sections of the internet. 'Every joke minimising sexual assault contributes to a culture in which rape remains heavily underreported', thundered one writer-cum-activist. Meanwhile, Chappelle's riffs on transgenderism led one alleged comedian in Vice to conclude: 'The jokes were mean, they were lazy. They were something I never thought I'd see: Dave Chappelle punching down.'
Humourless PC types have been lining up against Chappelle for months. At an NYC show in November, as Chappelle was warming up for his spot hosting the post-election episode of Saturday Night Live, he said the Hillary camp's blatant leaking of the 'grab 'em by the pussy' tape was as gross as Trump's comments on it, and called Trump 'the Terminator' for withstanding the fallout. 'Move over, Dr Ben Carson. The right wing has a new Token Black Friend', read a write up on BET.
This was all more proof that the election of Trump has destroyed satire rather than reviving it. Chappelle's pitch-perfect monologue on SNL, mourning the Obama era, nailing Trump and preaching optimism all at once, was about one of the only funny bits during an otherwise one-note anti-Trump season. And just as such endless Trump-bashing, which has become like Dubya-era sneering on speed, is entirely empty-headed, so too is the vicious criticism of those comics who dare – even for a second, even just for dramatic effect – to entertain a pro-Trump thought. (Chappelle, as it happens, begrudgingly voted Hillary.)
There's a puritanical, pearl-clutching philistinism in all this, a refusal to see beyond the BAD WORDS to appreciate what a comic is trying to achieve. This is bad news for Chappelle. One of his greatest routines, 'How old is 15, really?', is a masterclass in how provocation meets pay-off. Musing on the allegations that R Kelly urinated on a 15-year-old girl, he asks why 15 felt so young to people in that instance but not when a 15-year-old black boy in Florida was given life in jail for accidentally killing his neighbour while they were playfighting. 'If you think that it's okay to give him life in jail, then it should be legal to pee on him, that's all I'm saying.'
This sort of sophistication becomes impossible in an offence-taking climate. And Chappelle is intimately aware of this. The speech-policing excesses of identity politics are attacked in both his specials. He bemoans feminists in his audience who scream at him for saying 'pussy' and gay bloggers who label his jokes 'an affront to the masculinity of gay men'. To this he has the perfect response: 'I know gay men are men. In fact, fucking another man in the ass is the most gangster shit I have ever heard in my life.'
But alongside rinsing the new intolerance for all its worth, Chappelle also gestures to its grimmer consequences – that is, a more uptight society, in which people are afraid to speak their minds, for good or for ill. Reflecting on when Filipino boxer turned politician Manny Pacquiao lost his endorsements due to his homophobic views, he wonders how far MLK would have gotten if he had a sneaker deal, with executives constantly telling him to tone down the civil-rights stuff so as not to upset the Southern distributors.
While there's plenty here for the love-starved fans, the new Chappelle specials are in the end a bit hit and miss. The taut and adventurous Age of Spin more often falls short, with routines quickly wearing themselves out and aborting via obvious punchlines. For my money, it's the more low-key Deep in the Heart of Texas that's the real gem. Chappelle's gift for absurd storytelling reaches new heights even as he spins more domestic-set tales about fighting with his wife over a sextape and his bad rep at his kids' liberal private school. It's magical to watch.
Their flaws aside, the new Netflix specials still suggest Chappelle's best work could well be ahead of him. And a third instalment is due later this year. The pearl-clutchers won't know what they're missing.
Tom Slater is deputy editor at spiked. Follow him on Twitter: @Tom_Slater_
To enquire about republishing spiked's content, a right to reply or to request a correction, please contact the managing editor, Viv Regan.