Who's afraid of Neil Gorsuch?
The new Supreme Court justice might not be as bad as you think.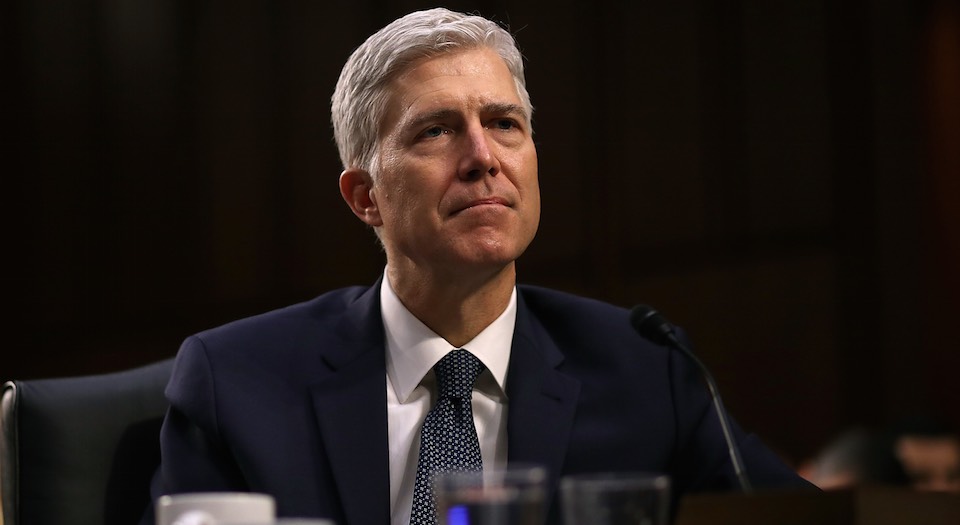 On Monday, Neil Gorsuch was appointed to the US Supreme Court by President Donald Trump. There was an attempted senate 'filibuster' of the appointment. Once a Supreme Court justice is nominated by a president, they must get at least 60 senators to support their confirmation. A filibuster occurs when a minority of lawmakers, in this case Democratic senators in a house controlled by Republicans, use the laws of debate to prevent the house voting on something that has majority support. Democratic senator Chuck Schumer of New York led the Democratic senators in a filibuster to prevent Gorsuch's approval. The filibuster was thought to be a response to the Republican refusal to appoint Merrick Garland, a liberal judge, when he was nominated by President Obama last year.
The Republicans responded to the filibuster by changing the rules so that Gorsuch could be nominated with just 51 votes. This is known as the 'nuclear option', because it upsets the impression of the senate as a 'collegiate' house in contrast with the more combative House of Representatives. With the nuclear option successful, Gorsuch was sworn in on Monday.
All commentators agree that Gorsuch's judicial credentials are impeccable. He has sat for many years on Appellate Court benches and he clerked for a Supreme Court justice when he was young. But he is a committed conservative, meaning many liberals fear his influence on laws relating to abortion, gun control and other issues. Senator Bernie Sanders says Gorsuch's discomfort with abortion is motored by 'hostility to women's rights'. Others have described him as so conservative as to be 'outside of the judicial mainstream'.
Gorsuch is also said to favour big business over workers' rights. This view springs from a case in 2016, when Gorsuch served as a judge in the Tenth Circuit Court of Appeals. The case involved a company called TransAm Trucking. A driver for the company got stuck by the side of the road in icy conditions. After calling his emergency dispatcher a few times, the trucker – fearing he would freeze – abandoned his trailer and drove his truck to the nearest gas station. His employment was terminated. Gorsuch found that the termination was legal. He said it was not the job of the court to answer whether TransAm's decision was 'wise or kind' – it was only to decide if it was legal. He said there is no law giving employees the 'right to operate their vehicles in ways their employers forbid… [and] it isn't our job to write one'. Despite Gorsuch's view, the court found in favour of the trucker.
Gorsuch's decision in that case is an example of his avowed judicial philosophy, which is known as 'texturalism'. Texturalist judges try to restrict any interpretation of the law that would strain the meaning of the words of the law. They do not like to interpret laws broadly to allow for a particular result, even if that result appears more just. Gorsuch is seen as a like-for-like replacement for Justice Antonin Scalia, who died last year aged 79. Scalia promoted a similar judicial philosophy: originalism. Scalia thought judges should interpret the wording of the US Constitution by considering what the Founding Fathers themselves meant by these words. Originalism and texturalism are seen by many on the left as being a means of justifying conservative decision-making, particularly around issues like abortion and gun control.
However, for those who believe in popular sovereignty, there could be much to celebrate in these judicial philosophies. Scalia was vocal in his support of democracy over the activist intuitions of his fellow justices. Whereas liberal justices describe the constitution as a 'living instrument', one that can be adapted to apply neatly to contemporary legal questions, Scalia described the constitution as 'not living, but dead… meaning not what we think it ought to mean but what it meant when it was adopted'. In his dissenting judgement on whether laws preventing homosexual marriage were unconstitutional, Scalia described the Supreme Court as an 'unelected committee of nine' which had the power to 'rob the people of the most important liberty they… won in the Revolution of 1776: the freedom to govern themselves'. In the context of the US, where judicial appointments are heavily politicised, the philosophies of originalism and texturalism could prove to be a useful weapon against the politicisation of the judiciary.
And yet, Scalia himself was prone to deeply political decision-making. In 2006, in the landmark gun control case of District of Columbia v Heller, he struck down Washington DC's ban on handguns on the basis that the constitution protected a right to bear arms in self-defence. This arguably showed his willingness to use the constitution to undermine democratically determined laws. He also voted to strike down the Affordable Care Act and changed his mind about significant precedents in order to justify a ban on medicinal marijuana – even when states had democratically elected to allow use of marijuana. For all Scalia's talk of democracy, he, too, had a tendency to use the constitution to achieve certain political results.
Gorsuch should not be feared merely because he is a texturalist or an originalist. These philosophies have noble intentions. They seek to limit the impulse of the Supreme Court to bring about social change without recourse to democracy. Scalia was always an imperfect practitioner of what he preached. Rather than greeting Gorsuch with dismay, let's give him a chance to restore more power to the American people and away from the activist impulses of his fellow justices.
Luke Gittos is law editor at spiked and author of Why Rape Culture is a Dangerous Myth: From Steubenville to Ched Evans. (Buy this book from Amazon(UK).)
To enquire about republishing spiked's content, a right to reply or to request a correction, please contact the managing editor, Viv Regan.