The myth of Trumpism
From foreign policy to economics, Trump is mellowing.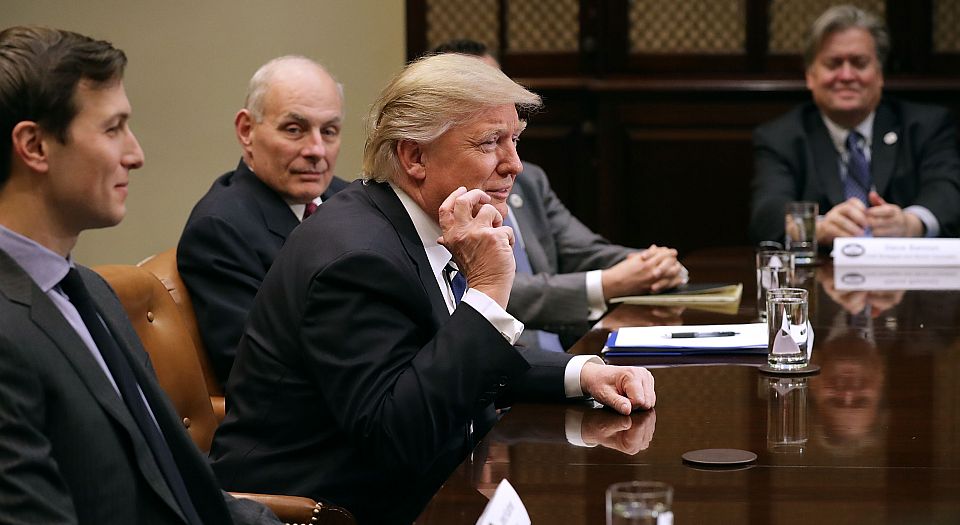 What is Trumpism? We have been treated to much handwringing about Trump's beliefs, but very few explanations as to what they actually are, or what kind of ideology Trump represents.
Some of the more interesting attempts to outline 'Trumpism' have appeared in the pages of the Claremont Review of Books, written by his supporters. In the compelling article, 'Flight 93 Election', Publius Decius Mus (now revealed to be Trump staffer Michael Anton) said there are three key pillars to Trump's ideology: closed borders, economic nationalism, and an interests-based foreign policy.
Charles R. Kesler, also writing in the CRB, repeated this formulation, anchoring Trump's principles in the old Republican Party of William McKinley (president from 1897 to 1901) and Calvin Coolidge (1923 to 1929). Both this old Republicanism and the Trump administration agree, he argued, on having a 'restrained foreign policy guided by a firm but modest version of the national interest', alongside being pro-tariffs and supporting a strict assimilationist approach to immigration.
For a while, Trump held true to this foreign-policy vision. He was the only Republican candidate to disavow the foolish foreign interventionism of the Bush era. Following the 2013 chemical attack in the suburbs of Damascus, he 'warned' Obama against bombing Syria. In his inaugural address, he affirmed his commitment to 'the right of all nations to put their own interests first'.
Yet now, Trump appears to be backing away from these apparently core 'Trumpist' principles. His decision to bomb an Assad airbase in response to the recent chemical attack is more in tune with the humanitarian interventionism he once disavowed than with McKinley / Coolidge Republicanism. It was the sort of thing many Americans sensibly voted against in last year's election.
In response to Trump's bombing, arch liberal interventionist Ann-Marie Slaughter tweeted: 'Finally!!' From the other side of the political spectrum, arch neocon John McCain gave his nod of approval, too. Even the way Trump has talked about his bombing of Syria runs counter to his 'America First' worldview: this was about representing the world's conscience, he tweeted.
Some Trump supporters have tried to minimise the significance of the Syria attack. Sure, he shouldn't have fired those missiles, they say, but it's only one attack. That seemed to be the case; secretary of state Rex Tillerson initially said the Syria attack did not herald a change in Trump's foreign policy. But things seem to be changing.
US policymakers are now openly talking about removing Assad from power. Trump's White House, like Obama, is calling on Russia to stop supporting Assad. This seems to be about regime change now. And this policy shift was not sparked by any renewed threat to US interests, to the 'America First' worldview. No, it is motivated by an apparently 'humanitarian' disgust for Assad's morally repugnant behaviour. This is a liberal interventionist foreign policy, not an interests-based one.
It may be premature to say Trump has become Bush 2.0 (or should that be Bush 3.0?). However, it does seem that the original supporters of Trumpism have been losing ground in the administration. And not just in foreign policy. Trump is expected to nominate Kevin Hassett as the next chair of the Council of Economic Advisors; Hassett is resolutely not an economic nationalist.
Alongside writing pro-immigration editorials, he has been a solid defender of free trade. 'The notion that… big businesses are the main beneficiaries of global free trade is flat-out nonsense', he has argued. These views don't chime well with 'Trumpism'.
There's been another important shift in the Trump administration. Steve Bannon was recently removed from the National Security Council. A Guardian report claims this was a result of a bitter feud between Bannon and Trump's son-in-law, Jared Kushner. Kushner, it seems, is in the ascendant.
And Kushner, unlike Bannon, is anything but a 'Trumpist' – despite being married to a Trump. He's previously fundraised for the Democrats. He seems to have moderate views on immigration. He most certainly doesn't adhere to Bannon's economic nationalism and anti-interventionism. Bannon reportedly called Kushner a 'globalist' and a 'cuck'.
So where does all this leave 'Trumpism'? It is likely that Trump's attachment to economic nationalism and the America First view was always pretty shallow. For all the claims that he is hard-headed, he's actually quite ideologically malleable.
It often seems like Trump is simply listening to whoever is 'the smartest in room'. That used to be Bannon, among others; and when it was, Trump appeared to support closed borders, economic nationalism and an interests-based foreign policy. But now — for the moment, at least — these 'Trumpists' have lost Trump's ear. Maybe one day Trump will paraphrase Marx: 'If anything is certain, it is that I myself am not a Trumpist.'
Tom Bailey is a spiked columnist. Follow him on Twitter: @tBaileyBailey
To enquire about republishing spiked's content, a right to reply or to request a correction, please contact the managing editor, Viv Regan.