Not all vegans are annoying
Carnage pokes fun at both meat-eaters and meat-dodgers.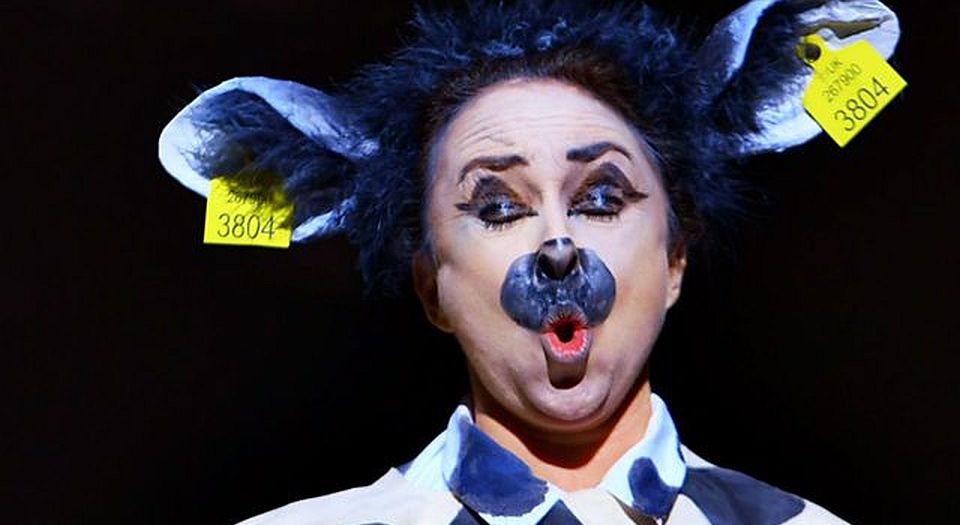 Carnage: Swallowing the Past, the new vegan mockumentary written and directed by Simon Amstell, opens in a sun-drenched field in which a gathering of young vegans, enamoured by one another's effervescence, tries to contemplate the barbarism of eating animals.
No, this isn't south London. It's the year 2067, and, quite terrifyingly, everywhere in Britain resembles south London. Britain has evolved into a vegan utopia, where meat-eating is outlawed, and former 'carnists' attend support groups to manage their feelings of guilt and shame.
The film's premise is that this 2067 documentary, narrated by Amstell, aims to break the nation's silence over its blood-soaked past, and so takes viewers on a whistle-stop tour of the history of veganism, beginning in 1944 with the founding of the Vegan Society.
This essentially amounts to a montage of archive footage and staged skits akin to Charlie Brooker's Screenwipe series, but with the hindsight of 50 years to accentuate the alleged hypocrisies of today's carnivorous culture. In this context, celebrity chefs are reviled as savages from a bygone era – one memorable archive clip shows Nigella Lawson professing her 'love and respect' for poultry before duly crushing a dead chicken with her bare hands. From 2067, the narrator tells us that old advertisements for Burger King, Captain Birdseye and McDonald's featured men in fancy dress 'to distract from all the genocide'.
It's a clever setup, but this is delicate ground to tread. When a documentary (or mockumentary) strays into proselytisation, the results can be close to unwatchable, as anyone who has been subjected to Leonardo DiCaprio's Before The Flood will be well aware.
Carnage sidesteps this problem by spending most of its time caricaturing the high-mindedness of some vegans, while still managing to put forward a credible case for veganism via Brass Eye-style gags and mock-interviews. One of the film's central characters, a mid-2020s activist called Troye King Jones (John Macmillian), explains how veganism had to drop the pouting and the lecturing and become 'fun' before it could reach the masses.
King Jones is close to being the film's moral centre, and yet is still enough of an insufferable beatnik to be a figure of ridicule. Amstell, himself a rigorous checker of inflated egos in his days on Popworld and Never Mind the Buzzcocks, is self-aware enough never to overstep the line that separates satire from sermon. 'If at any point Carnage became on paper preachy or annoying', he said in a recent interview, 'we made sure something really funny was really near to that bit so people would be laughing rather than feeling judged'.
To Amstell's credit, it's difficult to tell from the film alone whether or not its writer-director eats meat. As it happens, he doesn't – he watched a film called Earthlings, which, he says, 'upset me into veganism'.
This is a typical case: ask a vegan about his or her 'conversion', and they will no doubt tell you about the time they endured 90 minutes of mortifying slaughterhouse footage in films such as Earthlings or Cowspiracy, documentaries which have taken on a sort of mythical status and are disseminated among young people like the videotape from The Ring. The visceral impact of these films is hard to deny, but they excruciatingly peddle the fairly ludicrous theory of 'anti-speciesism', which equates discrimination against animals with racism and sexism. Carnage not only swerves these pitfalls – it also roundly ridicules them. ('Why would anyone eat a baby?', whimpers one of the adolescents in 2067, referring to lamb.)
Beyond its focus on animals, Carnage shows a grim understanding of how ideologies shift in the 21st century: not due to their moral worth and practicality, but due to their superficial attraction. Amstell states that veganism exploded in popularity only after it started gaining 'sexy' advocates from Hollywood, and that henceforth the idea of veganism made people feel 'aroused rather than uncomfortable'. Then came the memes, the performance art, the publicity stunts. These include a best-selling cow musical (think of a bovine Cats) and an online grime campaign spearheaded by JME. According to Amstell's vision, utopia is reached across a sea of melodrama and social media.
There's been plenty of talk recently about a new golden age of satire. This is supposedly because, nowadays, real life feels like a parody of itself. South Park writers Trey Parker and Matt Stone recently said that they're no longer interested in sending up the White House because 'what was actually happening was much funnier than anything we could come up with'. But while modern life may be teeming with opportunity for lampoonery, British satire seems predominantly expressed in an ocean of Twitter commentary and viral videos. We have Private Eye, and comedy panel shows, but truly immersive, daring and substantial British satire is thin on the ground.
While Carnage is gentle in its satire, it is nevertheless effective. Clips from slaughterhouses are used sparingly, carefully placed for maximum irony. The film's critique of factory farming and processed meat ('animal flesh disguised as toys so that children can eat them') is so effective because the film focuses on their absurdities rather than their atrocities. First and foremost, Amstell's aim is to provoke laughter, not least at vegans themselves. 'If you are a person who currently eats animals and you think vegans are ridiculous', he said recently, 'then this is the film for you'.
Therein lies the lesson for vegans everywhere: a self-effacing vegan is far easier to relate to than a sanctimonious one. If more vegans were as self-aware as Simon Amstell, more of us might consider following suit.
Henry Scanlan is a writer based in London.
To enquire about republishing spiked's content, a right to reply or to request a correction, please contact the managing editor, Viv Regan.