How not to oppose Trump's travel ban
Why it's wrong to rely on judges to stand up to Trump.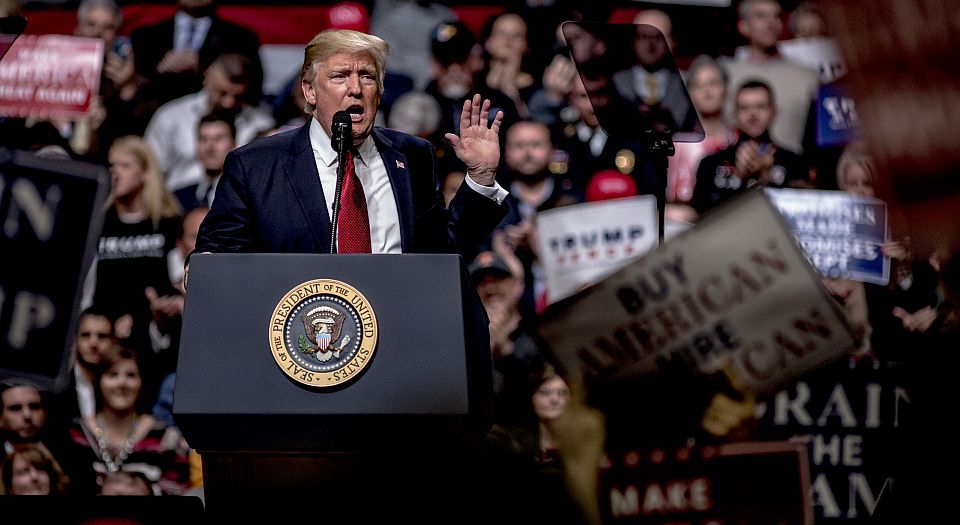 Earlier this month, Derrick Watson, a federal judge in Hawaii, placed another block in the path of President Trump's now notorious travel ban. The Hawaii court issued a 43-page document outlining its case against Trump's revised Executive Order, which restricts movement from six Muslim-majority countries to America. The document argues that Trump's policy runs afoul of the US Constitution. The ban has now been suspended indefinitely.
According to Watson, Trump's ban violates the equal protection clause of the First Amendment in the Bill of Rights, which bars religious-based discrimination. But Trump's order does not explicitly discriminate against one religion. The ban covers six (after Iraq was dropped) largely Muslim countries, but it does not explicitly exclude Muslims. To get around this fact, Watson constructs various questionable arguments. 
First he says that based on Trump's previous statements, particularly during his election campaign, it can be reasonably discerned that the travel ban is aimed at Muslims. Many commentators have already taken issue with this, disputing whether Trump's own comments can be used as evidence that his later order is unconstitutional. Whatever Trump may have said, the law must be assessed on its merits alone, they say. 
This seems right. But there's a further problem with the argument that the order discriminates against Muslims. The US Constitution does not guarantee the rights of non-citizens. It covers the rights of American people, not of people from other countries. So in impacting on foreign people, how can Trump's order be unconstitutional? Watson deploys another argument: if the ban is aimed at Muslims abroad, he says, then it will likely lead to a situation where Muslims within the US also have their rights violated. 
As the Hawaiian court ruling notes, 'By singling out nationals from six predominantly Muslim countries, [the] Executive Order causes harm by stigmatising not only immigrants and refugees, but also Muslim citizens of the United States'. Alongside creating, in the words of one plaintiff in Watson's document, 'the perception that the government has established a disfavoured religion', the order also denies American Muslims 'their right… to associate with family members overseas on the basis of their religion and national origin'.
Some observers have pointed out a problem with this logic. It indirectly applies US citizenship rights across the globe, owing to American citizens' real or perceived connections with people overseas. As David Frum notes in the Atlantic, the US regularly 'violates' its Bill of Rights when it comes to foreign nationals: 'The US Army can strip enemy combatants of weapons without offending the Second Amendment right to carry firearms. It can billet troops in private dwellings overseas without offending the Third Amendment.'
The application, albeit indirectly, of US constitutional protections to non-citizens speaks to the increasing internationalisation of law. Partisans of transjudicialism, or those who outright argue that international law ought to trump domestic law, have for a long time been hoping to diminish the importance and power of the US Constitution and bring American law in line with 'international norms'.
Much of the opposition to Trump's travel ban seems to be about 'globalising' rights once guaranteed only to US citizens. This is part of a new shift in political thought, where it is now argued that laws and legal rights do not, or at least should not, stop at borders. According to this worldview, laws are no longer bound to the territory in which they were formulated. The problem with this outlook is that it takes away the vital link between citizenship and rights.
Leaving aside Watson's strange, novel interpretation of Trump's order, there is also the wider problem of the judiciary wading more and more into politics. There is too much judicial overreach today, with unelected judges attempting to shoot down policy largely because they disagree with it. David G Green has warned of 'judicial supremacy', and the opposition to Trump's travel ban moves America much further in that direction. According to Mark Krikorian in the National Interest, the attempt to block Trump's immigration order is 'one of the greatest judicial power-grabs in American history'.
Many have been concerned about judicial activism in the US ever since judicial review was established in 1803. Yet immigration was always an area in which judges generally took a hands-off approach. As immigration policy is entirely constructed by the political branch, it was traditionally accepted that too much judicial interference would amount to 'legislating from the bench'. It was recognised that elected branches of government are better placed to deal with such matters, because, well, America is a democracy. This seems to be changing now. 
Even those opposed to Trump's travel ban – and there are many good reasons to oppose it – should be concerned about these latest acts of judicial activism. Ultimately, they diminish the space for opposing the ban on political or moral grounds. Judicial overreach effectively takes certain issues out of the public arena of political contestation. Politics and ideals get lost in a sea of legalism.
Tom Bailey is a spiked columnist. Follow him on Twitter: @tBaileyBailey
Picture by: Getty
To enquire about republishing spiked's content, a right to reply or to request a correction, please contact the managing editor, Viv Regan.