Trump: a president for the elites
The idea that Trump is for 'ordinary people' is bunkum.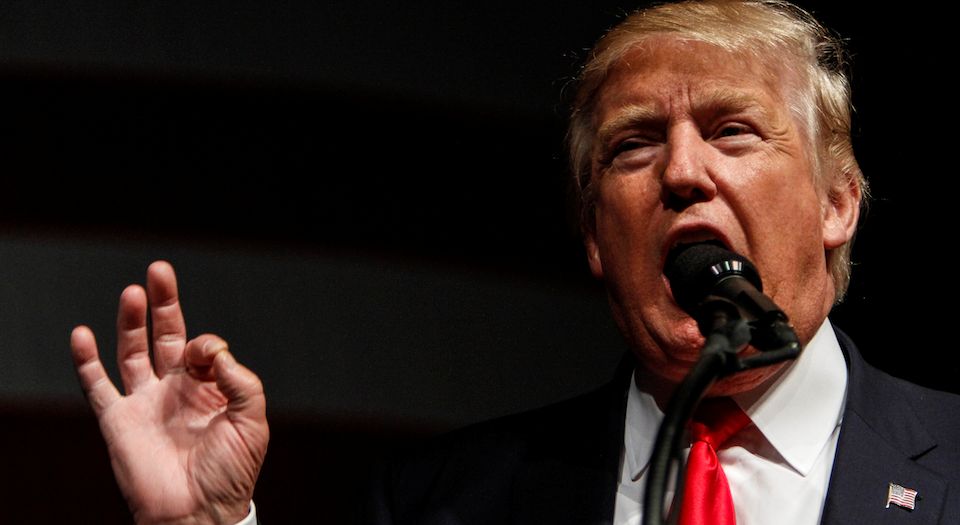 Of all the mistaken or cynically disingenuous characterisations of Donald Trump (and there are many from which to choose) 'anti-elitist' is perhaps the most obviously untrue.
Put aside his unusually wealthy cabinet of billionaires and multimillionaires. Put aside his appointment of Goldman Sachs veterans to high-ranking posts, including treasury secretary, after promising to 'drain the swamp' of corporatists, like Hillary Clinton and her Goldman connections. You can even put aside, for the moment, his own personal and familial profiteering from the global business he continues to own. Focus simply on his policies.
​First consider Trump's opposition to consumer-friendly financial regulations enacted after the 2008 crash, particularly his effort to revoke an Obama administration rule requiring brokers to act in the best interests of their customers. Trump apparently wants financial advisers to have the freedom to serve their own interests, even at the expense of unsophisticated clients.
Then, consider his proposed budget. 'If you're a poor person in America, President Trump's budget proposal is not for you', the Washington Post correctly observes. His budget would not just cut deeply into a wide range of social-welfare programmes. It would also deny lower-income people access to justice by eliminating the Legal Services Corporation, which provides lawyers for poor people in civil cases, enabling them to vindicate their rights. Adding insult to injury, the Trump budget would 'fall hardest on the rural and small-town communities that Trump won', the Post reports. It 'would slash or abolish programmes that have provided low-income Americans with help on virtually all fronts, including affordable housing, banking, weatherising homes, job training, paying home heating oil bills, (as well as) obtaining legal counsel in civil matters'.
​It's only fair to note that this budget would hurt affluent as well as lower-income Americans. It's a threat to anyone who expects to become sick or disabled – in other words, everyone who expects to age. The National Institute of Health, which funds research into diseases that no one wants to suffer but many or most will, is slated to lose a fifth of its funding. Remember Trump's inaugural promise to 'free the Earth from the miseries of disease'? He, it seems, does not.
At least relatively wealthy people will be able to afford medical treatment. The unemployed and working poor are likely to lose health insurance and access to care if the House Republican plan to 'repeal and replace' Obamacare is passed without major revisions. As the non-partisan Congressional Budget Office determined, some 14million people would lose health insurance under this plan by 2018 and 24million would lose it by 2026, while wealthy people enjoyed a substantial tax cut. (Multimillionaires and billionaires – America's elites – would also enjoy substantial cuts under Trump's proposed tax plan.)
Like the Trump budget, Trumpcare would hurt his base of lower-income voters, as he belatedly acknowledged on Fox News. The president briefly distanced himself from the plan he'd initially approved (apparently seeking to pass the buck to House speaker Paul Ryan). But then he began lobbying hard for it, warning congressional Republicans they risked losing their seats if they failed to pass it. So far, members of the hard right House Freedom Caucus are demanding additional cuts to insurance coverage that would be required by law, complicating efforts by the White House and Speaker Ryan to secure the votes of Republican moderates. As I write this, on the evening of 23 March, Republicans are still negotiating, having postponed a scheduled vote on the bill. If the House eventually approves some version of Trumpcare, it will then confront the Senate, where Republicans are similarly divided and Senate rules limit the scope of legislation that can be enacted by a simple majority, without facing a filibuster.
Trump had promised his supporters he'd replace Obamacare with 'something terrific', but that was before he learned healthcare was 'complicated'. Who knew? 'Nobody knew healthcare could be so complicated', Trump explained last month, universalising his ignorance.
The politics of healthcare are also complicated, with Democrats expected to oppose efforts to repeal Obamacare, instead of mending it, and Republicans divided into factions that consider the current plan too generous to lower-income Americans and factions that consider it not generous enough. Meanwhile, the public seems increasingly wary, with polls showing majority opposition to the Republican plan. Prospects for it are most uncertain. So are prospects for the Trump budget, which some Republicans, as well as most if not all Democrats, will oppose. Trump and congressional Republicans are now grappling with the difference between posing as an anti-elitist and governing as one.
Wendy Kaminer is a lawyer and writer, and a former national board member of the American Civil Liberties Union. She is the author of several books, including: A Fearful Freedom: Women's Flight from Equality (1990); I'm Dysfunctional, You're Dysfunctional (1992); and Worst Instincts: Cowardice, Conformity and the ACLU (2009).
Picture by: Getty Images.
To enquire about republishing spiked's content, a right to reply or to request a correction, please contact the managing editor, Viv Regan.