Elle: empowerment in darkness
Verhoeven's rape-revenge thriller is his most startling film to date.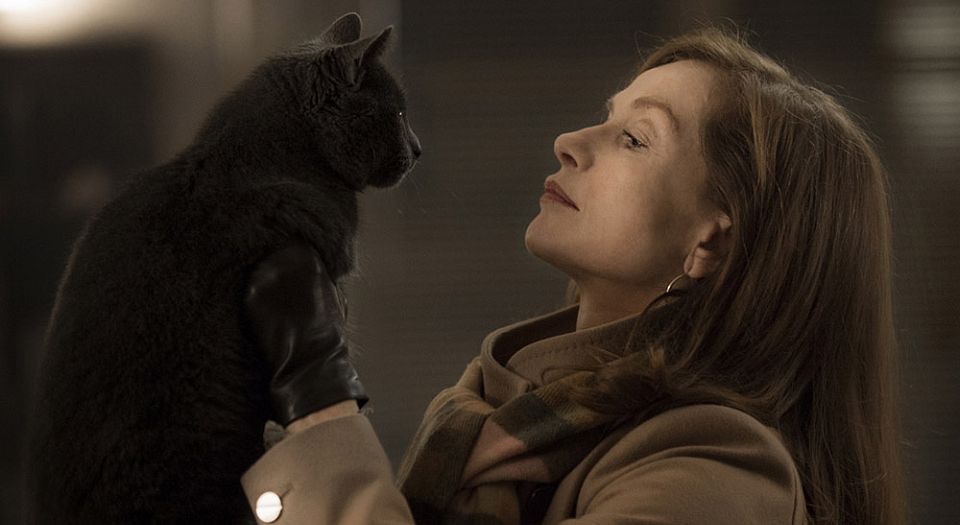 Elle is the sensational new thriller from Paul Verhoeven, and his first major film in a decade. Starring an outstanding Isabelle Huppert, this French film is not an erotic thriller, like the Dutch director's infamous Basic Instinct. Instead, it's a gripping film about a businesswoman's complex response to being raped. From the opening shot of her cat watching the horrific event unfold, you know you're in for a typically audacious film from a vastly under-appreciated director.
Verhoeven is best known for directing bombastic sci-fi/action classics like Robocop, Total Recall and Starship Troopers. Rather like the work of Douglas Sirk in the Golden Age of Hollywood, Verhoeven's films were written off as lowbrow trash in their day, only for their artful, cutting satire to be appreciated later. He creates discomfort in his audience by playing with cinematic elements many take for granted. His incredibly glossy films use deliberately gratuitous sex and violence to comment on the dark undercurrent of both American cinema and society. Even Showgirls, a popular contender for the worst film ever made, has been re-evaluated by critics and is appreciated by arthouse favourites like Jim Jarmusch and Jacques Rivette.
While his last American film, Hollow Man, proved to be a hit, Verhoeven felt his films were losing his personal touch, and that Hollow Man could just as easily have been made by some other director. He retreated to Europe to make Black Book, a Second World War thriller that became the most successful Dutch film ever made. After he failed to find an American star who would play the challenging lead role in Elle, and having failed to secure American production money, the film ended up being produced in France.
Huppert is superb as Michèle, and was rightly nominated for Best Actress at the Academy Awards this year. Despite her character's traumatic childhood and the rape that begins the film, Huppert avoids melodramatic affectations and self-pity. Playing the character with deadpan brilliance, she's often very funny in her aloof interactions with other characters. Her character's strength draws the audience in. You become engrossed with intimate private moments that become increasingly transgressive and unsettling as the film progresses.
The character's brilliance is made clear within minutes. Michèle, the head of a video-game company, is watching brutal footage of a fantasy videogame in which a female character is grossly assaulted by the tentacles of a monster. In a lesser film this would be a painful reminder of her recent traumatic experience. In this one, Michèle bluntly complains to her designers that 'the orgasmic convulsions' of the female character 'are way too timid'. The film is full of such startling moments.
While great suspense is created from the cat-and-mouse game between Michèle and her unknown assailant, the film is fleshed out by an excellent array of curious supporting characters: her mother who hires gigolos; her pathetic son who thinks his girlfriend's black baby is his; her fundamentalist-Christian neighbour and her husband, who Michèle becomes attracted to. Her private life is enriched by these complicated relationships, which the audience watches, voyeuristically, from her POV. Even when the identity of her rapist is revealed, the film keeps going into ever darker and more fascinating territory.
It's surprising there haven't been more complaints about a film in which the lead character chooses not to report her rape to the police. Perhaps this is because the character is an empowered agent. This is bolstered by Huppert's commanding performance. Or it could be because people into identity politics only complain about identity politics in blockbusters. Anyway, while Verhoeven has been accused of misogyny and exploitation of female characters in the past (which genre movie director hasn't?), his recent films have put strong female characters front and centre. Michèle never once feels like a victim, is never once pitiful, never once portrayed as a sexual object – even though the film explores the darker recesses of sexuality.
Elle has all the sex and violence you'd expect from Verhoeven, but it is his most measured film yet, and perhaps his best. Its French setting certainly frees him from his usual preoccupation with the ills of American society (and before that his exploration of Dutch society). Huppert provides the greatest performance of any of his films. Most importantly, like Hitchcock before him, Verhoeven continues to show how layered, thought-provoking and deeply unsettling the most crowd-pleasing movie genres can be.
Christian Butler is a spiked columnist. Follow him on Twitter: @CPAButler
Watch the trailer for Elle:
To enquire about republishing spiked's content, a right to reply or to request a correction, please contact the managing editor, Viv Regan.