The Trump tax bombshell that wasn't
Rachel Maddow drifts farther into conspiracy-theory territory.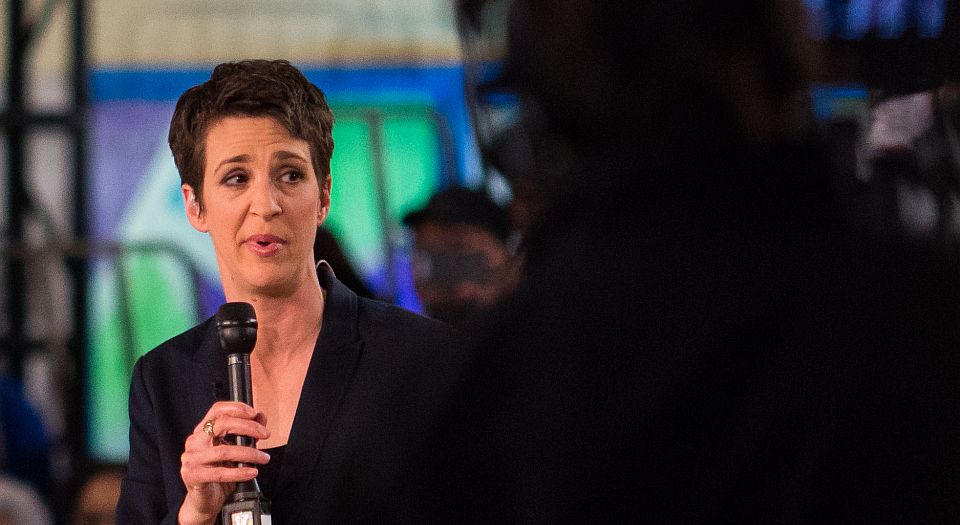 In case you haven't heard of her, Rachel Maddow is the host of a US television news show, and a huge favourite of the American liberal-left. More than an hour before her show last night, Maddow hyped that she had a bombshell to announce. She tweeted: 'BREAKING: We've got Trump tax returns. Tonight, 9pm ET. MSNBC. (Seriously).' Her excited followers sought to drum up more viewers, among them Michael Moore, who urgently tweeted: 'Turn on Rachel @maddow!' MSNBC broke with the norm and ran a countdown clock until the show started.
Donald Trump's tax returns would be big news for many. From the election campaign to today, Trump's opponents have called on him to make public his tax filings. Although there is no legal requirement for politicians to release tax returns, for decades it has been customary for presidential candidates to do so. Lots of speculation has swirled around Trump's unwillingness to publish his tax affairs, with the implication being that this billionaire is hiding something unfavourable, if not crooked (he says he won't release his returns because the tax authorities are auditing him).
When viewers tuned in at 9pm, Maddow didn't reveal her 'scoop' right away. Instead she embarked on a sprawling, innuendo-filled, conspiratorial monologue that went on for 20 minutes, and included references to Trump, Russian oligarchs and Deutsche Bank, among others. Here is a flavour of Maddow's breathless build-up:
'If this wasn't just some Russian oligarch dumping almost $60million into Donald Trump's pocket for no discernible reason, couldn't Trump's tax returns clear that up? Wouldn't Trump's taxes show whatever reasonable real estate inflow and outflow might explain what otherwise really does look like a bizarre dump of tens of millions of dollars of Russian money into Donald Trump's coffers? Right at a time when Donald Trump owed tens of millions of dollars to Deutsche Bank and Deutsche Bank was breathing down his neck to get it. That Russian oligarch who spent all that money on that property and never moved into it and ultimately tore it down – he's also a large shareholder in a bank called the Bank of Cyprus which has been implicated in Russian money laundering. The chairman of the Bank of Cyprus is the former CEO of Deutsche Bank to which Donald Trump owed all that money at the time he conveniently got this very large influx of cash from a Russian guy. The vice chairman of that bank until recently was our new secretary of commerce, long time Trump friend Wilbur Ross.'
Phew! After all this, viewers were on the edge of their seats, ready to learn what was in Trump's tax returns, a revelation that would surely connect all of Maddow's dots and begin Trump's downfall. But no. All Maddow had was a 2005 two-page summary (form 1040), which revealed that Trump earned $150million, and paid $38million in taxes, in that year. It was totally lame, and instantly deflated her overexcited audience. No evidence of zero taxes paid, as some (including Hillary Clinton and the New York Times) had speculated; no ties with dodgy businesspeople, as others had predicted. A nothingburger, as they say.
In fact, Maddow made Trump look good. She provided support for Trump's consistent claim that he has poured millions into the US Treasury. Indeed, Trump paid 25 per cent of his income in taxes in 2005, a higher rate than Obama (19 per cent) and Bernie Sanders (13 per cent). And she also gave the Trump team more fodder for their claim that the media are biased against him.
Maddow's embarrassing bombshell-turned-dud came at a time when she is experiencing the highest ratings of her nine-year career. Since Trump's election, liberals have flocked to like-minded TV personalities – Maddow, Samantha Bee, Stephen Colbert, and others. As the New York Times notes, the television set has become 'a new safe space for liberals in the age of President Trump'. 'Rattled liberals' are 'seeking catharsis, solidarity and relief'. It represents a crawling back to the identity cocoon, to the kind of political echo-chamber that meant so many liberals did not know a Trump voter and were shocked by his victory.
And when liberals tune into Maddow and her counterparts, they will hear lots of conspiratorial nonsense about Trump. Last night's episode was not Maddow's first foray into wild speculation. For months she has been going on about potential ties between Trump and Russia. As a woman interviewed by the Times said of Maddow: 'She's always talking about the Russians!' Yes, she is. And while Maddow has generated a lot of smoke about Russia, she hasn't revealed any evidence (nor have others).
Rather than tell us anything about Trump, the Maddow tax-fail spectacle provided an insight into a particular mindset: the liberal fantasy that there is a single 'gotcha' moment to come, a scandal that will finally bring down Trump. The 'grab her by the pussy' tape during the campaign; the British intelligence/Buzzfeed dossier; now the tax returns or supposed Russia ties – all have flopped.
Pundits like Maddow are more interested in digging dirt than in having broad-ranging discussions and making counterarguments. There are many substantive issues for critics of Trump and the Republicans to get stuck into, from immigration to healthcare and beyond, but the obsession with conspiracies is a losing proposition. That outlook will turn off reasonable people, and will only make Trump look better in comparison.
Sean Collins is a writer based in New York. Visit his blog, The American Situation.
To enquire about republishing spiked's content, a right to reply or to request a correction, please contact the managing editor, Viv Regan.