Censorship in Catalonia
Catalan politicians are being silenced and criminalised.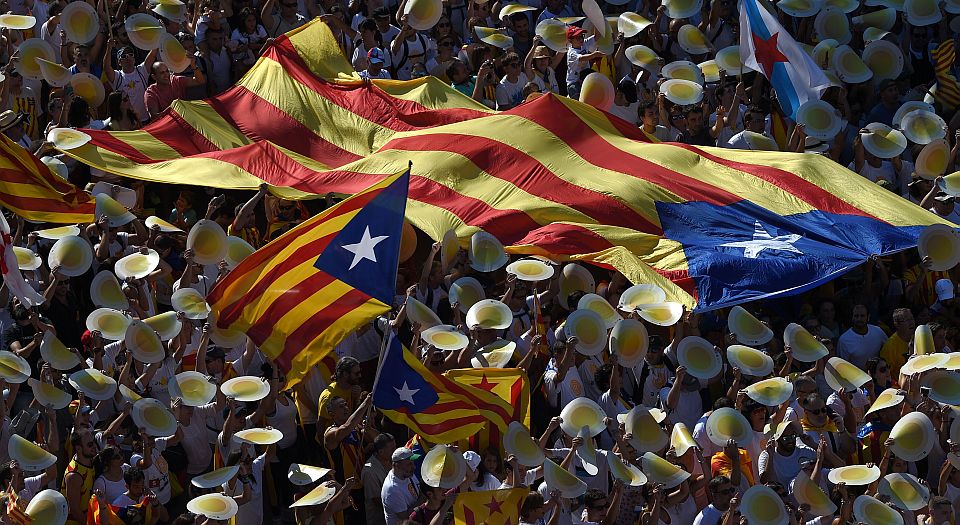 When Nicola Sturgeon announced her intention this week to hold another referendum on Scottish independence, it was met by many with a sigh and a roll of the eyes. Whether or not indyref2 actually happens, we know that, at the very least, we'll be talking about it for years to come. Mention independence in Catalonia, however, and you could be arrested.
This was the fate of Joan Coma, a pro-independence Catalan councillor from a small village an hour's drive north of Barcelona. He faces an eight-year prison sentence for saying, 'To make an omelette you must break some eggs', while discussing Catalan independence from Spain. The Spanish authorities claim this could be interpreted as a call for political violence.
Coma is yet to be prosecuted, though the Spanish government has confiscated his passport. He is one of many Catalan politicians who stand accused of 'disobedience'. Cases have been filed against townhalls for failing to fly the Spanish flag, and paying fees to pro-independence organisations. Catalan independence politicians are being forced to tread a fine line.
In recent months, it's become clear that the Spanish government intends to eradicate Catalonia's independence movement, not through political debate, but through restricting its proponents' ability to debate and campaign. Just this week, former Catalan president Artur Mas was barred from public office for two years and ordered to pay a €36,500 fine for holding a 'symbolic' independence referendum in 2014. Mas cheekily described his referendum as a 'consultation process'. The constitutional court had declared the referendum illegal five days before it was held.
The Spanish government says the investigations have nothing to with silencing separatist voices, but rather were prompted by complaints from individuals. However, many of these 'individuals' are members of the country's ruling conservative Popular Party (PP). The Spanish parliament is also currently investigating the PP's so-called 'Operation Catalonia', an alleged smear campaign against pro-independence politicians, conducted under the last government.
'Independence isn't on trial here, democracy is on trial', said Mas, outside the courthouse in February before his trial began. Indeed, this clampdown should concern any democrat. The majority of MPs in the Catalan parliament support independence, and while Mas's pseudo-referendum cannot be treated as an impartial democratic exercise, it did reveal that a significant proportion of Catalans (81 per cent, in his referendum) support independence.
The shaky distinction made by the government seems to be that while people on the streets should be free to argue and campaign for independence, politicians are different. 'If people on the streets can talk about independence, why should deputies not be able to?', asked Carme Forcadell, speaker of the Catalan assembly, at the Catalonia Superior Court of Justice last year. She's right. How can Catalonia's politicians be representatives if they cannot debate Catalonia's most talked-about political issue?
This is all part of a wider clampdown on dissident political views, on both left and right, in Spain. Last year, five members of Popular Unity Candidacy, a fringe left-wing Catalan party, were arrested for burning images of Spain's King Felipe VI. Only two weeks ago, Madrid City Council banned a Catholic group from driving a bus through Madrid adorned with the slogan 'Boys have penises, girls have vulvas. Do not be fooled.' It was deemed to be transphobic.
While the Scottish and Catalan independence movements share some common features, the climates in which they operate are very different. The SNP operates within a climate conducive to debate. In 2014, Scotland was allowed to hold a referendum. In the same year, Catalonia wasn't even allowed to hold a fake referendum. If the Spanish government wants to defeat the Catalans, they should do so through public debate, not shady political censorship.
Jacob Furedi is a spiked columnist. Follow him on Twitter: @jacobfuredi
Picture by: Getty
To enquire about republishing spiked's content, a right to reply or to request a correction, please contact the managing editor, Viv Regan.