Indyref2: making Scotland a weapon against democracy
Sturgeon and her allies will do anything to block the will of the demos.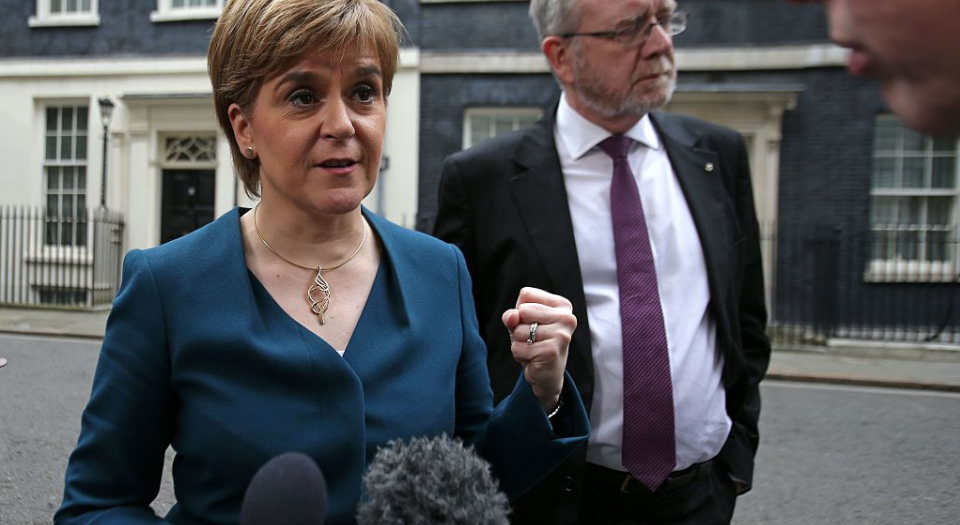 Ever since the British electorate voted to leave the European Union last June, Nicola Sturgeon, Scotland's first minister and leader of the Scottish National Party, has been desperately trying to undermine this democratic decision. Wielding the prospect of another referendum on Scottish independence like the political equivalent of an '…or else', she has been urging the British government to go for a 'soft' Brexit, a diluted Brexit, ultimately a negated Brexit. That is to say, a Brexit in which Britain doesn't really leave the EU at all, but remains in the Single Market, an EU member in all but name.
But thus far, it's been to no avail. And so she has been forced to act on her threat, and begin pushing a referendum bill on Scottish independence through the Scottish parliament at Holyrood, which, with help from the Scottish Greens, is likely to be successful. For the referendum to happen, the bill will also have to be approved by the Houses of Parliament, so it's far from certain, but that doesn't really matter to Sturgeon. What matters for this most cynical and opportunist of politicians is making the threat; playing her highest-stake card; showing the British electorate that the SNP means business. The lady is not for Leaving.
There are those who think Sturgeon is justified in acting on her threat to try to break up the Union unless membership of/subordination to that other far larger, less democratic union is retained in some shape or form. They say she's speaking on behalf of the Scottish people. They say the Scots never voted for Brexit. But the assertions are misleading. Yes, 1.6million Scots voted to stay in the EU (which amounted to 62 per cent of those who voted), but in 2014, when the Scots voted in a 'once in a lifetime' referendum on Scottish independence, as Sturgeon called it, over two million (55 per cent of those who voted) chose to remain in the UK. More Scots, therefore, chose to remain in the UK than to remain in the EU.
But things – and constitutions – have changed in the midst of Brexit, claims Sturgeon. Yes, they have, but what hasn't changed is the lack of desire among Scots for independence, which polls put at 45 per cent in January: the same as it was in 2014. In fact, despite her claims to be speaking on behalf of the majority of Scots by calling for a twice-in-a-lifetime referendum on independence, polling data suggest that the majority (55 per cent) do not want to rerun the independence referendum. More telling still is the plummeting popularity rating of Sturgeon herself, which now stands at about 10 per cent, below that of the supposedly 'hated' Conservative Party and its Scottish leader Ruth Davidson. So not only is Sturgeon not speaking for the Scottish people; she's also not particularly liked by them.
But then Sturgeon is not really speaking for Scottish people. She's not even speaking for the interests of Scottish nationalists (a third of whom voted Leave, presumably on the basis that immersion in the technocratic, sovereignty-effacing structures of the EU is a pretty odd form of independence). No, Sturgeon's audience here, the source of her current support and political authority, is not demotic – it's elitist. That's where her real constituency lies – not among ordinary Scots, but in the heartlands of the UK's cultural and political establishment; those who, from Edinburgh to London, think that voting to leave the EU was implicitly racist, that Brexit is a form of political and economic suicide, and that something must be done to stop it. Including, it seems, threatening to break up the United Kingdom.
Because that is what a second Scottish independence referendum amounts to: the weaponising of Scotland by a pro-EU elite against Brexit; against, that is, the majority, democratic decision of the Union-wide electorate.
That's why the prospect of a Scottish independence referendum is talked about by the pro-EU English in terms not of Scottish nationalism, or sovereignty, or anything else faintly principled, but of an opposition to Brexit. It's a means, as one commentator put it, to oppose the 'rabid Euroscepticism' of Tory England, a way to challenge the 'arrogance and recklessness of Brexit', a tool, in effect, for the dilution and undermining of democracy itself. As one impressively smug commentator states, 'There seems to be a looming choice for the UK government: is a hard Brexit more important than the union with Scotland? Once upon a time, wise conservatives and unionists would have known the answer.' (Note the use of the adjective 'wise', to be implicitly counterposed to the 'folly' of today's Brexiteers.)
So, in a very real sense, Remainers from both sides of Hadrian's Wall, with Sturgeon the willing, cynical frontman, are instrumentalising the question of Scottish independence, turning it into a battering ram against the democratic will of the UK. But it's a UK, and a UK-wide democracy, that includes Scotland. Because whether pro-EU Scots like it or not, when their countrymen voted to remain part of the union in 2014, they voted to remain part of the UK demos, too, to continue to be a part of the UK's collective democratic decision-making. Just as London, with a mayoral system of governance and a huge Remain majority, cannot simply opt out of the collective democratic process when it doesn't suit it, neither can Scotland. That's not how a majoritarian democracy works. A majority's decision doesn't just hold for the majority; it holds for all.
And the majority of Scots know and accept that. It's an elite minority, headed by Sturgeon and backed by affluent beneficiaries of the status quo across the UK, who don't accept it. And they're the ones now willing to use Scotland, just as they did the judiciary, to beat down Brexit.
Tim Black is a spiked columnist.
To enquire about republishing spiked's content, a right to reply or to request a correction, please contact the managing editor, Viv Regan.