Ed Sheeran: the master of bland
Pop's arch careerist knows how to make money, if not great music.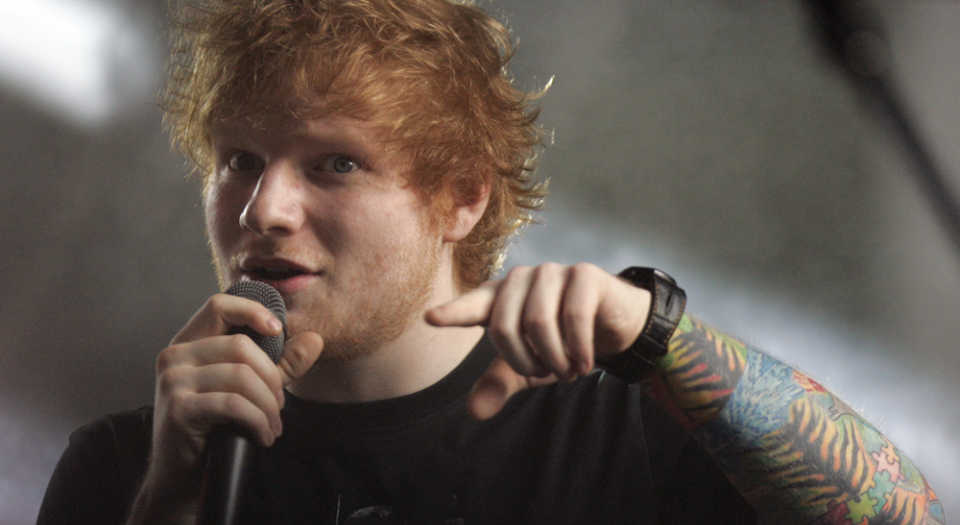 In an age when every pop star co-writes all of his or her songs, why do we never hear in interviews how they compose their material? We know the answer, of course: it's because they clearly have minimal or no input into their material, and are only being credited to earn lucrative publishing royalties. Pop stars can then go on chat shows or do magazine interviews, and maintain an illusion of individuality and control over their careers, never mentioning the huge teams of people who forge their product.
The notable exception to this is Ed Sheeran, the hack next door. He makes no pretence of expressing himself as an artist, instead talking openly how he schemes to sell the most records. And with a great deal of success, too. His third and latest album, ÷, is set to compete for the best-selling album of the decade. He has even stated in interviews that he is releasing his album after his competition (Beyoncé, Adele, Drake et al) had released theirs in order to gain the most attention. With no need to worry about money – Sheeran earned $33million last year, when he wasn't even doing anything – he's seemingly driven by pure ego.
With his acoustic guitar, mess of ginger hair and casual clothing, Sheeran is the product of a post-Adele popworld which celebrates affability and ordinariness over artifice and bombast. His audience find him, rather than his music, sincere. They don't expect him to express any part of his life through his songs. Indeed, it's his very lack of a credible background which allows him so effortlessly to shapeshift from single to single, from sugary sweet ballads to Justin Timberlake-style come-ons, or from dancehall rhythms to po-faced folk. It also helps that Sheeran is completely harmless and never chases controversy. When you're competing at the highest level of pop, you don't have to worry about being cool. Sheeran can write hits for One Direction and Justin Bieber and get away with it.
His live performances are also designed for maximum profit. When Sheeran tours, he performs with no band, no theatrics; it's just him and an acoustic guitar. Imagine how much money Sheeran makes when he plays Wembley Stadium compared with Beyoncé or Rihanna, who produce expensive theatrical spectaculars.
When Sheeran broke on to the scene in 2011 with his + album, even his backstory reeked of professionalism – he had apparently performed nearly 300 gigs a year as an unsigned musician. Sheeran's couch-surfing during this time has been grossly exaggerated by some to suggest he was temporarily homeless. His background is in fact comfortably middle-class: his father is an arts curator and lecturer; and his mother is a jewellery designer. The two even owned an arts consultancy firm for 20 years.
There's been something of a backlash against Sheeran's professional ambition and seeming manipulative streak, with the Guardian giving ÷ a scathing review. Apparently it's a sin to admit to wanting to sell as many records as possible, something you oddly don't hear pop stars talking about these days. There's an unhealthy denial of ego and ambition in today's pop. It's as if we're meant to believe pop stars are driven solely by love for their fans and not for themselves. Maybe they're too scared to state their goals and then fail. Sheeran breaks through this deceit by talking about his career in realistic terms, yet he remains modest and relatable because he never claims his music has any greatness.
My favourite example of Sheeran's blockbuster instinct on the new album is 'Galway Girl', a horrific Celtic fusion which Sheeran had to fight his label to get released (presumably because it's so dreadful). While pop stars usually fight their record labels to release more adventurous material, Sheeran was doing the opposite, insisting that the song had huge potential to tap an untapped market. 'There's 400million people in the world that say they're Irish', he observed. 'And those type of people are going to fucking love it.' He also cited the multi-million sales of the Corrs, a vacuous Irish pop-rock group who found fame in the 1990s, which is an incredibly MOR admission from a twentysomething pop star. Anyway, Sheeran was proved right: it became the No1 downloaded song in Ireland, and it's sure to get even more airplay with St Patrick's Day just around the corner.
Sheeran is an artist in control of his own blandness. He'd be a refreshing presence on the pop scene if his music wasn't so obnoxious and mindless. It lazily feeds off pastiche, and his lyrics are often tightly packed and rap-like, yet devoid of nuance. Calculated hit-making was an essential part of the likes of Phil Spector and Motown, but Sheeran is categorically incapable of creating something as remarkable as 'Be My Baby' or 'I Heard it Through the Grapevine'. The future won't be kind to Ed Sheeran – he'll be deemed closer to Phil Collins than Michael Jackson.
What lesson can be learned from Sheeran's success? That a pop audience can grapple with the plasticity and capitalism of pop music more than they're given credit for. After all, they're not remotely turned off by Sheeran's openly careerist attitude. The awesome potential of popular music doesn't just lie in its power as an artform but also as a globalist business. Pop music can't be discussed seriously without accepting these machinations. Sheeran is enriching the discussion about the reality of popular music, even if his music enriches nothing artistically.
To enquire about republishing spiked's content, a right to reply or to request a correction, please contact the managing editor, Viv Regan.