Don't green-light this politics of gesture
Gender-equal traffic lights? Feminism has jumped the shark.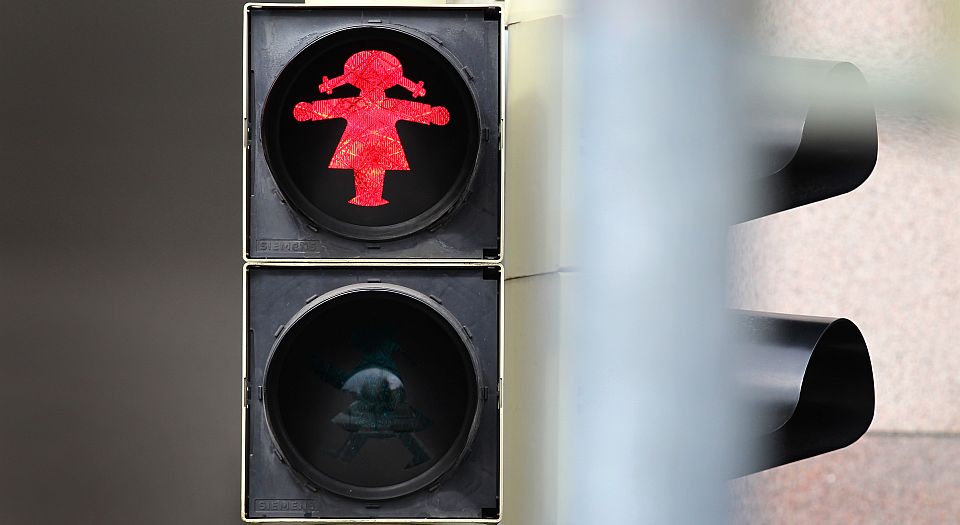 The changes are part of a 12-month trial by VicRoads – the state government's road and traffic authority – but the idea is the brainchild of a non-profit lobby group, the Committee for Melbourne.
According to the group's chief executive, Martine Letts, the current silhouettes of male stick figures used in pedestrian crossings around Australia are discriminatory towards women.
The end goal for Letts is universal, one-to-one gender equality in pedestrian crossings across the state, a move she claims will 'help reduce unconscious bias'.
It's easy to poke fun at the claim that existing pedestrian crossings discriminate against women. It's not as if women in Melbourne are being forced to dodge traffic or face fines for jaywalking, while men wait patiently at the lights.
But this campaign is more than just a joke. It's evidence of the decline of the feminist movement, and the failure of our political class.
Whereas the Suffragettes campaigned for the right to vote and equality under the law, and second-wave feminists fought for women's liberation and equal opportunity in the social sphere, many modern feminists seemingly prefer frivolous symbolic gestures that do nothing actually to improve the circumstances of women.
And it's not as if there's nothing left for them to do. There are persistent problems that exist in society – violence against women, for example. According to the Australian Bureau of Statistics' 2012 Personal Safety Survey, 34 per cent of women in Australia have experienced physical violence since the age of 15, and 19 per cent have experienced sexual violence.
There are particular problems for women in immigrant communities – problems like female genital mutilation. While no government data exists, the group No FGM Australia estimates that three girls a day are at risk in this country.
These are the kind of issues that groups like the Committee for Melbourne should focus on, not meaningless changes to traffic signals, which only make people laugh.
The push for gender-equal pedestrian crossings is also a clear example of why people think their politicians are out of touch. At the time of writing, an online poll (with over 12,000 respondents) on the website of Melbourne's highest circulation newspaper, the Herald Sun, showed that 94 per cent of people oppose the idea that there should be an equal number of 'male' and 'female' pedestrian crossings.
Yet, rather than recognising this idea as an empty and pointless gesture, or political correctness gone mad, the state premier Daniel Andrews enthusiastically supported it, telling Ten News Melbourne: 'If we all spend a little bit more time thinking about the fact that, in many respects, women don't get a fair go in our state, that's an entirely good thing.'
Senior state Labor MP Jane Garrett also thinks it is a good idea. She says: 'Gender equality right throughout the city, bring it on.'
Even if 'female' pedestrian crossings did make people think about the problems women face – as opposed to simply serving as a target of ridicule – this wouldn't improve the actual circumstances of anyone, in any way. All it would do is give politicians like Andrews and Garrett the mistaken idea that they are doing something to improve life for their constituents.
For busybody activists like Martine Letts, it serves as a grand gesture that's akin to the Facebook statuses university students post to show how virtuous they are.
Rather than wasting time and money on gender-equal traffic lights, organisations like the Committee for Melbourne should put resources into causes that actually help people. Perhaps the most we can ask from politicians is that they recognise a dumb idea when it arises.
Patrick Hannaford is a writer based in Melbourne, Australia. Follow him on Twitter: @PatHannaford
To enquire about republishing spiked's content, a right to reply or to request a correction, please contact the managing editor, Viv Regan.