Let EU nationals stay in Britain
It's an ugly myth that Brexit voters want migrants out of the country.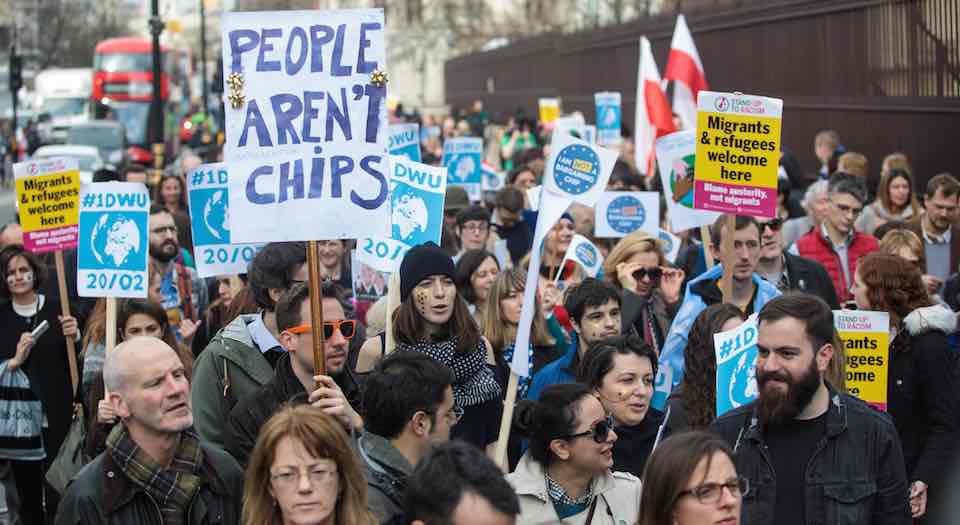 There is no doubt that, since the Brexit vote, the UK government has acted appallingly on the issue of EU citizens in the UK. It has failed to guarantee their rights, including their right to stay post-Brexit. The government seemed to suggest EU citizens would be used as bargaining chips in Brexit negotiations, betraying its willingness to keep EU workers from becoming equal citizens in British society. It said it would give priority to this issue once exit negotiations had begun, but to assign an instrumental role to EU workers in this way is inexcusable. This week, the debate got more heated, as it seems the Lords are likely to challenge the government's Brexit bill precisely on the issue of EU nationals' rights.
It was for these reasons that I supported the 'One Day Without Us' event at my university last week, as did the UCU union committee I am a part of. Migrants across Britain went on strike for one day to prove their worth and standing as UK citizens. I supported their protest because the government's inaction singles out people I live and work with for differential treatment and greater insecurity.
The government's disregard for EU workers is not popular. Theresa May has made a terrible misjudgment. A large majority of Brexit voters support a guarantee of existing rights for EU workers in the UK – two thirds of them, according to the National Centre of Social Research.
This should come as no surprise. Contrary to the media portrayal, the UK remains, relatively speaking within Europe, a tolerant country. According to the EU's own figures, published in December 2016, the UK is around the average with regard to attitudes towards EU migration, and more liberal than most on non-EU migration. The spike in reported hate crimes immediately following the Brexit vote pointed to some disgraceful actions by dyed-in-the-wool bigots who perhaps felt vindicated by the vote. But thankfully, such crime rates are falling back to their pre-referendum levels. Clearly, bigotry is not the same thing as opposition to the EU. There is no 'Brexit tide of hate', and certainly no 'fascist populism on the march', as some commentators have claimed.
Unfortunately, it's not just May who has assumed that intolerance of foreign workers is part and parcel of Brexiteers' outlook. Many organisations promoting the One Day Without Us strike (including my own union) saw it as a counter to 'the tide of xenophobia sweeping the UK' post-Brexit. The local event in my hometown of Canterbury was billed as: 'Three issues, one voice: support for EU workers, ban Trump, stop Brexit.' (Unite for Europe, a group explicit in its aim to overturn the Brexit vote, co-organised the event.) The view is that there is a generic hatefulness out there, and we must stand against it.
Exaggerated claims of a 'tide of Brexit hate' have been repeated ad nauseum in recent months. Some have been shown to be based on bogus statistics, such as Hope Not Hate's claim that the murder of Labour MP Jo Cox was followed by an outpouring of online hate (debunked by The Economist) or that homophobic crime rose by 147 per cent following the Brexit vote (debunked by Radio 4's More or Less).
Even Matt Carr, instigator of One Day Without Us, buys into the notion that Brexit was fuelled by irrational hatred. He claims Brexit voters voted 'largely on the basis of post-imperial fantasies and pipe dreams' fed to them by a bunch of xenophobic and far-right politicians. Yet immigration controls, deportations and migrant panics have long been a feature of every EU country. The EU itself, and many countries within the EU, have a far bigger problem with far-right organisations than the UK does.
Although almost all of my lecturer colleagues voted Remain, many university staff and people I know locally voted to Leave. Will these people be more amenable to discussions about immigration when they have already been falsely labelled as responsible for a 'tide of hate'? Will they only be considered capable of rational argument and allowed to protest for EU workers' rights once they have renounced Brexit?
Arguments for a more open approach to immigration need to be had out in the open, free from shaming people and the constant pursuit of moral authority over Brexit. In taking forward the arguments against racism, it is important to separate this problem from the issue of EU membership. The case for freedom of movement and a widening of citizenship rights needs to be made as much in 'Remain' France, Germany and Italy as it does in 'Brexit' Britain. The EU itself has no anti-racist, pro-immigration credentials to speak of. Caricaturing the voters who chose to leave the EU as inherently uncaring and hateful fails to address the politics of migration. Pathologising Brexit voters won't win converts to the cause of solidarity with foreign workers.
Jim Butcher is a lecturer and the author of several books and articles on the sociology of travel, most recently Volunteer Tourism: The Lifestyle Politics of International Development, co-authored with Pete Smith. (Order this book from Amazon(UK).)
Picture by: Getty Images.
To enquire about republishing spiked's content, a right to reply or to request a correction, please contact the managing editor, Viv Regan.