Why Martin Schulz won't save German politics
This cliquish EU operator is no man of the people.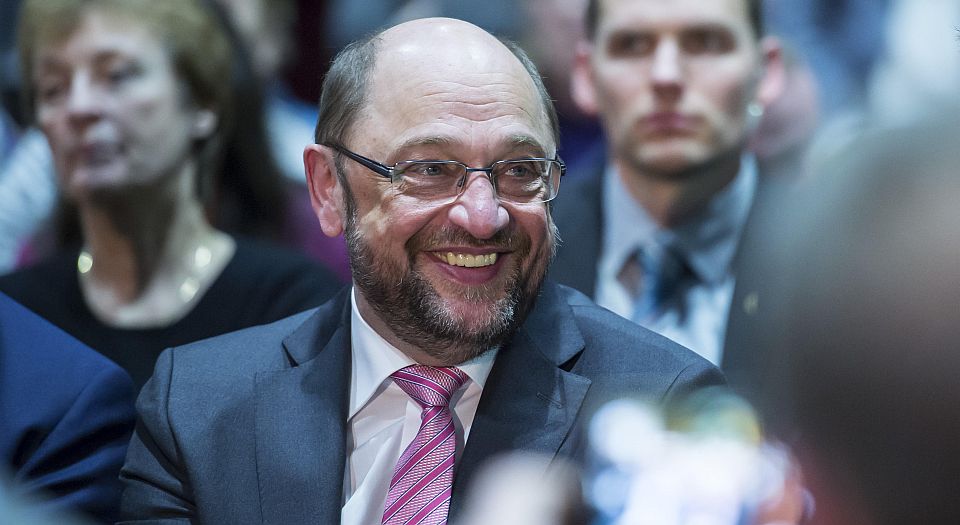 The announcement that Martin Schulz, ex-president of the European Parliament, wants to become German chancellor has resulted in what the magazine Der Spiegel termed a 'tectonic shift' in Germany's political landscape. Approval rates for his party, the Social Democrats, have surged since his informal nomination on 24 January, and for the first time in over a decade Angela Merkel's chancellorship seems under serious pressure.
In many ways, this could be good news. Schulz, Der Spiegel writes, 'is invigorating democracy, regenerating long-absent excitement for his party, the Social Democrats (SPD), and fuelling hopes of a change in government'. He is, as sociologist Armin Nassehi has said, offering to voters what they have been longing for: an alternative to Merkel, a feeling that there is a true choice. After watching Schulz's first speech as the new candidate, one commentator said he could 'feel the energy and enthusiasm'.
But are these people really feeling Schulz's enthusiasm, or just the pang of their own hopes? There is something strange about Schulz appearing as Germany's new hope. It's not as if the problems of this candidate haven't been discussed. Schulz spent the past 22 years building a career in the EU, and not in Germany. His decision to run for chancellor was made only after he had failed in his quest to remain president of the European Parliament. Also, his wheeling and dealing as part of the Brussels establishment, his complicity with Jean-Claude Juncker, president of European Commission, and his undiplomatic conduct towards elected representatives of other countries, have all been discussed at length in the German press. Der Spiegel depicted him on one of its cover pages as 'St Martin', with a halo and a caption reading: 'Candidate Schulz's hunger for power.' In a more recent piece, the magazine has accused him of fraud.
It's far from clear whether Schulz can keep up the momentum. But that's not the point. The more interesting question is why Schulz, with all his obvious faults, has struck a chord at all. True, the surveys and the talk of Schulzomania should be taken with a pinch of salt. As members of Germany's big research institutes have pointed out, surveys suggesting he is surging in popularity are based on voters' momentary impressions. They were, as Thomas Petersen from the Allensbach Institute writes, influenced by the way the media has hyped the candidate. However, a few months ago, when Merkel announced her decision to run for a fourth term, the only challenge seemed to come from the right-wing, anti-immigration Alternative für Deutschland (AfD), which had great successes at local elections last year. 'Angela Merkel still without alternative', was the view presented in the press back then.
It is precisely this talk of 'no alternative to Merkel' that lies at the heart of Schulz's success. The fact that there was, for a long time, no contender to Merkel's chancellorship did not mean that people in Germany were generally happy with that situation. In fact, rebellion against Merkel's version of the politics of TINA (There Is No Alternative) began a long time ago. It was palpable during the financial crisis of 2010, and even during the euro crisis of 2012, when Merkel appeared to be at the height of her power.
In 2010, the German language society Gesellschaft für deutsche Sprache selected the word 'alternativlos' (without alternative), as 'Unwort des Jahres' — monstrous word of the year. Announcing its decision, the jury wrote: 'The word suggests that there is no alternative in [the] decision-making process, and therefore no need for discussion and argument. Claims of this kind were made too often in 2010, and they threaten to intensify the estrangement of the population from politics.' In hindsight, the jury's words sound almost prophetic. It was in opposition to Merkel's claim that her handling of the euro crisis was 'without alternative' that Alternative für Deutschland was founded in early 2013. The party's choice of name and its immediate success indicate that even then, long before the refugee crisis, there was a sense that something was going wrong.
The handling of the refugee crisis certainly sped up people's estrangement. But there is more to Merkel fatigue. Voters in many parts of the Western world have shown that they are no longer willing blindly to follow the establishment view. What could be more establishment than a fourth term of Angela Merkel? The slogan 'you know me', which won her a third term and a landslide victory in the 2013 elections, is no longer good enough – and that is great news. The only surprise is that the SPD – which is part of the ruling coalition government and had been losing approval faster than anyone could count – now seems to have got its foot into the process. Schulz has been embraced not just because he could be an alternative to Merkel, but because he is seen as a bulwark against the AfD. This candidate, one reporter claimed, is like a catalyst, activating new energy through his optimism and desire to win back frustrated voters. That's why his supporters are so keen to peddle the ridiculous idea that Schulz, who spent over 20 years in the EU establishment, is a man of the people. This is also why his party has reacted in such a thin-skinned way to reports of Schulz using private jets, and other scandals.
Some commentators, such as Brigitte Fehrle at the Berliner Zeitung, have rightly pointed to the undemocratic and haphazard way in which Schulz was nominated. It was a secret deal, made behind closed doors between him and Sigmar Gabriel, the former party leader. Only in March will his nomination be voted on at a special party conference. 'How desperate must a party be if it accepts this type of treatment', Fehrle writes. It is good that Merkel's policy of no alternative is being challenged. But is Martin Schulz really the right candidate to deliver democratic renewal?
Sabine Beppler-Spahl is head of the board of the liberal thinktank Freiblickinstitut e.V., which has published the Freedom Manifesto. She is also the organiser of the Berlin Salon.
To enquire about republishing spiked's content, a right to reply or to request a correction, please contact the managing editor, Viv Regan.