Paul Nuttall: following the trail Blair blazed
The UKIP leader's Hillsborough claims are in a political-class tradition.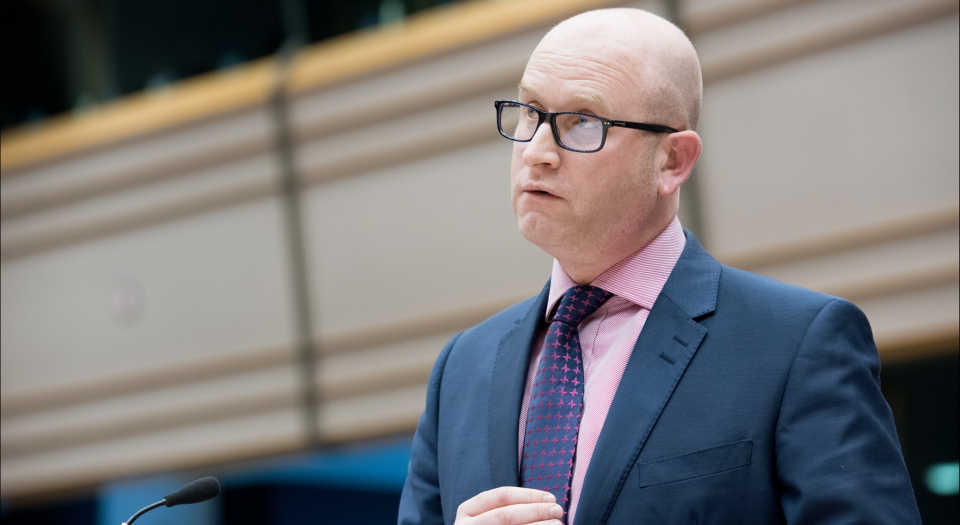 'Revealing the facts on Hillsborough is hardly a matter of national security, it is a matter of natural justice', read the 2011 statement on the website of Paul Nuttall, UKIP leader, candidate in this Thursday's Stoke-on-Trent Central by-election, and semi-professional Scouser. 'Without [the facts] being made public', Nuttall continued, 'we will never get to the bottom of that appalling tragedy when 96 Liverpool fans, including close personal friends of mine, lost their lives'.
We now know, of course, that 'the facts' of Nuttall's own Hillsborough experience were not quite as factual as he suggested. He did not lose 'close personal friends', as he or, as he claims, his press officer originally asserted; he merely 'knew' some of those who died. Even his accompanying claim that he was at Hillsborough that horrible day is now being questioned. He and his father say he was; old 'friends' and a school teacher say he wasn't.
Either way – and let's be honest, we'll never know for certain that he wasn't at Hillsborough – Nuttall has been savaged. Savaged by opposing politicians; savaged by the hack-pack; and, most painful and humiliating of all, savaged by those who really did lose loved ones at Hillsborough.
'I can't understand how anybody could be that cruel and callous', said Sue Roberts, secretary of the Hillsborough Family Support Group. Kenny Derbyshire, chairman of the Hillsborough Justice Campaign, agreed: 'It's a disgrace.' As the Guardian's Labour cheerleader, Owen Jones, glossed with barely suppressed glee: 'UKIP's attempt to exploit the suffering of Hillsborough with total lies for political gain is absolutely disgusting.'
It's difficult to argue with that. What Nuttall did, with or without the help of his seemingly serially hapless press officer, is wrong. He tried to say that the suffering of the bereaved was his suffering, that the struggle for justice for the 96 was his own personal struggle. But they were never his to claim. His personal suffering was a fabrication, an affectation, a performance.
But that much is obvious. Too obvious. To state that – to savage Nuttall for exploiting a tragedy for political gain – is almost to indulge in the same righteous moralistic posturing that Nuttall did. What's less obvious is just how normal Nuttall's act was; just how acceptable for a contemporary politician it is to construct a persona replete in man-of-the-people tics, and rich in personal suffering; just how routine it is for someone to attempt to convey their private emotional being in public. Nuttall's fabrication was different and despicable in degree, but it was not different in kind to that deployed by other politicians. It was an extreme version of what others have done before.
Indeed, his performance of 'Paul Nuttall', Liverpudlian, plain-speaking every-working-class-man, such as it is, is part of a very modern political-class tradition – a tradition of exploiting what is popular in an attempt to be popular; of parading feelings in public; of arrogating to oneself the moral authority of suffering, of victimhood. Think of Tony Blair, of those signature moments through which he, alongside his communications director Alastair Campbell, created 'Tony Blair the everyman', having a knockabout, for instance, with the then Newcastle manager Kevin Keegan at the 1995 Labour Party conference and, later, talking, apocryphally as it turned out, of sitting in Newcastle's standing-only Gallowgate end watching Jackie Milburn, even though he retired when Blair was four years old. And think, too, of Blair's emotionalism, his syntax-foregoing attempt to connect with the public at the level of feeling, as he most famously did in that tear-duct-twitching, artfully paused speech made in the immediate aftermath of Princess Diana's death in 1997 – 'she was the people's princess, and that's how she will remain, now and forever'. Cue candles blowing in the wind.
It's a political-class template that has been developed and deepened since Blair trialled it, albeit with ever-decreasing returns. Ex-prime minister David Cameron's support for Aston Villa – or was it West Ham? – rang about as true as it turned out to be. And poor Gordon Brown's interview with Piers Morgan in 2010, when he spoke of the tragic death of his newborn daughter, might have moved viewers, but not enough to vote for him.
But the logic in both cases made sense: to present the politician, increasingly estranged from, and culturally at odds with, the majority of the electorate, as someone people could still, at the level of feeling, relate to in some way. They supported a team. They suffered. They felt. Between politician and public, football was the great mediator, and emotion the currency. But the effect is waning, the aspiration to everyday, suffering authenticity is being thwarted, and, increasingly, Trumped, by the authentically eccentric.
So, yes, what Nuttall did was wrong. He tried not only to fasten himself to that great cause of football fans, but also to implicate himself in it; not only to feel the suffering of others, but to appropriate it as his own. But let's not kid ourselves that what he did was unique to himself or, indeed, to UKIP, as his desperate Labourite critics now claim. For too long, emotionalism has turned public life inside out, and victimhood has been morally valorised. And for too long, politicians have sought to make political capital out of them both, usually wearing full kits.
Tim Black is a spiked columnist.
Picture by: European Parliament, published under a creative commons licence.
To enquire about republishing spiked's content, a right to reply or to request a correction, please contact the managing editor, Viv Regan.