David Davis and the rise of the Thought Police
That Davis had to publicly apologise for private texts is alarming.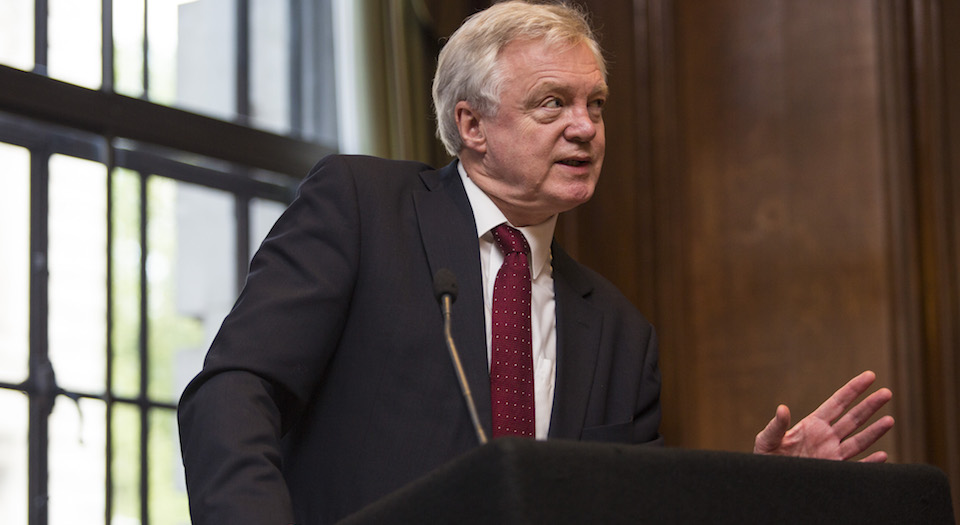 In Britain in 2017, you can be punished for your private thoughts. You can be ridiculed in public for what you say behind closed doors. You can be made to apologise to the world for something you said in confidence to a friend. Seriously. How else do we make sense of the scandal over Tory Brexit minister David Davis's text messages about Labour MP Diane Abbott? Here we have a politician being demonised by the political and media set — branded 'vile', 'disgusting' and 'appalling' — for a private comment. That should worry you far more than what Davis actually said, for it suggests there is now no area of life where you can speak freely and frankly without risking sanction.
After the Commons vote on Brexit last week, Davis is said to have approached Abbott for a kiss but apparently she told him to 'fuck off'. Later, a Tory friend texted Davis to ask him about the incident. Davis texted back saying he hadn't tried to kiss Abbott, and wouldn't, because 'I am not blind'. In short, he thinks Abbott is unattractive.
It is tempting at this point to say Davis's text messages were crude. But that would be wrong, because the fact is they're none of our business. He did not say these things for public consumption. It was an off-hand, matey remark of the kind all of us make via text or email or WhatsApp or whatever. That Davis's texts were leaked doesn't make it okay to haul him over the coals for them, to insist that he retract and repent, because this still amounts to shaming someone for a private conversation. The correct response to the texts would be to say: 'This is not my concern. People can think and say whatever they like in private.'
Of course that hasn't been the response, because such is the stifling intensity of the 'You Can't Say That!' culture that now even private speech, glorified thoughts in essence, are considered fair game by the shut-it-down brigade. 'You Can't Think That!' — the next, logical frontier. So it was that Labour MPs 'called out' Davis for being 'misogynistic', a 'total and utter disgrace', a 'vile, sexist man'. He should apologise, they said. And he did. 'The secretary of state is very sorry for any offence caused', said a spokesman. A man publicly apologising for private chatter — this is bad.
There has been a number of incidents recently where people have been publicly punished for private speech. The Premier League chief executive demonised for private emails that contained sexist banter; the American basketball boss dumped for a leaked private conversation in which he used racist words; the two British TV football presenters sacked for a private conversation. They discovered, in the words of a gleeful Guardian hack, that 'private banter is a public matter'.
Yes it is, and that is wrong. Because all of us need a sphere in which we can speak openly and honestly and even madly; where we can let rip, be outrageous, be daft. We all do it: we say things in text messages or over drinks that we would never dream of saying publicly. Not because we're hypocrites but because we cherish that deep, personality-forming freedom that comes with having a zone of life that is utterly unpoliced; which is free of the fetters of public morality; where you can get things off your chest or peacefully indulge your angrier or wickeder or more passionate side. Indeed, it is only by having a private sphere like this that we can become grounded and rounded individuals, having thought things through, bashed out ideas and emotions, and made ourselves ready for engagement in the public world. It is private life that makes public life meaningful, and possible.
When that basketball boss was sacked over his private phone chat, the novelist Joyce Carol Oates asked: 'Am I the only person in the US surprised that a private conversation, no matter how ugly, can be the basis for such public recrimination?' I hope she wasn't the only person. And I hope there are people in Britain who are likewise surprised, and disturbed, that Davis's private conversation became the basis for public recrimination. For to make hidden speech the subject of public punishment is to colonise private life. It polices the home, in essence. It puts people on trial for the contents of their minds, for private banter, encouraging dishonesty (will Davis ever send a jokey text message again?) and denting the very means through which we develop our sense of self and become meaningful individuals.
It undermines the Enlightenment. Let us remember the words of the great Edward Coke, an Enlightened thinker in 17th-century England: in a free world, 'no man, ecclesiastical or temporal, shall be examined upon the secret thoughts of his heart, or of his secret opinion'.
Brendan O'Neill is editor of spiked.
To enquire about republishing spiked's content, a right to reply or to request a correction, please contact the managing editor, Viv Regan.