Brexiteers against Le Pen
The fearful, illiberal Front National has nothing in common with Brexit.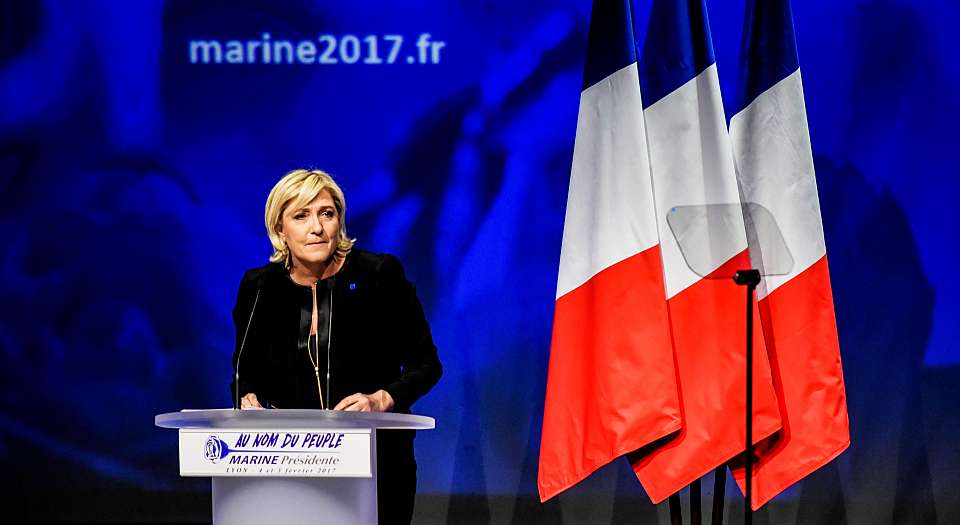 On Sunday, in a speech launching her presidential campaign, Front National leader Marine Le Pen praised the UK for voting to leave the European Union. It didn't come as a surprise — ever since the historic British vote on 23 June, she has been trying to commandeer the moral authority of Brexit to bolster her bid to be president of France.
In the speech, given in Lyon, Le Pen confirmed that she would hold a referendum on EU membership within six months should she be elected president. She said she wants to see a sovereign France, and to scrap the euro in favour of returning to the franc. This is likely to be a popular move: a poll last year showed that 53 per cent of French people are in favour of holding such a referendum.
Le Pen believes that the surprise results in both Britain's EU referendum and the US presidential election are part of the same political sea-change that might catapult her to the Elysee Palace come May. 'The wind of history has turned and it will carry us to the summit', she said.
As we have argued on spiked, there are undoubted similarities between Brits voting against the EU and large numbers of Americans rejecting Hillary and establishment politics. Both signified a desire to upset the status quo and try something different in politics. However, beyond this, it is a gross distortion of the Brexit vote, of the Brexit sentiment, to compare it directly to the election of the fluorescent-haired demagogue now in-situ in the White House, never mind to the potential election of the inward-looking, far-right authoritarian Le Pen.
It is simply wrong to conflate British people's decision to leave the EU with a normal political vote for a party or a leader. We were not voting for any politician. The vote to leave the EU was not a vote for Nigel Farage of UKIP, no matter what the Remainer sections of the press might say. Indeed, where 17.4million people voted Leave, fewer than four million voted for UKIP at the 2015 General Election. Following the referendum, Farage has largely disappeared from the political stage (he's headed into the media). The EU referendum was not about putting someone into power, it wasn't about political personalities — it was a vote for a new way of doing politics, for greater democratic control.
The vote for Brexit was a breath of fresh air in British politics. People engaged in political debate in a way they hadn't done for a long time. In voting to leave the unaccountable, technocratic tyranny of Brussels, British people voted to take a chance on something different, something better.
Indeed, far from closing themselves off to the world — as Trump seems intent on doing, and Le Pen wants to do with France — Brits who voted to leave the EU were also throwing Britain open to other opportunities worldwide. They were rejecting the rather insular outlook of the European Union. There was a confidence to the vote, too. It takes courage to refuse to accept the agenda of those in power, to turn around and challenge conventional wisdom and find your own political voice. Yet people who for so long had been shunned and locked out of politics did just that, and sent a powerful message to the Westminster bubble and liberal elite, effectively calling into question their right to set the agenda.
All of this stands in stark contrast to Le Pen's campaign. Like Trump, she is a protectionist, seeking to make France more inward-looking, promising to protect it from migration and economic globalisation. She has pledged to be 'all about the local, not the global'. She wants to curb migration dramatically, impose higher taxes on contracts for foreign employees, and reserve free education for French nationals.
She plays on the politics of fear. She began her speech by saying: 'The choice that voters have is a choice of civilisation. Are our children going to live in a free and democratic country that respects our values? Will they even have the right to speak our language?' This last part, absurdly, was in reference to an English slogan being used in France's bid for the 2024 Olympics.
Where Brexit spoke to a renewed self-conviction among British voters, Le Pen seeks to capitalise on the ebbing confidence that is sadly palpable among French people today, as a result of a stagnant economy and the recent spate of terror attacks. Le Pen talks to the French people as victims of globalisation and EU-sanctioned multiculturalism. She offers a bleak view of France. Ironically, in exploiting the politics of fear and encouraging low confidence, Le Pen actually echoes the Remain campaign's Project Fear far more than the spirit of the Brexit vote. She plays their game of drumming up doom to try to win support.
In attempting to ride on the coattails of Brexit, Le Pen is showing political savvy. Because — whether Remainers want to admit it or not — the vote for Brexit has stirred people around the world and it carries huge moral legitimacy. And it is this legitimacy that Front National is desperately seeking. Le Pen's campaign slogan is 'Au nom du peuple' ('In the name of the people'), suggesting she has misunderstood what made Brexit so powerful. The Brexit vote was about putting politics back into the hands of the people — it was not 'in the name of the people', it was the people. It was a confident, defiant demand for change, a far cry from the politics of victimhood practised by Le Pen. Where she says 'France First', and Trump says 'America First', Brexiteers said something far more positive and historic: 'Democracy First.'
To enquire about republishing spiked's content, a right to reply or to request a correction, please contact the managing editor, Viv Regan.