Who will stand up to this lawless president?
Trump is centralising power and demonising dissent.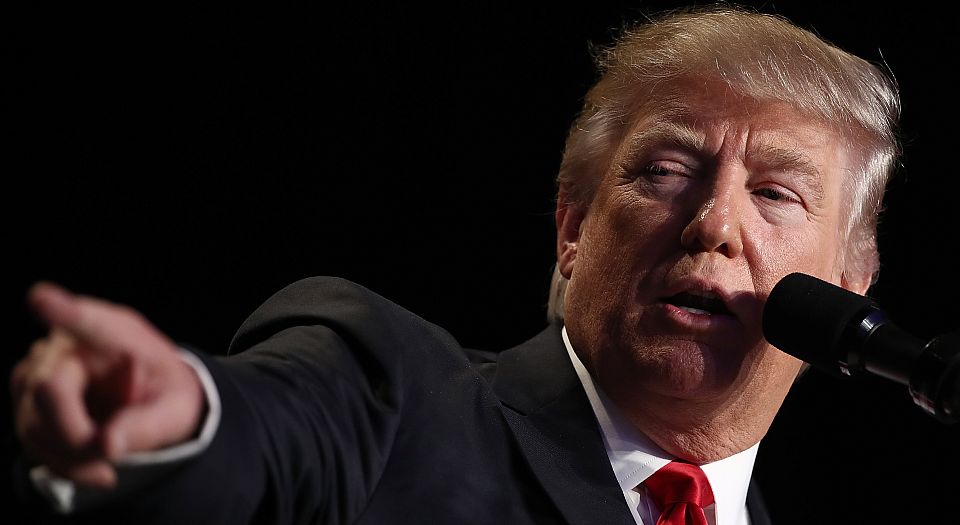 If Donald Trump's harsh and heartless executive order summarily banning visitors from selected Muslim countries is intended to keep America safe, as the president alleges, it will likely be a stunning, potentially fatal failure. It advances a terror-friendly message that America is at war with Islam and strongly discourages foreign nationals from assisting the American military, as numerous counterterror experts and a handful of Republicans in Congress have pointed out. It omits from its list of targets the home countries of terrorists responsible for major attacks in the US, including Saudi Arabia, which exported most of the 9/11 hijackers. Trump has business in Saudi Arabia, as well as other predominantly Muslim countries excluded from the ban.
So I'm willing to give the president and his henchmen the benefit of the doubt by assuming they're not stupid enough to believe that this ban will keep us safe. Indeed, I don't think America's safety is what they have in mind. They might even regard a terror attack as an opportunity for additional crackdowns on immigration, privacy and dissent, or for forms of martial law.
In any case, Trump is not engaged in the hard, often joyless work of governing. He's campaigning. In fact, he filed for re-election in 2020 with the Federal Election Commission on inauguration day, a mere six hours after being sworn in. The travel ban is partly an electoral gambit and partly a related move towards consolidating power, not just in the executive branch but within the White House walls. Trump's slapdash executive order banning refugees, visitors and even legal US residents from some Muslim countries was drafted and summarily implemented without consulting the new secretary of Homeland Security, Republican congressional leaders, senior State Department officials or, it seems, any lawyer with the nerve or ideological inclination to say no to him. The ban was the work of a 'small White House team', overseen by Trump's political strategist, white nationalist Stephen Bannon, the New York Times reports. Bannon was also named a principal member of the National Security Council, while the chairman of the Joint Chiefs of Staff was removed as one.
Trump is campaigning apparently under the direction of Bannon, who looks increasingly like a co-president; and as a campaign tactic aimed at fulfilling a campaign promise and shoring up his base, this cruel, arguably unconstitutional ban seems likely to succeed. The outrage of Democratic leaders and spontaneous protests in Democratic-leaning states will harden the opposing convictions of Trump's base. The disorder generated by mass demonstrations will deepen the desire for a strongman to quell dissent.
I am not suggesting that critics of the administration should stand down. It's essential to continue standing up. I'm simply pointing out one of the many challenges ahead. Bannon, in particular, probably enjoys provoking Trump's detractors; he seems intent on winning a civil war, and he can't win a war that no one's fighting. Trump can benefit from the resulting political chaos, as he benefits from generating at least one outrage a day, burdening his opposition with more ethical, constitutional and political issues than they (or the voters) can effectively utilise or even comprehend. With the controversial travel ban less than a week old, we're already plunged into a new, highly consequential and divisive debate over the nomination of a right-wing Supreme Court justice, to fill the vacancy that the Republican Congress refused to allow Obama to fill in 2016.
New presidents are tested, we're accustomed to that, but this president is testing us, the Republican leadership, and the courts. Trump's first days in office pose the question: how much can he get away with? His unprecedented misinformation campaigns (typical of autocrats who hold the people in contempt), his multiple conflicts of interests, his gross disrespect for due process and religious freedom exemplified by the travel ban on Muslims test our tolerance for lawlessness and autocracy.
'When the president does it, that means it's not illegal', Richard Nixon famously remarked. Nixon's administration was a criminal enterprise that he did not get away with conducting, thanks to the press, the federal courts, and a relatively bi-partisan Congress. Trump seems to share Nixon's belief that the president reigns above the law, but he has the advantage of presiding at a time when the press is relatively weak and under attack, Congress is subject to hyper-partisan one-party rule, and the federal judiciary is vulnerable to presidential influence, given the approximately 100 lower court vacancies that Trump and the Republican Congress are empowered to fill, in addition to the vacancy on the Supreme Court.
Besides, the Trump administration does not seem inclined to abide by court orders they dislike. Four federal judges have so far ordered partial injunctions against the enforcement of the Muslim country ban, but compliance with it is reportedly quite inconsistent, maybe out of confusion or intent, maybe out of fear of putting the law over loyalty to the president.
Trump is clearly guided by his extreme intolerance for dissent (or even mild criticism), which means there will be no place in his administration for acts or mere expressions of conscience that question the president's commands. When career State Department officials began circulating a letter criticising the travel ban through a department channel established expressly for airing dissenting views, Trump's press secretary declared that the officials should 'get with the programme or they can go'. (The letter has so far garnered about 1,000 signatures.) When acting attorney general Sally Yates, a widely respected career prosecutor, publicly declined to defend the ban in court, Trump didn't simply fire her, which was his prerogative and one a normal president might have exercised. He publicly condemned her, in strikingly personal terms, for 'betraying' the Justice Department. The message to members of this administration is clear: a policy disagreement is a personal betrayal of the president and will be met with a personal attack on the betrayer.
Who will challenge this president when he orders his minions to engage in abusive or illegal acts? Not the new attorney general, former senator Jeff Sessions, who campaigned for Trump and shares his draconian views on immigration, as well as hostility to voting rights and criminal-justice reform. Nixon's attorney general and deputy attorney general both resigned instead of obeying the president's command to fire a special prosecutor investigating the Watergate scandal. In a similar case, we can't expect similar behaviour from Sessions. If he agrees to order the FBI to drop or retreat from its investigation of the Trump campaign's alleged ties to Russia, who will stop him? Probably not the Republican Congress, whose leaders have meekly fallen in line behind policies, like the travel ban, that they once opposed.
Who will check the power of this kleptocratic, instinctively dictatorial president? Not the voters, if Trump and his fellow Republicans exploit myths about voter fraud and succeed in voter-suppression drives aimed at Democratic-leaning constituencies. Not the federal courts, if Trump defies their orders. We're approaching a profound constitutional crisis.
Am I exaggerating the present dangers? It's tempting to hope so, regarding with scepticism the angry, anguished cries of protesters. Yes, activist rhetoric is often extreme. The US is not, in any way, comparable to Nazi Germany. But is it comparable, in some ways, to the Weimar Republic?
'We avoid these ends by avoiding these beginnings', Supreme Court justice Robert Jackson wrote in the landmark case of West Virginia vs Barnette, upholding the right of a student to refrain from saluting and pledging allegiance to the flag. Decided in 1943 by a justice who became the chief US Nuremberg prosecutor, Barnette's rebuke to official orthodoxies is always resonant and, these days, especially timely. 'Those who begin coercive elimination of dissent soon find themselves exterminating dissenters. Compulsory unification of opinion achieves only the unanimity of the graveyard. It seems trite but necessary to say that the First Amendment to our Constitution was designed to avoid these ends by avoiding these beginnings.'
Wendy Kaminer is a lawyer and writer, and a former national board member of the American Civil Liberties Union. She is the author of several books, including: A Fearful Freedom: Women's Flight from Equality (1990); I'm Dysfunctional, You're Dysfunctional (1992); and Worst Instincts: Cowardice, Conformity and the ACLU (2009).
A version of this article was first published at WBUR.
To enquire about republishing spiked's content, a right to reply or to request a correction, please contact the managing editor, Viv Regan.