Want to defeat fascism? There's an app for that
The #DeleteUber campaign is lazy and narcissistic.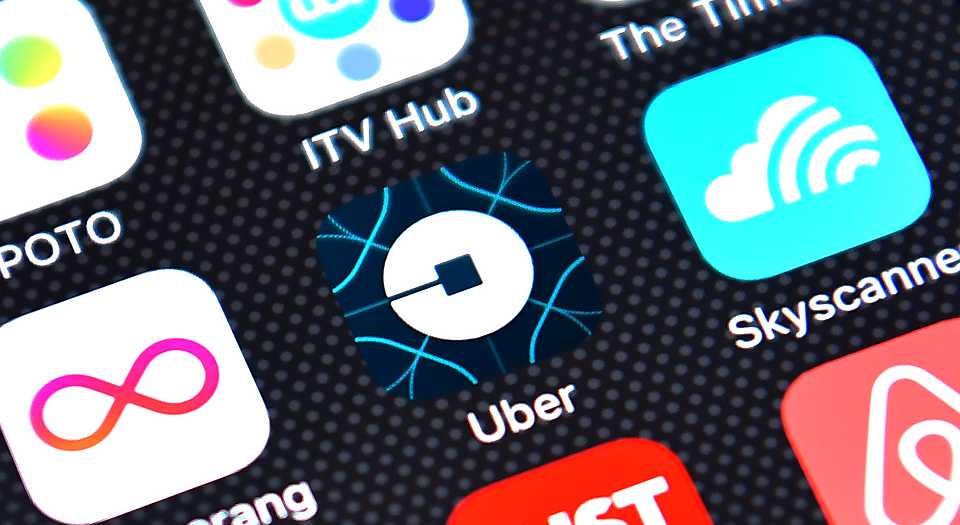 #DeleteUber is a hashtag movement that thinks standing up to Trump is as easy as deleting an app on your phone.
During the protest at New York's JFK airport against Trump's travel ban on seven Muslim-majority countries, the NY Taxi Workers Alliance, a union with 19,000 members, announced it was going on strike around JFK in solidarity with the protesters. Uber didn't join the hour-long strike, and in fact tweeted that it was turning off surge prices around JFK. It was swiftly accused of attempting to break the strike and capitalise on the controversy. #DeleteUber started trending on Twitter, and numerous protesters downloaded the rival taxi app Lyft as a replacement. Lyft got more daily downloads than Uber for the first time ever.
#DeleteUber was coined by Dan O'Sullivan, who goes by the Twitter handle @Bro_Pair. He added incentive to the anti-Uber 'movement' by promising to retweet every screencap showing users deleting their Uber account, as if they might not actually do it without the promise of a retweet. This makes it more a meme than a movement. Some users said they were deleting Uber because it had 'colluded' with 'fascists': if only we'd known that defeating 'fascism' was as easy as making some swipes on your phone.
O'Sullivan's retweeting of Uber-deleters included those who had already been using Lyft anyway but wanted to make the statement of deleting Uber, and even people who created an Uber account just so they could delete it. O'Sullivan is aware of the laziness of it all. In response to a tweeter who said, 'This is literally the easiest one of the hashtag resistance plans you lounge-a-bouts can hope for', he said: 'If you can't make it to an airport, there is an absurdly easy thing even the laziest among us can do.' Instead of appealing to people's reason and higher political ideas, he tapped into a sense of lethargy. O'Sullivan sagely observed that 'this has been the only good thing I've seen come from hashtags ever'.
It's certainly a good thing for Uber's arch rival, Lyft. It doubled its daily downloads, becoming the No1 downloaded app on the Apple App Store on Sunday. It seems many who criticised Uber for 'scabbing' are unaware that Lyft had also carried on driving during the taxi strike — though it has since confirmed that it did so with surge pricing switched on, so I guess that makes everything all right for some reason.
Uber CEO Travis Kalanick has pledged $3million to a legal defence fund for drivers affected by Trump's travel ban. Some are suggesting he did this in direct response to the #DeleteUber campaign, in an attempt to salvage the company's reputation. But this isn't true: it was in an email sent to Uber drivers before the taxi strike happened that he announced plans to 'compensate [drivers] pro bono during the next three months to help mitigate some of the financial stress and complications with supporting their families and putting food on the table'. He announced the amount of money this would involve after the #DeleteUber campaign happened.
People are denouncing Uber's legal defence fund as a cynical PR move; so where is their condemnation of Lyft's announcement that it will donate $1million to the American Civil Liberties Union? This plan to help 'defend the Constitution' was also revealed after #DeleteUber happened, so maybe Lyft is being cynical too, and capitalising on public anger / consumerist switching? The sudden notion that Uber is evil and Lyft is good shows how immature this campaign has been.
Anti-Uber tweeters also criticise Kalanick for being a part of Trump's business advisory group (he has now stepped down, and this too is hailed as evidence that protest works). But they apparently have no qualms with Peter Thiel being an investor in Lyft: Thiel works in Trump's transition team and is one of his top tech advisers. While Kalanick (belatedly) called Trump's travel ban 'unjust', Thiel hasn't condemned it; he simply said he 'doesn't support a religious test, and the administration has not imposed one'. Lyft has been careful not to attack Thiel, merely saying they 'don't agree'. Presumably this also applies to Carl Icahn, another adviser to Trump, who invested $100million in Lyft.
The urge to #DeleteUber is not really about political protest or standing up for liberty. It's more about punishment. It feels typical of the shaming culture so entrenched on Twitter. It's about publicly castigating anyone who has been seen to stray from the correct ideology. It reduces a complex crisis over the rule of law and freedom to another opportunity for virtue-signalling. It's a complaint against capitalism expressed in a consumerist choice. How narcissistic to look at the plight of refugees and wonder what we should do with our apps to make ourselves feel better.
Christian Butler is a writer based in London. Follow him on Twitter: @CPAButler
To enquire about republishing spiked's content, a right to reply or to request a correction, please contact the managing editor, Viv Regan.