Battle of the gobshites
The McGregor-Morgan spat took celebrity self-righteousness to new heights.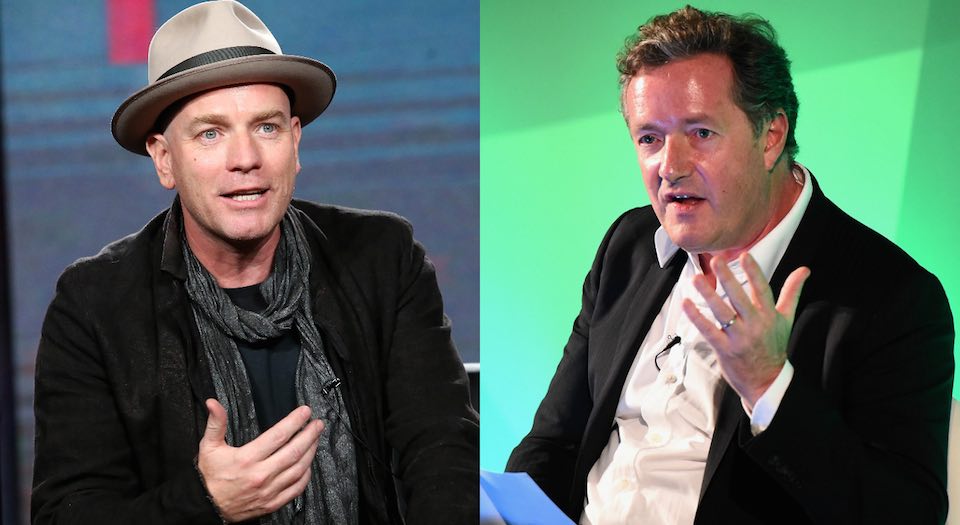 This week's Ewan McGregor-Piers Morgan stand-off goes to the heart of pretty much everything that's wrong with the world right now. True, there's other stuff. War. Famine. Pestilence. Disease. Poverty. Misogyny. Misophally. Populism. Anti-populism. Personal, gangland, corporate, institutional and state-sponsored corruption. Carcinogenic toast. And The Archers. There is no shortage of shit in the world. But the McGregor-Morgan shit is some high-vis shit. A high-vis streak running right through the rest of it.
I normally avoid the vulgarity of four-letter words when putting finger to keyboard, but sometimes nothing else will do. And if you're lucky enough to be ignorant of this particular bowel movement it is that McGregor pulled out of an interview with Morgan on Good Morning Britain on Tuesday, minutes before he was due on TV. The reason given was that he didn't like sneering comments made by Morgan about the anti-Trump Women's March published in that organ most reviled of bien pensant liberals: the Daily Mail. What Morgan actually said (as if he or it matters) was that he objected to 'the more repellent, man-hating side of feminism'. Mindful of scuppering his chances with the opposite sex, he concluded, darkly, 'ladies, I love you'.
There is much to unpack here, but some questions need answering right away. How did it escape the bleeding-hearted Alpha-plonker McGregor that Morgan is a well-known Trump-loving Uber-plonker with a history of professional opportunism, dyspeptic opinions and odious friends? Amusingly, McGregor claims not to have realised Morgan was the host of Good Morning Britain. Be that as it may, Morgan was predictably scathing of McGregor's attempt to 'No Platform' him. Morgan jeered that McGregor couldn't bear to sit on a sofa with someone he disagrees with, adding sarcastically 'as we know actors' views are more important than everybody else's'. Well, actually that last bit is probably true – people, at least in the media, do think actors' opinions are more important, which is why we are subjected to them at rallies and on talk shows 24/7.
In any event, the storm in 140 Twitter characters duly blew up. It included guff from McGregor about being 'so proud' of his daughters for having joined the march and marvelling at 'this extraordinary power'. But before we reach for the Pepto-Bismol, why was that march billed as a 'women's march' in the first place? If Trump is a problem for the world – which he is, even more so than the feeble Obama – then he's a problem for all of us, not just women.
One delicious irony is that up until now Morgan probably thought McGregor was a really cool actor. It always amuses me that when pious liberals become famous artists of one type or another they are always also adored by people they deplore. But, more to the point of this debacle, are the rights and wrongs of No Platforming. Why not go on Good Morning Britain and call Morgan a c***? Or if McGregor was worried about getting No Platformed by his daughters, he could call Morgan something worse than a c***: a middle-aged white male, for example. Problem here, of course, is that McGregor is also a middle-aged white male. Perhaps he was scared? Maybe he had to mind his sponsors. Or maybe he just needed a Safe Space.
What to do? Either way the arguments against No Platforming and Safe Spacing are well known: if you have a case you should argue it, not throw a hissy fit and retire like Achilles to his tent. The only good example of No Platforming I can think of is Desmond Tutu refusing to sit down with Tony Blair at the Discovery Invest Leadership Summit (sic) in Johannesburg in 2012 on the grounds that Tony Blair is a war criminal. At least that was based on matters of principle and fact: Tutu has a track record of fighting oppression and Blair has a track record in bloodletting. Even so, why not tell Tony to his face, Desmond?
Back to the celebs… 'Who does McGregor think he is!?', Morgan droned on Twitter. But who does Morgan think he is, you may retort? And who do any of us think we are putting up with this degraded tinnitus of wall-to-wall bullshit that qualifies as our cultural horizon? The great Renaissance poet Dante Alighieri would surely have consigned both men to the same circle of Hell in his Purgatorio: co-producing each other's folly, they deserve eternity in mutual bondage. The answer to belligerent passive aggression is surely not even more belligerent passive aggression. And by the same token, the answer to Trump is not Obama, Clinton, Meryl Streep or Islamic State.
Is that really all we've got? Trump or Clinton. Leave or Remain. Totalitarianism or terror. Burnt toast or crispy potatoes. Guardian reader or Mail columnist. Morgan or McGregor? They're all fake choices. The only way out of this stultifying impasse is fidelity to an emancipatory ideal. Liberté, égalité, fraternité (or sororité and transgenderité, if you prefer). Come the revolution, Trump supporters will be emancipated as surely as censorious celebrities. As the Dionne Warwick song goes, what the world needs now is love, sweet love. And if that makes me sound like a ridiculous old hippy then so be it. Why not click on this link and sing along with me…
Patrick Marmion is a playwright, journalist and associate lecturer at the University of Kent. He is currently adapting Will Self's Great Apes for the stage.
Picture by: Getty Images.
To enquire about republishing spiked's content, a right to reply or to request a correction, please contact the managing editor, Viv Regan.