Fighting back against Trump's global gag rule
Women around the world should stand up for abortion rights.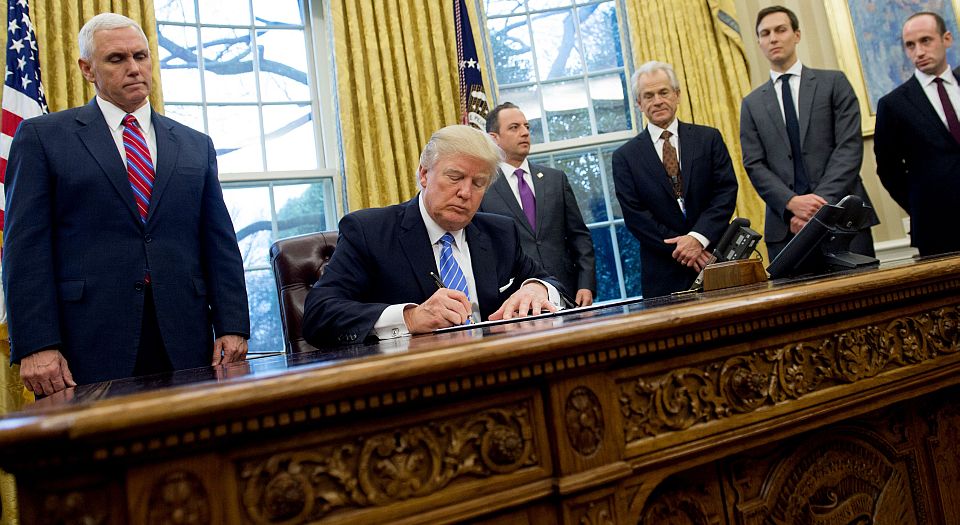 On Monday, President Trump signed an executive order restricting abortion services for women worldwide. The Mexico City Policy, enacted by Ronald Reagan in 1984, prevents all NGOs which receive funding from the United States Agency for International Development (USAID) from providing abortion services. More than that, the policy, or global gag rule, as it is known, stipulates that any NGO found to be providing information on abortion – even if it's with its own funding – will also have its USAID funding cut.
The global gag rule has been batted around between presidencies for years. Bill Clinton said the policy was 'excessively broad' in 1993 and dropped it. In 2001, George W Bush reinstated it, saying 'taxpayer funds should not be used to pay for abortions or advocate or actively promote abortion, either here or abroad'. In 2009, Obama followed Clinton and removed the policy from law.
In this context, Trump's reinstating of the gag rule isn't surprising. Many are circulating a picture of Trump surrounded by his male advisers in the Oval Office, claiming 'this is what patriarchy looks like'. In fact, the gag rule is less a sign that Trump is a raving woman-hater and more a sign that he's following in the footsteps of Republican presidents that came before him. Restricting abortion rights is part of Republican Party policy. That this has been extended to schemes abroad should not come as a shock.
Having said that, there is no doubt that the reenactment of the gag rule is bad news for women. USAID provides nearly $3 billion towards global health efforts, making it the single largest donor in the world. NGOs will have to decide between having their funding cut for all health-service provision or agreeing to ban any mention of abortion services within their organisations. International Planned Parenthood stands to lose up to $100million as a consequence of the gag rule. In many countries, USAID-funded abortion services are the only providers of reproductive care for women. This has been the case for years, but the difference today is that many other Western countries are scaling back international aid, meaning the loss in US funding might not be made up by other aid programmes. The enactment of the gag rule in the current economic climate will effectively make access to abortion impossible for millions of women.
It would be a mistake, though, to glorify USAID and to say is an uncomplicated, good thing when it isn't being gagged by certain policies. Foreign aid rarely comes without stipulations – especially when it comes to healthcare provision. From the recent Zika virus epidemic in Latin America to the outbreak of AIDS in African countries, the Western-funded provision of abortion services has often been for limited and problematic reasons — less to boost women's control over their lives than to fix health or social problems. Narratives about population control inevitably come in to play when discussing the provision of abortion and contraception in developing countries. Seldom does the argument for choice triumph over the argument for a need to control and curtail women's freedom in the name of protecting the environment or preventing disease.
It would be naive to imagine that the US is willing to give billions of pounds to charities in developing countries without having control over what those funds are used for. Foreign aid tends to express attitudes that are prevalent in the domestic sphere too. So for hardline Republicans, abortion is a moral aberration, and they don't like the idea of it overseas for the same reasons they don't like the idea of it at home.
Those of us who believe in a woman's right to choose what's best for her body and her life must make the moral case for abortion. We cannot simply argue that Trump's decision to enact the gag rule is some far-right, patriarchal conspiracy against women. If only it were that simple. We should put the case for neutral funding of reproductive care overseas, not because women are victims of evil men, but on the basis that all women are capable of, and deserving of, being morally autonomous in the decisions they make and the number of children they have.
And we should remember that Trump isn't alone in hampering women's rights. In Ireland abortion is illegal; in Northern Ireland a woman was recently arrested for bringing about her own miscarriage. The enactment of the gag rule is not a death sentence for women, and depicting it as such is likely to induce fear and fatalism; no, it's a call to arms – to stand up for abortion rights, both overseas and at home.
Ella Whelan is assistant editor at spiked. Follow her on Twitter: @Ella_M_Whelan
To enquire about republishing spiked's content, a right to reply or to request a correction, please contact the managing editor, Viv Regan.